 ](http://careyindiana.com/)
INDIANAPOLIS –Ryan Grigson's first in-person evaluation of Greg Toler came on a day when the then Eagles director of college scouting was watching fellow free agent signee Lawrence Sidbury's at the University of Richmond pro day.
Back in 2009, Toler was invited to Richmond's pro day after playing at Saint Paul's College, a Division II school in Lawrenceville, Virginia.
Toler stole the show at Richmond's pro day and was chosen in the fourth round of the 2009 NFL Draft by the Arizona Cardinals.
The Colts made Toler a priority during the free agency period in hopes of turning another small school prospect into a consistent cog on the defensive side of the football.
"Coming from St. Paul, I've always been an underdog," Toler said. "That's my biggest thing, I never want somebody to outwork me."
In heading to Indianapolis, Toler joins a secondary that does not have a ton of experience in a Colts uniform.
No cornerbacks on the current roster played with the Colts prior to the 2012 season.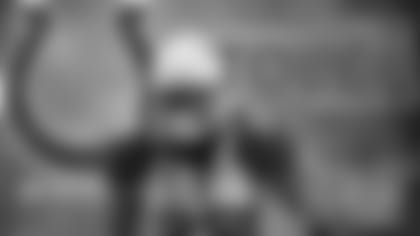 ](/assets/images/article_images/2013/players/toler-greg-info.jpg)
An influx of young talent has migrated to Indianapolis and Grigson likes the potential of Toler pairing with Vontae Davis.
"He's a gifted cover man with great athletic ability but he's not afraid to stick his nose in there and he will tackle you," Grigson said of Toler. "He has a style of play and a tempo that you love to see in a corner because he's not out there on the fringes.
"He's not a late arriver, a guy that's afraid to get his jersey dirty. He's a guy that's had some real moments of ferocity in his play. We're delighted that we were able to corral him and get him here because we really feel that we got a strong tandem moving forward."
Toler spent four years with the Cardinals, starting 15 contests out of 38 games played.
This offseason was Toler's first ever free agency experience and seeing the Colts defy outside expectations is something that intrigued the 6-0, 192-pound cornerback.
"Just how the team just gathered together and just winning games when people thought they had a young team so they weren't going to win as many games," Toler said of what impressed him about the Colts.
"I know a few of the guys that are currently on the team Antoine Bethea and Vontae Davis and I kind of know their character and I said, 'Man, that might be my type of family over there.' They care about their players, they work hard, you know don't slack up at all but they expect you to be professional and accountable at all times. I feel as though I could bring that to the table and just come in here and like I said, work hard and keep my nose to the grind."
With the addition of Pro Bowl safety LaRon Landry, the Colts would seem to have three starters locked in on the backend of their defense (Landry, Antoine Bethea and Davis).
Toler wants to complete that puzzle and he has the approval of former teammate and All-Pro wide receiver Larry Fitzgerald.
"(Fitzgerald) always told me, even when I first came in, 'Greg, man, you've got the potential to be one of the best but you've just got to keep working hard and don't worry about the politics and everything else will sort itself out. They'll find you when you're in the small school. So just keep putting the work in, you can't hide the work, the proof is in the pudding basically."
That message continues to resonate with Toler.
"I just always try to do that where I live, whether it's on the field, off the field, in the community, always working hard and having a chip on my shoulder because nobody thinks you can make it because you went to a Division II school or whatever your circumstances may be."