 ](http://www.embarque.com)
One of the most productive and durable running backs in the NFL, at 32 years old, Frank Gore doesn't look like he's missed a step. He's put up eight 1,000-yard seasons (including last season), one of only 11 NFL players to ever do so. And from a physical standpoint, it doesn't appear anything would stop him from doing it again this season.   
Coach Chuck Pagano says there's a good reason for that.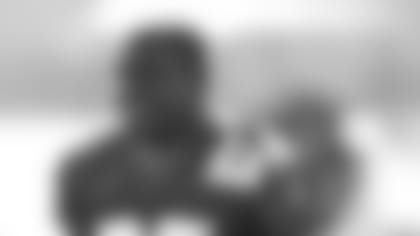 "When everybody else is in the offseason traveling to the Bahamas or Aruba and going here and going there and getting on boats and doing things like that, that guy is down in Miami grinding. He takes great care of his body."
Miami is home for Frank Gore. It's where he grew up and where he played college football. But Frank Gore's second home is the football field – any football field. And this week, that football field is in Anderson, Indiana. 
"I am just happy to be on the football field, period. Seeing us take a small step forward each day. This is my 11th camp now, and I am just happy to be on the field."
Pagano, who recruited Gore first to Miami and now to Indianapolis, joked on Tuesday that if you went down to the University of Miami during the offseason and you went into the weight room, you'd probably find Frank Gore there working out.
"First day he got here, I had to take him off the bike so that we could go sit down and visit. He's a grinder, but he's got great balance. He's got great vision. He makes great decisions, great reads, and he's very decisive."
And back in May, Frank Gore decided it was up to him to prove himself once again.    
"You hear all the doubters and I take that to heed and bust my behind. That just motivates me. I want to show the organization that they got the right man."
Drafted by San Francisco in the third round of the 2005 NFL Draft, Frank Gore played ten seasons for the 49ers and set multiple franchise records, including rushing yards in a Super Bowl (XLVII) and represented them in five Pro Bowls.
Some guys need many words to get their point across. Frank Gore is not one of those guys. He may not say much, but what he says, he means.
Asked if he's starting to feel like a Colt, Gore replied, "I'm here. I'm a Colt."
Which is exactly what Colts fans keep telling themselves.