 ](http://www.embarque.com/)
INDIANAPOLIS – Frank Gore's instagram post on Wednesday night backed up what his head coach had said earlier in the day.
Asked about the transition for Gore and Andre Johnson, as the Colts have reached the halfway point of their offseason program, Pagano nodded in approval.
"Pretty seamless," Pagano said of the new offensive duo. "To me it seems like they've been here for the past five years to be honest with you. They don't miss a beat as far as the playbook goes, knowing what to do.
"They're not talkers. They're workers. They're doers. They're great for our young guys to see guys like that come in and having years of experience under their belt and watching those guys work and put the time in at their age. They don't ask to have days off. They don't ask to have reps off and all this other stuff. They're working like everybody else."
Gore's caption on his instagram ("Just working") was simple, yet profound when it comes to messages coaches try to convey to players.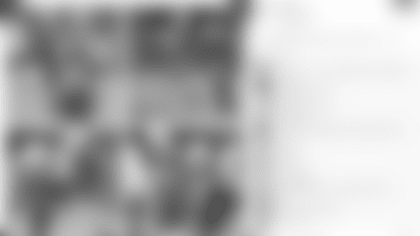 After a decade in the NFL, Gore doesn't need to say much to lead.
"I've been in the league for a while, I know what it takes," Gore said on Wednesday.
"You have to be great in the locker room. You have to lead by example. That's what type of guy I am. I'm not talkative, but I will help guys out. When I'm on the field I also will work to show the guys what it will take to be in the league for a while."
On Wednesday's second day of OTAs, Andre Johnson, Gore's next-door neighbor in the locker room, displayed that 6-3, 220-pound frame for a reliable option to Andrew Luck.
Johnson's presence on the field was clear.
Gore's was a bit more restricted, due to the non-live contact period of the offseason.
Yet, Luck has noticed he's got a rock to rely on in the backfield.
"I've always been impressed with how Frank blocks and protects you," Luck said of Gore's time in San Francisco and now in Indianapolis. "Obviously we are not blocking right now (but) just the way he sees things from the backfield and sort of self-talking in communication with each other and, 'Watch the safety. Watch the linebacker.' He does a heck of a job with that.
"That's something I know I can learn a lot from."
A few minutes after Luck finished his media scrum, Gore was holding court barely above a whisper.
The smiles said enough though.
"It's a great locker room," Gore said with a smile.
"I really don't know much about Indy, but in the locker room they welcomed me here. They are a great bunch of guys. I see why they have been successful because they really work hard here. I'm happy I'm here. I feel we have a great chance of winning this year."