ORCHARD PARK, N.Y. —The Indianapolis Colts fell to 3-10 on the season with their 13-7 overtime loss to the Buffalo Bills on Sunday at New Era Field.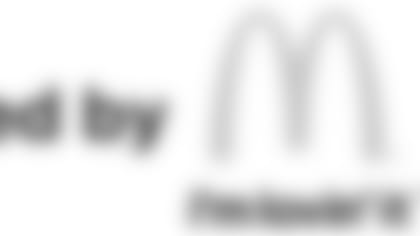 ](https://twitter.com/myindymcdonalds)This one was about as unique as it gets weather-wise, as inches upon inches of snow blanked the turf starting a couple hours before kickoff, and the slippery conditions forced both teams to throw out their original game plans and commit to more of an old-fashioned run-heavy approach.
And although the Colts had a spirited 19-play drive to tie the game late in the fourth quarter, a controversial pass interference call on a potential go-ahead two-point conversion, as well as a missed field goal in the final seconds of regulation, ruined a couple prime opportunities for Indianapolis to escape with a gutsy win.
Then, after, trading punts in the overtime period, the Bills would cash in with time quickly running out, as LeSean McCoy found an opening — and the end zone — from 21 yards out for the game-winning score.
"Tough, tough one to say the least. [I'm] so disappointed and sick for these guys. They played their butts off, they played their hearts out. They deserve better," said Colts head coach Chuck Pagano, whose team is now officially eliminated from playoff contention. "We had our chances, they just were better. They made a couple more plays than we made, but they fought and they played their hearts out."
Here are the FIVE THINGS LEARNEDfrom Sunday's loss to the Bills:
• LAKE EFFECT:When the Colts' 2017 schedule was released earlier in the year, a game against the Bills in Western New York on Dec. 10 was certainly one to circle due to the potential of extreme winter conditions. But when the Colts arrived to New Era Stadium Sunday morning, really the only sign of winter was a wind chill in the teens. That quickly changed, however, as each passing hour brought with it an increasing amount of snow flurries. By kickoff, there were near-whiteout conditions — not to mention inches of snow sitting on the turf — so both teams had to make major adjustments, combining for 97 total run plays to just 38 pass plays on the day. "Our coaches did a hell of a job because I don't know how you can prepare for that," Pagano said. "They did a hell of a job. You just figure out how you can, from a defensive standpoint, what gives guys the best chance to keep the ball in front of you, gap integrity, so you're not chasing and having big, hard cuts in the snow. Offensively, the same thing; our guys adjusted and did a great job."
• WACKY ENDING: **The Colts had more than one prime opportunity to escape snowy Buffalo with a win on Sunday, but a variety of factors prevented that outcome from coming to fruition. First, after a three-yard touchdown pass from quarterback Jacoby Brissett to tight end Jack Doyle to cut the Bills' lead to 7-6 with just 1:16 left in the fourth quarter — capping off a gutsy 19-play, 77-yard drive — it appeared the Colts were able to go ahead with a two-point conversion, also on a pass play from Brissett to Doyle. But a pass interference call on the opposite side of the field on wide receiver Kamar Aiken wiped out that attempt, forcing Adam Vinatieri to attempt — and barely convert — a 43-yard extra-point kick. But, sitting on the Buffalo 2 1/2-yard line, many wondered why Aiken would be flagged for interference in this particular instance when he had no real impact on the play itself. The biggest factor is where, exactly, Aiken was when he made contact with his defender, but Pagano said he wants to take a look at the film before making a final judgment. "We're on the 2-yard line and nobody can see any yard lines," he said. "I couldn't tell where the ball was the whole day." The Colts had another opportunity to seal the win when Matthias Farley intercepted a Joe Webb pass on the ensuing Bills drive and returned it to the Buffalo 28, but Vinatieri's 43-yard, game-winning attempt was wife left.
• GORE, GORE & MORE GORE:A week after jumping two spots to fifth on the NFL's all-time rushing list, the Colts utilized running back Frank Gore more than any other game in his 13-year career. With the pass game options limited at best, Gore received carry after carry on Sunday, finishing with a single-game career-high 36 carries and running for a total of 130 yards, while he also added one reception for 10 yards. "It was tough, but once we go out there and when it's our time to get up, your mind changes," Gore said of Sunday's conditions. "Your mind changes and you get ready to go, like 'Let's go try to make some plays'. It's when you're on the sideline, when you're not really doing anything, that's when it really gets you. It was tough, but as a team, we kept fighting and things didn't go our way again." Gore, who was hoping to reach the 1,000-yard milestone for the 10th time in his career by season's end, came into Sunday's game needing to average 92 rushing yards in his final four games to get to the century mark, now needs to average 80 rushing yards over the final three games to get there — albeit against some really solid defensive units.
• CHUNKS:On the flip side, the Bills were able to find opportunities to get yards in big chunks throughout Sunday's game, in spite of the weather conditions — many of which came from McCoy. The exclamation point, of course, was McCoy's 21-yard walkoff touchdown run in overtime, but the Bills were somehow able to find big yardage through the air (plays of 34 and 21 yards) and on the ground (plays of 25, 23 and 21 yards) to help negate a couple big plays made by the Indianapolis defense, including a forced fumble/recovery by outside linebacker Barkevious Mingo and the aforementioned interception by Farley, his second of the season. "That's huge," Bills head coach Sean McDermott said. "I mean, to be able to run the ball we were able to run it, we did get some chunks in there and then we just stayed after it, stayed after it [and] stayed after it. That's really where the game was won, [is] up front. Even on Joe [Webb]'s long pass to Deonte [Thompson] there, that was a big time play in these types of conditions and Joe was able to have time in the pocket to get it done so, well done [by the offensive line]."
— Gore's 36 rushing attempts are tied for the thitd-most attempts by a Colts running back in franchise history, and with 130 rushing yards he tied former Bills great O.J. Simpson (42) for the 16th-most 100-yard games in NFL history. Also, with 140 yards from scrimmage, Gore passed Curtis Martin (17,430) for the eighth-most scrimmage yards in league history.
— The Colts opened the game with 17 consecutive rushes and finished with 46 rushing attempts for 163 yards. The team's 46 attempts are the most in a game dating back to Dec. 7, 1997, against the New York Jets and the 163 yards are the most for Indianapolis in a game this season.
— Defensive linemen Johnathan Hankins (eight) and Margus Hunt (seven) set single-game bests in tackles, while cornerback Quincy Wilson led the team and set a new single-game career-high with three passes defensed.
— Center Anthony Fabiano logged his first career start as a member of the Colts and the second of his career. Fabiano played in place of normal starter Ryan Kelly, who missed his second straight game with a concussion.