 ](http://careyindiana.com)
INDIANAPOLIS –When Chuck Pagano takes the podium at the Indiana Farm Bureau Football Center on Fridays, he announces injury matters heading into game days.
Today, he announced almost 10 percent his roster is out – Samson Satele, Greg Toler, Stanley Havili, Ricky Jean Francois and Jeff Linkenbach are not available, while LaVon Brazill is questionable.
"Everybody else is a go from there," said Pagano.  "Guys are excited to get back out there.  We've got a huge challenge ahead of us."
The injuries across the offensive line mean Mike McGlynn shifts to center.  Joe Reitz will start at right guard, while Hugh Thornton returns to left guard, where Reitz opened a week ago.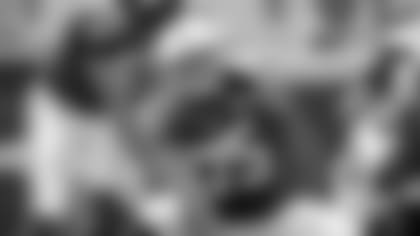 McGlynn was a 14-game starter at center in Philadelphia in 2010.  He shifted inside from right guard twice in 2012 and opened the San Francisco and Jacksonville games – two of the Colts' most lop-sided wins – there this year.
Satele is battling an elbow injury and did not practice.  He missed the 49ers and Jaguars game with elbow ailments.  It will be the sixth different starting alignment on the line this season.
Brazill is fighting a bruised foot suffered in the first half of last week's Cincinnati game, a contest where he had three receptions for 53 yards and two touchdowns.  Brazill missed all three practices this week.
"All discussions that we'll have once we know for sure," said Pagano when asked if the club would add a receiver prior to Sunday.  "He (Brazill) got stepped on in the game and has been dealing with it ever since." 
Indianapolis carries four wide receivers on roster.  Colts backs are active in the passing game and have been split wide on certain occasions, but Brazill's status could trigger a roster move.
Toler has been down for the past six games with a groin injury.  While there has not been a recent setback, he will miss a seventh contest.
"He's not there yet.  He's just not 100 percent, and I just don't want to throw him out there," said Pagano.  "Playing the position he plays, you have to be able to pedal, flip, turn, run, burst, all those things.  It doesn't make any sense to throw him out there until he's 100 percent."
Pagano feels Toler will be healthy soon.  Cassius Vaughn started for Toler for the first four games of his absence, and Darius Butler has opened the last two games.
Indianapolis will be seeing Case Keenum for a second time.  Keenum was making his second career start when he faced the Colts in November. 
After hitting nine-of-17 passes for 208 yards and three scores as Houston gained a 21-3 halftime lead, Keenum, who ran three times for 26 yards, finished with 350 passing yards in the Colts' 27-24 win.  
"We had a complete game on him in the Kansas City game but then from there on, we got a lot of other games that we've seen him play in," said Greg Manusky about having a better feel for Keenum.  "We know what his tendencies are a little bit, where he's throwing the ball and what he likes to throw."
After allowing six scoring tosses beyond 25 yards and having three interceptions in the last six games, Manusky says communication and execution is needed Sunday.
"We got to make sure we keep the ball in front of us, that's the biggest thing," said Manusky.  "We got to make sure that we cover the guys we're supposed to cover.  Sometimes we didn't.
"We got some stack situations where some guys were left free.  We can't do that.  Communication is the most important thing.  It's vital.  We've got to continue to get better at it."
McNARY READY SATURDAY – Josh McNary will be one of countless interested on-lookers Saturday as his alma mater, Army, battles Navy for the 114th time.
Navy (7-4) has beaten Army (3-8) 11 consecutive years to own a 57-49-7 series edge.
McNary had a strip-sack as a senior that Army used to get a score, but he never played on the winning side in the historic series.
"It's the culminating event of the season for anyone at a service academy," said McNary.  "We've always been the underdog.  It was a chance at redemption to avenge the previous year's defeat. 
"It's a great game.  It becomes like a reunion with old teammates coming back.  Everyone is psyched up.  If the (rivalry) scale stops at a 10, this one's a 10 without a doubt.  It's healthy hatred. 
"We realize we're brothers-in-arms once we graduate.  We're all just semesters away from being protectors of our freedom.  We know we're going to coordinate efforts with each other to protect the country.  There's a mutual respect, but we're 60-minute enemies.  It's 'America's Game' for a reason."
PRACTICE REPORT – Did not participate:  DT-Ricky Jean Francois (foot), OT-Jeff Linkenbach (quad), C-Samson Satele (elbow), FB-Stanley Havili (knee), WR-LaVon Brazill (foot), CB-Greg Toler (groin); Full Participation:  NT-Aubrayo Franklin (rest), LB-Robert Mathis (rest), OG-Hugh Thornton (neck).
INJURY REPORT – Out:  Linkenbach, Jean Francois, Toler, Satele, Havili; Questionable:  Brazill; Probable:  Franklin, Mathis, Thornton.