 ](http://careyindiana.com)
INDIANAPOLIS – The Colts have been working hard in the first two phases of the off-season program and have arrived at the start of Organized Team Activities (OTAs).
Indianapolis has 10 offense-versus-defense sessions before a mid-June mini-camp draws to a close all full-team work until training camp.
Here are five key questions (in no particular order) as the Colts start to take better shape for 2014.
1.         Health of Roster
A number of veteran players – Reggie Wayne, Vick Ballard, Dwayne Allen![](/team/roster/dwayne-allen/bd05c477-c980-41d7-9017-1e8a815ded17/ "Dwayne Allen"), Donald Thomas, Ahmad Bradshaw, Greg Toler![](/team/roster/greg-toler/f85fe875-0201-4b0a-8a39-95b489dfb506/ "Greg Toler") – missed the majority or at least half of last season.  Players recovering from injury that look to be full-go include Allen and Toler, plus Montori Hughes and Fili Moala.  Those limited or not available (though not long-termed enough to threaten beyond training camp) likely include Wayne, Ballard, Bradshaw, Thomas and Cam Johnson.  Games aren't specifically won or lost this time of year, but getting cohesion down is valuable.  A number of these players hoped and may be cleared for a level of participation.  Missed work is missed work, though you don't quite invoke Wally Pipp's name.   
2.         Trent Richardson's fluency**
**After the first week of conditioning, Trent Richardson** said he had gained more conceptual knowledge of the offense than in the entire 2013 season when he was thrust into action upon his week three arrival.  A great deal of talk since then was how this spring would be a valuable time for his progression.  **Richardson has been working toward that end** and should get a heavy OTA dose with battering rams – Vick Ballard and Ahmad Bradshaw – still a bit on the mend.  So much attention has gone into Richardson's arrival and its impact on last year and this year.  His contributions will be needed in what the offense aims to accomplish in 2014.  The team has only had one individual 100-yard rushing performance in the last two seasons. 
3.         More than Mathis
It's not like Robert Mathis![](/team/roster/robert-mathis/5d29904b-7bec-41ee-9307-af5b707a681e/ "Robert Mathis") won't be back, he will.  He can be counted upon for his usual mayhem, but he needs some tag-team help.  It was pronounced last year when Mathis accounted for an inordinately high 46.4 percent of the team's 42 sacks.  Numerous teammates have expressed a desire to contribute – Erik Walden![](/team/roster/erik-walden/c3516e1a-3cc9-432a-b693-f6bb56ec15fe/ "Erik Walden") in particular, but help also could come from others.  The line play could get into the fray in the third year of the 3-4.  Art Jones, Josh Chapman![](/team/roster/josh-chapman/e3481f7e-a1d2-4843-bc80-0c5c3f46404c/ "Josh Chapman") and crew need to be a help.  The Colts upped their sack total by 10 last year compared to 2012.  In Pagano's only year as Baltimore's coordinator, the Ravens leveled QBs 48 times to lead the AFC.  You can bet he wants the Colts to approach that number this year.  The last time the franchise did it was in 1976 (56), when sacks weren't even an "official" statistic measured by the league.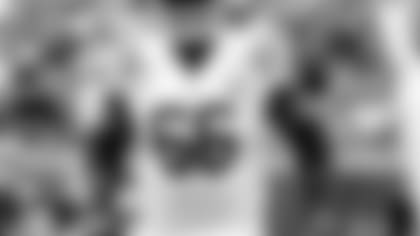 4.         The interior offensive line
This group got a draft-day boost with the additions of Jack Mewhort![](/team/roster/jack-mewhort/d94e29ee-8242-4eb5-b612-8415a855beea/ "Jack Mewhort") and Ulrick John with the club's first and final selections.  Tackles Anthony Castonzo and Gosder Cherilus appear set (and rightly so).  Khaled Holmes appears to be the front-runner at center.  Holmes is a terrific prospect who has a chance to author a solid future.  A healthy Donald Thomas will factor into the interior.  Hugh Thornton started 12 games at left guard in 2013 after Thomas was hurt.  Samson Satele, Mike McGlynn and Jeff Linkenbach (all departed from the Colts) combined for 31-of-48 starts by interior linemen last year.  Joe Reitz (two) and Xavier Nixon (one) also opened, but how the interior is constructed and performs will play a big role in 2014's success.  Could a versatile Mewhort be ticketed as a rookie interior starter?  On paper, that's not usually the design for a team seeking a third straight playoff berth and with a 'win-now' mentality.  Games aren't played on paper.
5.         Shaking down the receiver corps
A glut of talent makes for one of the most compelling areas to watch.  Reggie Wayne will be back to health at some point.  He's already close (or there), and he takes aim on continuing his Canton quest.  T.Y. Hilton has franchise's second-most receptions (132), the most yards (1,944) and the third-most TDs (12) over a career's first two seasons.  Hakeem Nicks is the third 1,000-yard performer, and can he mesh with Andrew Luck like he did with Eli Manning?  Will he contribute in larger measure than Donnie Avery and DHB as the team's third veteran WR signed in three years in free agency?  Where the intrigue truly starts is the competition among younger talents.  Though more players are battling, how Da'Rick Rogers, LaVon Brazill![](/team/roster/lavon-brazill/9bfb7dfd-23ab-46da-a423-ca0226e53cac/ "LaVon Brazill"), Griff Whalen and rookie Donte Moncrief fare will be watched keenly (you almost sense a daily play-by-play from some observing precincts).  Others will fight to have a say in a crowded WR field, but Tuesday is when the green flag will be dropped in a competitive sense beyond only working against air.