WESTFIELD, Ind. - Back in March, linebacker E.J. Speed was set to be a free agent for the first time in his career.
In each of his four seasons with the Colts, Speed had been getting progressively better, particularly in 2022. He played all 17 games and notched a career-high 63 tackles with seven tackles for loss and his first-career sack.
His 82.8 Pro Football Focus run defense grade ranked eighth among linebackers in 2022.
With numbers like that, it was no surprise that the Colts wanted to keep him around - leadiing to him signing a two-year contract extension.
"Indianapolis drafted me," Speed said. "They had faith in me coming out. I wasn't a highly recruited player coming out, they took me [Day three] in the fifth round and I just owe them my efforts. I owe them everything within this game just because of how amazingly – the trust that Chris Ballard put into me and the organization. So, I just plan to keep striving and keep doing what I was brought here to do."
That faith in Speed has only grown as Colts defensive coordinator Gus Bradley has seen firsthand what he can do over the past year.
Enticed by his natural ability, Bradley said that he wants to find different ways to get him onto the field.
"There is going to be more asked of him, more techniques, but we just feel like he's such an explosive player and it seems like when he's on the field something good is about to happen somehow," Bradley said. "So, we've got to find a way to get him more playing time because of his skillset and what he brings. There is going to be more on his plate, so we'll see how he handles that in training camp."
As Speed sees an increase in his responsibilities on the field, there is a chance that he be the latest Colts linebacker to have an explosive season.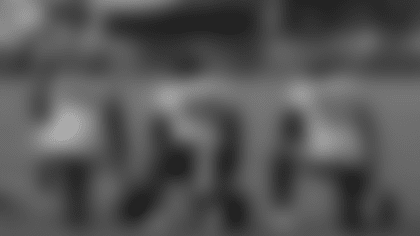 Over the years, he had seen teammates Shaquille Leonard wreak havoc and be one of the league's takeaway leaders and Zaire Franklin set the franchise's new record for tackles in a season.
Close with those guys both on and off the field, Speed said that the trio goes out of their way to make each other better.
"Iron sharpens iron," Speed said. "When we all came in here, we gelled and made a pact that we'd always help each other out. If we see any deficiencies or somewhere that we are lacking, we are really communicative with it. It's flourished for us because we're all on second contracts and doing our thing."
While his teammates have set a high bar, Speed said that he measures his own success by seeing how far he can push himself.
"I just strive to be the best I can be each play every day," Speed said. "I compete with myself a lot when it comes to the things that I know are right and what I need to do for my body. Whether it's training, whether it's eating, sleeping, whatever it is I compete with myself a lot. So, whatever comes out of that, comes out of that. Most likely it'll be good because I put in the work."
Though his individual performance would indicate that 2022 was good by all accounts, the team winning just four games overshadowed that.
Used to being in the playoffs or at least in contention to make them, Speed knows that such a low win total is not acceptable.
Rather than spew empty words about what the team is going to do to hype up fans, Speed encouraged the skeptics to come out and see the team's hard work in person.
"Come to camp watch us put in the work," Speed said. "We owe y'all one from last season because last season wasn't our standard and what we strive to be in this organization as a team. So, the veteran guys have stepped up and made it apparent that we owe the league a lot."