 ](http://careyindiana.com)
INDIANAPOLIS –Last year, Dwayne Allen looked to build on 2012 when he topped all NFL rookie tight ends with 45 receptions.
His lone snare in 2013 produced a 20-yard touchdown against Oakland in the opener, but a hip injury that day ended his season.
The subsequent recuperative process has been arduous and productive for Allen, who feels he needed to cover extra ground to keep pace with others.
"I feel like I'm almost to 110 percent," said Allen.  "It's not just my job to work to train my body where it was.  I sat out a year, everyone else is improving.  I don't know what percent they're improving, but I guess it's 10 percent. 
"They're getting 10 percent better than they were the year before.  It's my job to work back to where I was before last season, then gain that extra percent so I can stay up with the NFL."
Just keeping up with others never has been Allen's complete mindset.  The John Mackey Award winner from Clemson always wanted to be among the best.
Doing that meant staying on the field, something Allen did by opening 33-of-41 collegiate games before starting his first 17 with the Colts.
Being rendered to the sidelines was unsettling for Allen.  While 13-year veteran Reggie Wayne remained engaged with teammates after his season-ending knee injury, Allen took an approach that worked for him.
"The only way I could make it through the season was to become a fan," said Allen.  "I hope one day I can do what Reggie did, stay around the game and help those around me.  I wanted to, but I was so young in the game that it was too much.  Coaches and teammates gave me chances to help, but I don't think my helping would have helped much.  My mind was just all over the place. 
"I needed to really not focus on football and find an area to occupy my mind.  That's why I poured myself into the community.  I felt as if, 'I can't help them on the field, but what I can do is help off the field.'  Whatever event I could help the team do, I was there."
Allen has been a stellar community leader for the team since arriving in the third round of 2012's draft.  His talents should allow him to return to the same impact level he displayed as a rookie.
Prior to last year, coordinator Pep Hamilton told Allen he needed to master his position since it was one vital to the new offense being installed.
Allen embraced Hamilton's challenge and worked extensively in off-season and training camp practices to ensure the upward arch that marked his career.
The injury was a setback, but Allen is rebounding with the same ethic. 
Mastering his role still is a quest because of the nature of how tight ends are weaved into every facet.
"I'm getting better, learning more about the position," said Allen.  "A lot of people think the position is about catching balls.  It is one of the hardest positions on the team. 
"You have to know everything the linemen and the receivers know and some of the things the running backs and fullbacks know.  You're not locked into one thing.  Your job entails everyone else's jobs.  You have to take the approach of a quarterback if you want to be great at tight end.
"I will never be there (in mastering the position).  I do believe I'm on the road."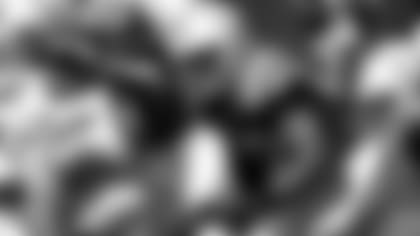 Ryan Grigson enjoyed seeing Allen perform as a rookie.  Grigson absorbed the punch that everyone associated with the team felt when Allen was lost after one game. 
He anticipates seeing the return of the player he added with his third selection as a general manager.
"Dwayne Allen, the guy's a beast," said Grigson at February's combine.  "Anyone who game plans against him or watches the tape, or Joe Fan that just sees him how he plays in the red zone, how he plays in traffic, how he blocks at the point of attack, the tempo he plays at and the ferocity he plays at, he's a guy you want on your team.
"He's doing very well and we look forward to him having a great year."