 ](http://careyindiana.com)
INDIANAPOLIS – The winningest coach and leading receiver in Colts history have taken one step closer to a treasured honor.
Tony Dungy and Marvin Harrison have made it as finalists for the Class of 2014 inductees in the Pro Football Hall of Fame.
Thursday, Dungy and Harrison moved from 25 semi-finalists to the finalist stage that includes 13 other candidates.
Joining the pair of Colts among finalists are kicker Morten Andersen, running back Jerome Bettis, linebacker Derrick Brooks, wide receiver/kick returner Tim Brown, owner Edward DeBartolo, Jr., linebacker/defensive end Kevin Greene, defensive end/linebacker Charles Haley, tackle Walter Jones, free safety John Lynch, wide receiver Andre Reed, guard Will Shields, defensive end Michael Strahan and cornerback/safety Aeneas Williams.
The 46-person Hall of Fame panel will vote for the 2014 class on February 1, one day before Super Bowl XLVIII.
There is no set number of enshrinees for any Hall of Fame class, but rules stipulate between four and seven new members will be selected each year.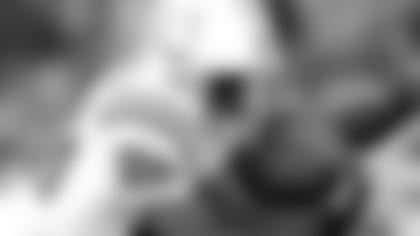 No more than five modern-era nominees can be elected in a given year, and a class of six or seven only can be achieved if one or both senior nominees are elected.
With the Colts, Dungy won five division titles, reached two AFC Championship games and won Super Bowl XLI.  He helped produce the winningest regular-season decade (115 wins, 2000-09) in history.
Dungy was 92-33 overall with the Colts (2002-08), 148-79 (.652) all-time, a victory total that ranks 22nd in history and a winning percentage exceeded by only six of the 18 coaches enshrined in Canton who had at least 100 career victories.
The Colts set the NFL record with seven straight 12-plus victory seasons from 2003-09, the same number of consecutive seasons with winning streaks of at least seven games.  All but one year was done under Dungy.
Harrison played in 190 career games from 1996-2008, retiring with 1,102 receptions for 14,580 yards and 128 touchdowns, totals that broke club records held by Hall-of-Fame wide receiver Raymond Berry, marks that stood since 1967.
Harrison's receptions were second in league history upon retirement, his 59 100-yard games ranked third.  He set the NFL seasonal record with 143 receptions in 2002.  From 1999-2002, Harrison became first NFL player with 100-plus receptions in four consecutive seasons.
From 1999-2006, Harrison had eight consecutive 1,000-yard seasons, and he is the only player ever with eight straight seasons with 1,000-plus reception yards and 10-plus scoring receptions.
When Dungy and Harrison were selected to the group of 25, long-time Hall of Fame voter Len Pasquarelli noted the accomplishments of each.
"What stands out with Tony is his winning percentage," said Pasquarelli, a 14-year panelist.  "It's so much higher than some of the coaches in the Hall of Fame.  I think it's a huge barometer.  Tony won 10, 11, 12 games so many years in a row.  It's a higher winning percentage than Chuck Noll.  He had such a sterling record, such a high winning percentage.   
"I think guys like Tony are so important to the game.  "There's a saying in the (voting) room, 'Can you write the history of the game without fill-in-the-blank, in this case Tony Dungy?'  I'm not sure you could.
"Marvin has a terrific chance.  His numbers stack up really well, even with the difficulty with comparing players across generations.  He played on successful teams.  He won a Super Bowl.  That always helps.  He stacks up well."
The Colts have 12 individuals in the Hall of Fame:  defensive tackle Art Donovan (inducted in 1968), defensive end Gino Marchetti (1972), wide receiver Raymond Berry (1973), guard/tackle Jim Parker (1973), running back/flanker Lenny Moore (1975), coach Weeb Ewbank (1978), quarterback John Unitas (1979), linebacker Ted Hendricks (1990), tight end John Mackey (1992), coach Don Shula (1997), running back Eric Dickerson (1999) and running back Marshall Faulk (2011).