 ](http://careyindiana.com)
INDIANAPOLIS – Donald Brown and Jerrell Freeman may not be at the Pro Bowl this week or in New York next week when the top NFL awards are handed out, but the Colts' leading rusher and tackler have gained an honor that means more than meets the eye.
Brown and Freeman have been selected to the All-Joe Team, named annually by the USA Today.
Brown led the Colts with 537 yards on 102 rushes, while having six touchdowns.  He added 27 receptions for 214 yards and two more scores, while starting five-of-16 games.
Freeman had 169 tackles, 5.5 sacks (for 22.5 yards), 11 tackles for loss, seven QB hits, two interceptions, six fumbles forced and two fumbles recovered.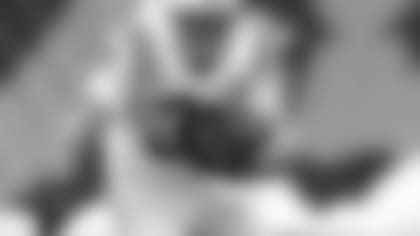 Basically, fans watching the ball in Colts games in 2013 had a great chance of seeing numbers 31 and 50 nearby.
The All-Joe Team started in 1992 by USA Today NFL writer Larry Weisman, one of the very good guys who covered the league at the time. 
Weisman truly cared about players who contributed to teams' success, but who likely gained very little notice for their efforts.  His vision and love for playing integrity created a meaningful award.
Weisman named the award after Joe Phillips, a defensive lineman who played that year for Kansas City.  Phillips labored in a spotlight that shined brightly on two others – Neil Smith and Derrick Thomas.
The paper has had the award annually since Weisman started it, and the team has a 53-man roster. 
Each NFL team has a representative and only players who never have made a Pro Bowl are eligible.  Once a "Joe" visits Honolulu, he is booted off this award's island.
Publicists and coaches throughout the league view this award seriously.  While some awards can be popularity contests, these insiders know locker rooms very well.  They know players who truly are contributing away from acclaim. 
Last year Colts tight end Dwayne Allen made the team.  Allen joined the club as the 64th pick in the 2012 draft, and he set the club seasonal record for tight ends with 45 receptions.
Brown was the club's first pick in the 2009 draft (the 27th choice overall), while Freeman was a 2012 free agent find by Ryan Grigson, who plucked him from the CFL.
Brown became the second back in the Colts' Indianapolis era to have a seasonal average exceeding 5.0 yards (minimum 80 attempts), and Pep Hamilton saw big-play ability and more.
"He made some big plays running and in the passing game," said Hamilton.  "He's been impressive.  He's a pro.  He's consistent at how he prepares himself to play."
If Robert Mathis had his way, Freeman, a 16-game starter for a second straight season, would not have made the All-Joe Team.  Mathis thought Freeman should have been a teammate this year at the Pro Bowl, thus forever banned as a "Joe."
"I don't think, I know.  He's a Pro Bowler," said Mathis.  "If he's not in the Pro Bowl, it's a crime."
Each year, the NFL employs more than 2,000 players on active rosters.  Some get lauded accurately, some could earn honors based off past performance.
A "Joe" earns his way on this team, and it is a distinguished honor.  Brown and Freeman contributed with production on the field and by having 'Horseshoe traits' off it. 
More play from them like they had in 2013 could result in banishment from this team with an appearance in Honolulu.
Three former Colts – Jeff Saturday, Antoine Bethea and Dallas Clark – made that transition from "Joe to Pro."
PAST COLTS "ALL-JOES" FROM 2003-present (*eventually made Pro Bowl)
2003 – Rick DeMulling, Hunter Smith
2004 – Brandon Stokley, Jeff Saturday*, Montae Reagor, Hunter Smith
2006 – Ryan Diem, Nick Harper
2007 – Gary Brackett Antoine Bethea*
2008 – Dallas Clark*, Kelvin Hayden, Melvin Bullitt