 ](http://careyindiana.com)
INDIANAPOLIS –During the week leading into the Colts' showdown with Tennessee that could largely determine the division title, Donald Brown was told he was going to start at running back.
Brown, who has kept a seasonal rushing average above five-and-half yards per attempt for the most of the year, would be called upon to help the Colts inch closer to a playoff berth.
Like many things this year for the Colts, it would be a gritty challenge.
Fifty-two minutes of grinding action had the Colts ahead, 15-14, but with only 28 yards on 15 rushes as Tennessee and Indianapolis engaged in spirited battle.
Brown helped take over the game by rushing for 46 yards on six carries on a 92-yard drive that provided the final 22-14 margin.
His four-yard rushing score with 1:56 left was symbolic of his season.
"It was huge," said Andrew Luck of Brown's effectiveness.  "It seems like when the fourth quarter comes around he just gets stronger and stronger.  Donald's a great teammate, a great professional.  Always does the right thing, so happy for him.  He deserves all the praise and recognition for a game like this."
Brown said nothing changed for him during the week, though it provided him the first chance to open a game since week four of the 2012 season.
Brown has bided his time as three other backs – Vick Ballard, Ahmad Bradshaw and Trent Richardson – have answered the starting bell, but Sunday was the fourth time this year Brown has topped all Colts rushers.
"Donald did a great job of finding the holes, breaking tackles and doing what he does," said T.Y. Hilton.
It was the fourth time in his career that Brown has impacted a Colts victory in the series.
A late 80-yard scoring run against the Titans on December 18, 2011 not only tied the franchise record for the longest scrimmage rush, it helped the Colts snap an 0-13 start to the season.
In 2012, Brown rushed effectively in overtime before Ballard scored on a reception in a thrilling 19-13 victory at Nashville that pushed Indianapolis past .500 for the first time on the way to an 11-5 record.
Two weeks prior to Sunday, Brown rushed for 80 yards and a career-high two touchdowns in a 30-27 comeback victory at Tennessee.  His seven rushes and 43 yards on the touchdown march that provided the final victory margin included an 11-yard burst with three minutes remaining.
Brown yesterday picked his moments to contribute, and it came when his club needed production to subdue a 5-6 Titans team fighting for its own playoff fate.
"We knew we had to keep the ball out of their hands.*  *We had to keep moving the chains," said Brown.  "We put our defense in a bad spot too many times and when we get to the red zone, we need to score touchdowns instead of kicking field goals.
Brown hit for five and 14 yards to start the drive.  After Luck scrambled for 24 yards into Tennessee territory, Brown capitalized with 14- and seven-yard runs up the middle. 
On the first play after the two-minute warning, Brown bulled in up the middle again with Indianapolis in a jumbo package.
"The offensive line did a great job.  They opened up some holes," said Brown.  "We had to milk the clock and finish out the game.  We knew it was going to be a 60-minute battle.  A lot of times offensively we shot ourselves in the foot, but we get it fixed and move forward."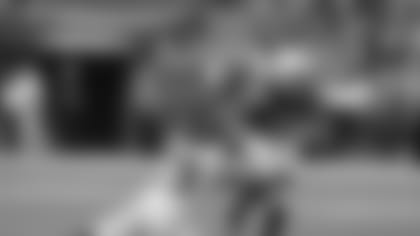 It was Pagano who made the call to go to Brown.  He has seen Brown display exemplary leadership and professionalism as a backup and part-time starter, and an intuitive coach knew the moment was there. 
"Donnie earned the opportunity the way he was working and running the football," said Pagano. "(We) felt like, we're still going to use two backs, but earned the opportunity to get in there and do that."
Brown leads the club with 378 yards on 71 carries.  His robust 5.3 rushing average puts him in position to produce only the second 5.0-plus seasonal rushing average (minimum 80 attempts) in franchise history.  Only George Wonsley (1985) has done it in the club's Indianapolis era.