zIt's Halloween 2021 and defensive end Tyquan Lewis is putting on a show against the rival Tennessee Titans.
After getting his first sack of the season, the Colts sent a blitz with Lewis dropping into coverage. Under heavy pressure, Ryan Tannehill threw the ball right to Lewis for the defensive lineman's first career interception.
What was supposed to be a career highlight cruelly turned sour when Lewis sustained a patella injury on the return and fumbled the ball.
Lewis was later put on injured reserve, ending what had the makings of a promising season.
"Going into that whole entire year, I had big aspirations. I had big goals," Lewis said. "But it was more so like, I really just wanted to uplift my game and take it to another platform because I knew where I was headed and my mindset was on a whole 'nother level when it happened."
Though the bitter turn of events would understandably be upsetting for any player, while on the cart headed back to the locker room, Lewis just looked up at the sky and began to laugh.
"Me laughing was just my appreciation for life I guess," Lewis said. "Like I said, things happen. I had a quick smile with EB [Erin Barill, Colts director of sports medicine] and was like, 'Man, let's just do it. Let's go to rehab. Let's do it.'
"I can't really explain it, but my feelings, my mentality, nothing ever shifted towards disbelief or doubt. I just always want to keep persevering. I wanted to keep going. I wanted to be who I was. It's a privilege to just be myself. That's all I know how to do."
Lewis committed to his rehab and signed a one-year with the Colts.
He was able to be back on the field Week 1 of the 2022 season and quickly earned the trust of new defensive coordinator Gus Bradley and his coaching staff. Lewis established himself as a versatile player who the Colts believed could step into any role on the defensive line.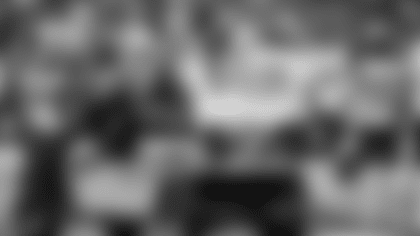 But almost a year to the day of his first patella injury, Lewis would suffer another one in his other leg Week 8 against the Washington Commanders.
Instead of just laughing this injury off like he did last time, he wrestled with several emotions as he left the field.
"I was in disbelief at first because I was like, 'There's no way.'," Lewis said. "I thought I just tweaked it. And then when that happened, I was nearly heartbroken.
"But, I was like, 'If I can do it once, I can do it again.' It's just a process, you know? I knew I couldn't dwell on this. I knew it was going to be tough times ahead because you go through it another time and it's like, 'What are you gonna do?' So, in my mind, I was like, 'Somebody is out there praying for me and I'm praying [too].'"
That will to overcome adversity was engrained in Lewis as a kid, after he attended a football camp hosted by former Colts linebacker and current vice president of team engagement, David Thornton.
The camp was not only his first time playing football but taught him a word that would stick with him for the rest of his life.
"They had acronyms and perseverance was my word," Lewis said. "Growing up, I went through a lot, you know, ups and downs but life happens. The main thing was like, no matter what happens, no matter what comes my way, I always just persevere because I feel like that's just who I am. Rain, snow, sleet, somebody's got a job to do and why not me? Why not now? Might as well step up."
With another season prematurely ended, Lewis went back giving it his all in rehab to make sure he was good to go for the 2023 season.
"I was frustrated at first," Lewis said. "But, I just go into the mindset that if anything happens, I just say, 'F it.' Because in life things happen and it's all about how you respond to it. So like, when adversity hits, I don't get down and out, I'm always optimistic, I'm always pushing through. You know, things happen, so what are you gonna do? Pout?"
Though Lewis admitted the thought of another potential injury is always in the back of his mind, he is determined to not let those thoughts stop him from pursuing his lifelong passion.
Lewis made the 53-man roster and again will be called upon to use his versatility on the defensive line.
"From getting drafted to now, it's always been like – I guess it's a dream, but it's always been a part of me since the time I was a little kid," Lewis said. "I always had this vision. I always mapped life out and I always knew I had a goal to work towards. I was always finding something to push forward for. The journey is - I mean, it's a grind. And if you don't love the grind, what are you doing it for?"