 ](http://careyindiana.com)
INDIANAPOLIS – Dallas Clark came to the Colts as the 24th selection in the 2003 draft, a fresh-faced, mop-headed bundle of energy that Iowa coach Kirk Ferentz later said helped represent the "heart and soul" of his program.
Clark (427 receptions, 46 touchdowns) departed Indianapolis nine seasons later after exceeding franchise positional totals produced by Hall-of-Famer John Mackey.
Wednesday, Clark will become just the second Indianapolis player to re-sign and retire as a Colt, joining Jeff Saturday. 
"It's an honor I can't even explain," said Clark.  "It's amazing just the love and support I have for the Colts and fans, but to see it come back toward me (is humbling). 
"For the Irsay family and Colts family to do this is an honor, something I can't thank anyone for enough.  It's so special I can't even express how awesome it is." 
Clark had 4,887 reception yards with the Colts, a positional total second only to Mackey. 
In finishing his career with Tampa Bay (2012) and Baltimore (2013), Clark started 118-of-143 career games, totaling 505 receptions for 5,665 yards and 53 touchdowns.
Being drafted when many expected Indianapolis to bolster a defense was not the widely- anticipated move by fans. 
The reaction was a bit less caustic than when Indianapolis tabbed Edgerrin James over Ricky Williams four drafts earlier, but the Colts knew what Clark offered.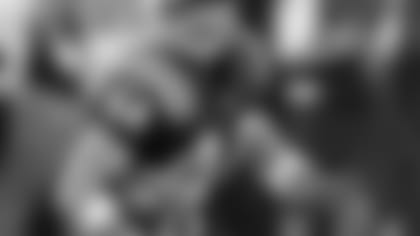 "He was kind of the last piece of the puzzle," said Tony Dungy.  "We had Edgerrin, Marvin and Reggie, we had outside receivers and runners, but that go-to guy in the middle of the field – Dallas brought that. 
"Bill Polian took criticism when we drafted Dallas in 2003 because we needed defensive players.  Bill said, 'Dallas is a special weapon that is going to fit right into what we do.'  He was the missing piece to the puzzle."
Clark's arrival came after the Colts had started the NFL's winningest regular-season decade (115 victories, 2000-09), but it coincided with a NFL record-setting streak when Indianapolis won 12-plus games for seven straight seasons.
Those accomplishments are ingrained now with Clark, a perspective gained after leaving Indianapolis.
"We knew what we were doing was special, but it took for me to go to another team to fully realize it," said Clark.  "For us, it was like, 'This is how you play football.  This is how you win.  This is how you do it.'  That's what we did.  Rarely did we allow ourselves to say, 'Wow, we're awesome.'
"We were just so narrowly-focused it was like, 'Let's go win another one.'  That's the reason we could come back each year and have 12-plus wins.  Never did we hit cruise control.  It always was about getting better.  It was, 'What can we do this year?  Let's go win it.'  That was the excitement about being in that group and focus – where your best effort was the only thing that was acceptable.  That's special."
The Colts were 84-31 with Clark in the lineup.  He was a member of seven division, two conference and one world championship winner.
With an array of talent surrounding him, Clark made moving the chains his personal hallmark.  His favorite career catch accomplished that task and led to an eventual Super Bowl win.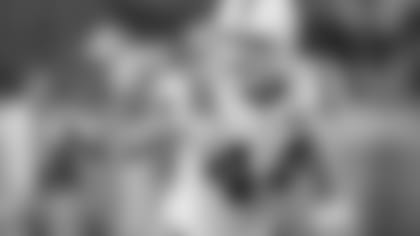 "The catch in Baltimore to seal that road victory (15-6) and to get us one step closer to the Super Bowl has to be it," said Clark of the 2007 AFC Divisional Playoffs.  "The moment and importance of it sticks out. 
"Every third-down catch, I loved.  I've had more pride in third-down catches than anything.  I wasn't always the 'numbers' guy, or getting the big catches.  I took pride in getting third-down conversions.  That one-handed catch to seal the game was pretty special."
Dungy remembers the reception's significance to this day, a third-and-five beauty deep in Baltimore territory with 3:57 left in a 12-6 battle.
"That was a huge play in the game.  I remember thinking, 'We're up six points.  If we can make a first down, we can pretty much ice the game.  If we don't, they have a chance to score and as well as we've played, we're going to lose by one point.' 
"We knew what the coverage was going to be and that he was the guy to get the ball.  It was a matter of if he could make the play.  Peyton had to throw it quickly before Dallas came out of his break.  The coverage was tight, and it was a ball Dallas didn't completely get his hands on.  He caught it with his forearms because that was the only spot where the ball could go.  It was one of those great plays that sent us to the championship game.  He made a lot of catches, but that was one that did win a game for us."
Clark says he "couldn't ask for anything more from a NFL career," and he leaves the game healthy to spend years with his wife, Karen, and children, Dane (5) and Camden (3).
"My goal after year four was to get in a position to walk away from the game instead of not being able to play anymore," said Clark.  "That's the case now, and I'm good with that.  I got to the point where I could do it for a couple of more years, but I need to walk away. 
"When you see how the business is, how injuries happen and careers come and go, I did not see the career I had coming one bit.  I'm healthy, I feel great.  It's just the right time."