 ](http://careyindiana.com)
INDIANAPOLIS – When Da'Rick Rogers joined the Colts' practice squad at the beginning of the season, Chuck Pagano was asked about his journey and how he fit into the club's plans.
"You know what?  We're giving him an opportunity just like anybody else," said Pagano.  "The ball's in his court.  He understands that."
Whether or not that opportunity happens in about 48 hours is yet to be known, but Rogers is part of the 53-man roster and could play as the Colts enter a third game getting new legs under themselves without 1,000-plus receiver Reggie Wayne.
"(It's) probably more that you've got a talented football player that since we brought in here and gave him an opportunity, he's done everything we've asked him to do," said Pagano when asked if Rogers' elevation had to do with helping provide an offensive spark.  "We're going to give him the opportunity because he's earned that opportunity. 
"He's big, he's fast, has excellent ball skills.  He's another guy we can add to the mix.  We'll see how things go.  He's certainly a guy if he gets out there has playmaking ability.  He's done a great job to this point."
Indianapolis has endured six rough quarters since Wayne's October 20 knee injury against Denver. 
The club rebounded to beat Houston, 27-24, with a comeback from 18 points down.  This past Sunday saw Indianapolis fall behind to St. Louis by a large enough margin that aggressive play led to four interceptions and a one-for-five red zone performance in a 38-8 setback. 
Eliminating Wayne from the field for the first time since 2001 has been an adaptation process for Andrew Luck.
In his first 23 career games, between 29 and 31 percent of Luck's attempts, completions and yards were a result of Wayne.
Though the overall targets this year were more evenly spread among the offense, Wayne still was the obvious main receiver. 
Colts Positional Reception Totals with Reggie Wayne (7 games)
In the last two games, the club's completion percentage has dropped from 60.8 to 58.6, while the rating has slipped from 91.5 to 86.5.
T.Y. Hilton has had consecutive outstanding games (7-121, 3 TDs, Houston; 7-130, St. Louis), with Luck hitting him on 14-of-20 targets.  His rating when trying Hilton is 152.1.  The team's rating to all other receivers is 88.7.
Colts Positional Reception Totals After Reggie Wayne Injury (2 games)
*Play-by-plays credit Colts with 90 targets though team has 92 attempts
Rogers, 6-3, 215, was undrafted out of Tennessee Tech, playing there in 2012 after spending the prior two seasons at Tennessee. 
In 36 games, he had 139 receptions for 2,100 yards and 21 touchdowns, including 67 snares for 1,040 yards and nine scores in 2011. 
Off-field matters hindered his career and left him undrafted, something Rogers says in the past as he credits the Colts' culture in assisting his rebound.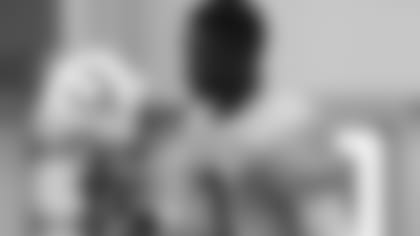 "You see why certain programs and organizations win just off the culture," said Rogers.  "I know my talents, my abilities.  I knew I had to fix a few things personally.  I just have to go out and do the things coaches taught me and I learned.
"It feels good.  I come in every morning see (coaches) and go to work."
Said Pagano, "He's been coming in every morning an hour before (others), spends extra time with (coaches and) stays after.  He's steadily made progress. 
"He's a bright kid, picks things up.  If he gets out there is it perfect?  No, it never is.  Thirteen-year vets make mistakes.  He's doing everything within his power to give himself a chance."
PRACTICE REPORT – Did not participate:  CB-Josh Gordy (groin), S-Delano Howell (neck), CB-Greg Toler (groin); Full Participation:  NT-Josh Chapman (knee); Limited Participation:  OG-Mike McGlynn (thumb).  
Pagano said McGlynn and Chapman should be good to play on Thursday.  "This game probably can't come fast enough, even though you'd love the time to heal up and get your legs back.  It's an opportunity not only for us but them to try to get a bad taste out of your mouth," said Pagano.