 ](http://careyindiana.com)
INDIANAPOLIS – The NFL late last week published the number of players each team has remaining from its 2011 roster (players who suited up for at least one game), and the Colts have the fewest – seven.
Players remaining from 2011 are Reggie Wayne, Robert Mathis, Adam Vinatieri, Fili Moala, Pat McAfee, Joe Reitz and Anthony Castonzo.
While those players endured a 2-14 2011 season that was the worst in the league, the 22-10 regular-season record the Colts have forged since ranks as the NFL's fifth-best. 
Indianapolis is one of five franchises to earn 11-plus wins in each of the past two seasons.
Players Remaining from 2011

Cardinals, Browns, Saints

Texans, Dolphins, NYG, NYJ, Eagles, Steelers
Here are some key reasons why the Colts have forged stability and winning through what could have been instability and struggle:
The drafting of Andrew Luck.  The Colts had one starting QB from 1998-2010, while 15 teams had at least a dozen or more.  Indianapolis had three starters in 2011 alone, but Luck's arrival restored stability at the toughest position in sports.
Ryan Grigson's and Chuck Pagano's one-page program.  From each's introduction, the theme of 'Trust, Loyalty, Respect' rang forth, as did the necessity for relationships.  The synergy of the program flows completely to the players, all of whom bought into the process.  The 2012 team, despite Pagano being absent for 12 weeks, produced a nine-game turnaround, one of the best one-year record jumps in history.
Playing for each other.  A tight locker room stocked by Grigson and Pagano with players possessing 'Colts Traits' has forged unity and a mindset of service to others.  In a sport where egos can rule the day, that approach is non-existent on the playing roster.  Players bonding and policing each other is an uncommon strength.  It is a band of brothers.
Winning close games.  The Colts were 9-1 in 2012 in games decided by seven points or less, 5-1 in 2013.  A 'never-quit' spirit by players and coaches has seen the Colts win 13 of their last 14 games decided by those close margins.  Indianapolis was won 20 straight when ahead at the start of the fourth quarter.  Nothing succeeds like success.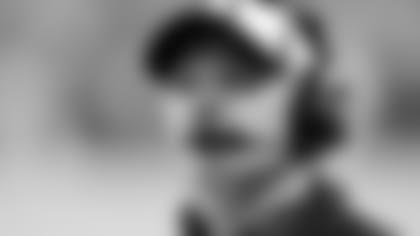 24-hour rule.  Sure every team has it, but Indianapolis has applied it spotlessly.  The Colts are the only NFL team not to drop consecutive games in the last two seasons.  Indianapolis is 10-0 under Pagano following losses, with an 8.3-point victory margin.  Only three coaches in Colts history have conducted consecutive seasons without back-to-back losses – Don Shula, Don McCafferty and Pagano.  While McCafferty did it in his first two seasons, he had a veteran team that won a Super Bowl.  Pagano was building a program from near-scratch.
Find them, play them.  Indianapolis has plucked players from every conceivable league and even from another sport (rugby) and played them early.  Jerrell Freeman is one FA who is a household name, and the 2012 draft class gained more scrimmage yards (3,108) than any rookie class since the 1970 merger.  Accountability and opportunity are stressed quickly to each arriving player.
Protect home turf and compete in the division.  Under Pagano, the Colts are 13-3 at home and 10-2 in the AFC South.  Any success in this league mandates solid performances in both areas.  Indianapolis has gotten it.
Kicking success.  With so many games decided by close margins and with the critical nature of special teams, Adam Vinatieri (61-of-73 FGs; 32-of-40 beyond 40 yards) and Pat McAfee (149 punts, 47.0 avg., 53 touchbacks; 51.5 percent kickoff touchbacks, 88.6 end zone percentage) have been stellar, even beyond the last two seasons.
No excuses.  Indianapolis won 11 outings last year while 83 games were lost by starters.  It was the NFL's second-highest number of games missed by starters and included year-ending injuries to five starters.  The playoff team closest to Indianapolis in the number of games missed was 74 by New England.
Aggressive leadership.  Grigson made more than 250 transactions in his first year, turning over nearly 70 percent of the roster on the way to an 11-5 record.  He has engineered 16 trades and worked free agency during his tenure to keep talent fresh for Pagano.  His search engine has included the CFL, AFL, IFL, UFL and Super 15 Rugby. With a veteran personnel pedigree before arriving in 2012, Grigson has flourished in his GM role.