A key part of any special gathering, wine is something to be shared. A great wine can help you celebrate, commemorate, even collaborate.
"Wine is so experiential," says Diane Karle, Founder and CEO of Wine by Design. "You remember the family dinner when you were toasting with a wine that you loved. You are creating a moment and experience in history with something that also has meaning and tastes good."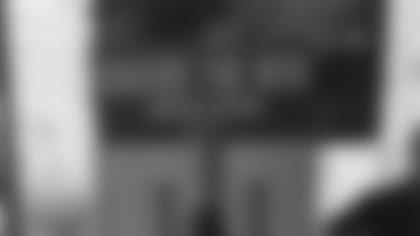 The right wine can tell a story. Which is why the Colts decided to release a wine to celebrate the 2006 season and the 10-year anniversary of Super Bowl XLI.
"Our Time was the mantra of the team during that playoff run," says Andy Schwartz, Corporate Partnership Manager for the Colts.
Our Time - Faith, Family, Football: The 2006 Indianapolis Colts**
On Sunday, February 4th, 2007 in Miami, when all the rain drops in Florida seemed to fall on the field, the horses rode in and brought home the trophy – now they bring you a wine to commemorate the 10 year anniversary of the 2006 team. One cheer for the fans – one For The Shoe!*
"We thought it was just another way to honor that historic team and something you could keep as a collectible for years to come," says Schwartz.
And they partnered with Wine by Design to guide them through the process.
"The Colts organization said, 'Let's look at something really special that we can create,'" says Karle. "From conception to consumption – they've been involved in everything from the design of the label to picking the wine. We did a blind tasting in their offices. We actually brought in three different cabs, different styles, different wine profiles, we had the wine maker talking through each wine, and then we made the selection."
The Colts held a release party at the Colts Grille and the wine, described as a robust red, got great reviews all around.
"The wine tastes delicious and I don't even drink red wine because usually it's too bitter," says former Colts cornerback Marlin Jackson, member of the 2006 Super Bowl winning team. "This went down smooth and I love the design of the bottle, if you feel it, it kind of feels a little bit like pigskin – like a football. I think people will enjoy it."
Jackson made a key interception in the 2006 AFC Championship Game, which sent the Colts to Super Bowl XLI and their first championship of the Indianapolis era.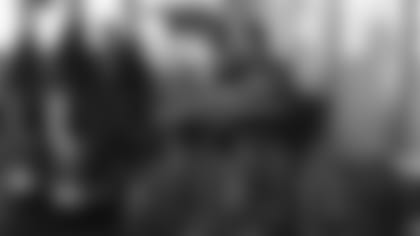 "It's hard to believe that ten years has gone by that fast. But it's nice to remember a special time in Indianapolis Colts history," he says. "People may remember me for an interception, but it's because I'm a piece of Colts history and that's what it's all about - is being a part of something that's greater than you and just being remembered as a piece of that whole."
Signing bottles and sampling the wine was enough to get Jackson reminiscing himself.
"I was sitting over here thinking about it while I was here, to come from where I came from and now, to still be a part of things like this – it was never a reality for me. Which makes me even more grateful. For me, it makes it that much more special."
A memory changes over time – so does a fine wine.
"What's interesting about wine, wine changes from year to year in the bottle. So, it's always really fun to try the wine, taste it again, share it, and it goes back to sharing something that is associated with the Colts and this historic time for them," Karle says. "Drink it now, drink it on Super Bowl Sunday, and remember that experience."
For Schwartz, who helped with the selection process, it all came down to taste and finding something with broad appeal.
"For me, I liked the initial taste and then it had a nice little bite at the end.  Just enough, that it would attract the avid wine drinkers, but not too much where it could appeal to just about anyone," he says. "From start to finish, it seemed like the perfect blend," he says.
Just like the 2006 Indianapolis Colts.
Super Bowl XLI was a taste of victory. It gets a little sweeter over time. And it leaves you wanting more.
And the story of the 2006 Indianapolis Colts is one of greatness.
*The Indianapolis Colts Reserve is sold online and through retailers and restaurants, to find a location, visit Colts.com/wine
This Limited Edition wine is also available in club lounges, suite level and select locations through the concourses at Lucas Oil Stadium.*