 ANDERSON – With the preseason opener for the Colts just three days away, we have our first depth chart of the 2014 season.
It didn't take long for Chuck Pagano to get asked about the depth chart and the head coach cautioned not to read too much into it considering the season opener is more than a month away.
"We've got to throw a first unit out there," Pagano said of not reading too much into an initial depth chart.
"It's still in pencil. One's in ink (quarterback). But the rest are in pencil right now."
Nevertheless, here's a look at the depth chart with a few of the highlights below: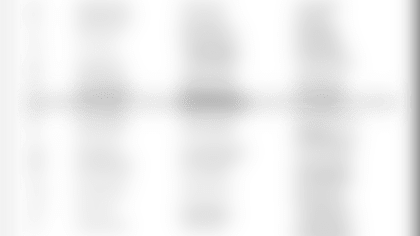 -As expected, rookie Jack Mewhort is listed as your starter at left guard with Khaled Holmes and Hugh Thornton at center and right guard, respectively. Lance Louis is listed behind Thornton at right guard but you could also have Louis behind Mewhort, too.
-Dwayne Allen is listed as the No. 1 tight end with the depth chart showing a base formation of 2 receivers, 1 tight end, 1 running back and 1 fullback.
-Reggie Wayne and T.Y. Hilton are the top two receivers with Hakeem Nicks and Donte Moncrief behind them.**
-Robert Mathis is the starter at RUSH linebacker with Bjoern Werner listed with the second team. Rookie Jonathan Newsome cracks the two-deep as he's listed behind Erik Walden at SAM linebacker.
-At safety, Delano Howell is listed as the starter next to LaRon Landry. Mike Adams and Sergio Brown are the second team safeties.
-In watching the depth in the secondary, Marcus Burley and Sheldon Price are the first names listed behind the four veterans at cornerbacks (Vontae Davis, Greg Toler, Darius Butler and Josh Gordy).**
Special Teams Takeaways**
-At kick returner, rookie Donte Moncrief is the starter and Boom Herron is behind him.
-At punt returner, T.Y. Hilton is the starter and Griff Whalen is the backup.