 INDIANAPOLIS – Among the many moves of Ryan Grigson, one position group that truly carries his signature is the secondary.
With Antoine Bethea, the longest-surviving Colt next to Reggie Wayne and Robert Mathis, at free safety, Grigson addressed one cornerback position last year by trading for Vontae Davis.
He stocked the other corner and safety slots this year by recruiting Greg Toler and LaRon Landry through free agency.
The combination of Bethea and Landry are two embodiments of Chuck Pagano's mantra of "60 Minutes, All You Got."
"They're playmakers," said Pagano, succinctly. "They can both play down in the box.  They can both blitz.  They've got coverage ability.  They can play deep in coverage.  They give you a ton of versatility."
Bethea, a sixth-round pick from Howard, was an immediate-moment gem in the eyes of Tony Dungy at a rookie camp in 2006.  Landry, an LSU Tiger, was a trumpeted sixth overall pick by Washington a year later.
The former collegiate defensive back who has cut teeth for 23 years as a secondary coach or defensive coordinator sees his two battering rams as difference-makers for the Colts.
We don't have to say, 'You're the free and you're the strong.'  They're interchangeable," said Pagano.  "What's good for us and what'll be hard for our opponents to diagnose, if you will, is hopefully they're not going to be able to tell their quarterback, '41's going to always be in the middle and 30's going to be down in the box.'
"Both guys can play in the box.  Both are good against the run, can cover (and) can bring pressure when you blitz them.  They give you a lot of versatility."
Asked about building blocks among defensive mates, Toler rates the safeties high on his list.
"I could not ask for better than Antoine Bethea and LaRon Landry," said Toler.  "Those guys take a lot off of me at cornerback, and they take a lot off this defense with the range they have.  Just knowing football, you can go to them and ask almost anything.  They're coaches on the field."
Davis arrived late last year and split his 10 starts at both corners before settling this year on the right side.  He can go at his craft with a level of immunity because of the safety duo.
"It's real comforting to have veteran guys back there who have been in the league a long time," said Davis.  "They've played a lot of football, and they're true pros.  You know whatever happens out there, they will have your back."
Davis is a quieter, physical presence who fits what he thinks is more Landry's nature than Bethea's.
"They're different.  They have totally different personalities," said Davis.  "Antoine is more of a field general.  LaRon doesn't say too much, he just lets his actions speak loudly. 
"They're great players, but how they go about the game is different.  Greg and I know how to deal with both of them.  They both carry big sticks as hitters."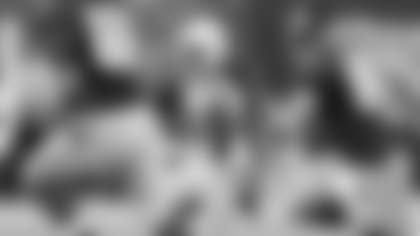 Asked he ever has played with or seen such a current tandem, Tolerquickly replied, "I don't think I have.  In the past across the league, possibly.  Not nowadays, no."
Sunday is the starting bell for what Indianapolis hopes will be a top five defense.  There are five projected new starters acquired by Grigson and Pagano.  Looking for difference-makers was the key, and Bethea, with two Super Bowl appearances, is hungry for more.
"I think we had the same mentality last year," said Bethea.  "Even though we had a lot of new faces, our goal was the same as it is this year – get that Lombardi Trophy.  This year, February 2, we want to be in New York and bring it home.
"Being physical 16 games, 60 minutes.  With LaRon, Vontae, Greg, really our whole defense, we have something special, I think."
QUOTE TO NOTE(Robert Mathis on the regular-season vibe and now playing for keeps)
"It's game week.  It's time to put it on the field.  All the preseason stuff is done.  It's time to do what brought you here."
CBS VOICES BULLISH ON COLTS – While CBS has assigned the entertaining group of Marv Albert and Rich Gannon to Sunday's broadcast, two prominent network voices trumpet the progress they believe the Colts have made in the past year, particularly with Andrew Luck.
"They have stability (at quarterback).  I love where they're at," said Bill Cowher.  "They are going to challenge Houston.  It's a two-team race.  Indianapolis is kind of flying under the radar a little bit. 
"All these quarterbacks we were talking about last year, Luck quietly had one of the better years.  You talk about comebacks at the end of the game?  This guy led all the quarterbacks.  He did it in the fourth quarter.  He was as impressive as any young quarterback.  I like the Colts."
Says Phil Simms, "When you look at Luck, what do they have going for them?  Great faith in their quarterback.  They made the right decisions in the front office.  They did everything for Andrew Luck to have success and to be a star, and he is not going to let them down.  (His teammates) know they have the man."
PRACTICE REPORT – Did not participate:  LB-Kavell Conner (ankle), WR-David Reed (concussion/quadriceps); Limited participation:  DT-Fili Moala (foot);  Full participation:  TE-Dwayne Allen (foot), RB-Ahmad Bradshaw (foot), OT-Anthony Castonzo (knee), TE-Coby Fleener (knee), LB-Mario Harvey (knee), S-Joe Lefeged (knee), G-Mike McGlynn (knee).
The veteran Gannon has said of Luck, "At Stanford, what excited me was his athleticism.  He's smart about it.  He goes through his progressions.  He's patient.  When he sees an opportunity when things break down, he can make a play.
"You see some guys who don't show any emotion.  I like the fact he shows emotion.  I like when a guy who plays the position shows emotion."