 ](http://careyindiana.com)
INDIANAPOLIS –The Colts have been unbeatable (11-0) in games under Chuck Pagano when attempting more than 30 runs, and they have been 6-1 in games this year when getting 100 rushing yards.
Indianapolis now faces the NFL's second-ranked rushing defense at Arizona.  With a 81.4 yards per game average, Pagano was asked if this is the most talented defense he has seen this season.
"You could argue that, they're really good front-to-back," said Pagano.  "They're ninth in total defense, second against the run, pretty impressive."
Arizona is allowing only 45 yards per game in their three-game winning streak and after limiting Jacksonville's Maurice Jones-Drew to 23 yards last Sunday, the Cardinals have held seven opponents' top rusher below 60 this year.
As Pep Hamilton scripts opening plays, he would like to pop Trent Richardson and Donald Brown loose early to improve chances of reaching 8-3.
"It starts with me," said Hamilton.  "I got to do a better job of putting our guys in positions to make plays on third downs and we know that our guys will go out and execute.  We got to do a better job of just converting third downs early in games."
Richardson should be ready to go Sunday despite a calf injury, and he will maintain the lead role in the ground attack though Brown is sporting a team-high 5.9 average on 55 attempts.
"We don't plan on changing our rotation with our backs," said Hamilton.  "We've always been a running back by committee bunch, so we're going to continue to do that."
Brown had 80 yards and a career-high two touchdowns at Tennessee a week ago and has been a boost in a year when Vick Ballard and Ahmad Bradshaw exited with injuries.
"He's consistent, a pro.  He's never wavered one bit," said Hamilton.  "His attitude's been great, he's been extremely positive.  For whatever reason, he finds a way to create his own yards, and we're excited to watch Donald continue to have that success for us running the football."
Only three teams have run for 100 yards on Arizona.  In addition to a defense that has forced 22 takeaways, the Colts know Sunday will take precision and persistence.
"They're very stout," said Anthony Castonzo.  "They've got guys at every position who can play the game very well.  We're going to have to bring our hard hats.  It's going to be a grinder."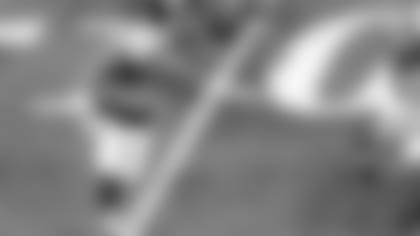 TOLER OUT – Greg Toler has been ruled out Sunday, the fourth straight game he has missed with a groin injury.
Pagano says there are no long-term concerns for his return, and he wants to see the club's pass defense play at a higher level seen earlier in the season.
After giving up nine scoring passes in the last four games (four exceeding 30 yards), Arizona is likely to take its shots.
"We just have to get back to playing like we played early in the season," said Pagano.  "You have to challenge guys, and communication has to be there, fundamentals, techniques. 
"It doesn't help when you have guys out.  We know what we face come Sunday.  We're going to get challenged.  They're doing to throw it downfield and throw it to guys who can make plays.  They have guys who can beat you."
LaRon Landry will go despite a tender toe.  Landry knows the nature and familiarity of the opposing coach means a busy Sunday. 
"Even more so with Coach (Arians) being here last year," said Landry if he expects a vigorous challenge.  "I wasn't here, but he's probably familiar with the defense.  He probably went after them (in practice) all year.  He probably knows the defense inside and out. 
"They have a lot of weapons.  I think we're going to get tested.  We can't give up any big plays and have to be sound."
PRACTICE REPORT – Did not participate:  FB-Stanley Havili (concussion), LB-Kavell Conner (ankle), CB-Greg Toler (groin); Limited Participation:  CB-Josh Gordy (groin), S-LaRon Landry (toe), RB-Trent Richardson (calf); Full Participation:  RB-Dan Herron (ankle), WR-Darrius Heyward-Bey (ankle), S-Delano Howell (neck).  
Conner rolled an ankle on Thursday.  On Richardson, Pagano said, "He was dealing with a calf that he's had the last couple of weeks and aggravated it.  We held him back the last couple of days."   
With Havili out, four tight ends could absorb the fullback duties.  Pagano has not decided if RB-Chris Rainey will be active, but has liked his explosiveness. 
"For a guy who has been out for the amount of time he's been out, he's really been amazing.  He's a great athlete, tremendous quickness, acceleration, football instincts," said Pagano.
Rainey, who has returned kicks, was a fifth-round pick by Pittsburgh in 2012, but has been inactive all season.
INJURY REPORT – Out:  Conner, Havili, Toler; Questionable:  Gordy, Landry, Richardson. Probable:  Herron, Heyward-Bey, Howell.