INDIANAPOLIS — As the midpoint of the 2019 NFL regular season is upon us, various publications are beginning to dole out their awards lists and other recognition for those who have performed exceptionally well up to this point.
Currently sitting at 5-2, atop the AFC South Division and as the AFC's No. 2 playoff seed, the Indianapolis Colts are certainly on the receiving end of plenty of award considerations.
Let's take a look at what they're saying about the Colts.
The Colts ran far and away with the panel's choice for AFC South supremacy, but even those who think another team will take the division still believe the Colts will be in the playoffs one way or another by way of a Wild Card spot.
The "Cardiac Colts" are a battle-tested group; every game they've played this season has been decided by seven points or less. From NFL.com:
1. Indianapolis Colts (16 votes: Baldinger, Battista, Bhanpuri, Blair, Brandt, Carr, Casserly, Chadiha, Hall, Parr, Rank, Robinson, Rosenthal, Smith, Tomlinson, Trotter)...
Why Jim Trotter chose the Colts: 'The Colts are 2-0 in the division and have won five of their last six against second-place Houston. They're also comfortable playing in pressure situations -- each of their games has been decided by seven points or less -- which bodes well for the months of November and December.'
1. Buffalo Bills (8 votes: Battista, Bhanpuri, Brandt, Casserly, Hanzus, Robinson, Rosenthal, Trotter)
T-2. Houston Texans (7 votes: Blair, Carr, Chadiha, Hall, Parr, Smith, Tomlinson)
T-2. Indianapolis Colts (7 votes: Bergman, Cersosimo, Filice, Gbajabiamila, McGinest, Patra, Thomas)...
1. Buffalo Bills (9 votes: Bergman, Chadiha, Filice, Hall, McGinest, Parr, Patra, Smith, Thomas)
2. Houston Texans (8 votes: Baldinger, Battista, Bhanpuri, Brandt, Casserly, Rank, Robinson, Rosenthal)
3. Oakland Raiders (4 votes: Carr, Gbajabiamila, Jones, Trotter)
4. Indianapolis Colts (2 votes: Hanzus, Reece)...
As Wesseling mentions, the Colts have gotten incredibly heavy contributions from a rookie class that wasn't needed to play early in the year, but earned snaps anyway because of how they performed in practice. Since then, injuries in front of them have forced them onto the field, and they have responded positively:
"Speedy second-round wide receiver Parris Campbell has a bright future, but his much-awaited impact has been waylaid by hamstring and abdominal injuries. The Colts' defense, on the other hand, has benefited from a handful of rookies filling in for injured starters. Second-round cornerback Rock Ya-Sin and fourth-round safety Khari Willis have become mainstays in a secondary that offers more size and physicality than previous iterations. Fifth-round pick Marvell Tell entered the rotation last week... Linebacker Bobby Okereke and edge rusher Ben Banogu have also generated game-changing plays for a fist-place Colts outfit exceeding expectations without Andrew Luck. This is a deep draft haul with a bright future."
QUARTERBACK JACOBY BRISSETT
The same panel of experts also made their picks for the major NFL award winners at the midway point in which the Colts found some love there as well.
Getting a vote for Comeback Player of the Year was Colts quarterback Jacoby Brissett.
This award can be looked at a few ways. First and most commonly is a player who was injured and missed a significant amount of playing time the year before, but has returned and played at a high level in the current season. But it can also be looked at as a "most improved" or "breakout player" type of award for those who have played before and maybe weren't quite as productive, but now are breaking out. This also goes for historically high-quality players who may had a down season the year before, statistically. Brissett mostly falls into the "breakout" category.
Brissett was the Colts' starting quarterback for 15-of-16 games in 2017 while Andrew Luck recovered from shoulder surgery. The Colts went 4-12 that season while Brissett threw for 3,098 yards, 13 touchdowns and seven interceptions. Already in 2019 through just seven games, Brissett is on pace for 3,634 passing yards and already has 14 touchdowns compared to three interceptions. From NFL.com:
Comeback Player of the Year
1. Cooper Kupp (10 votes: Baldinger, Bergman, Bhanpuri, Carr, Filice, Hanzus, Jones, McGinest, Parr, Rank)
2. Jimmy Garoppolo (7 votes: Battista, Blair, Cersosimo, Gbajabiamila, Patra, Thomas, Tomlinson)
T-3. Dalvin Cook (2 votes: Casserly, Chadiha)
T-3. Travis Frederick (2 votes: Robinson, Rosenthal)
T-5. Teddy Bridgewater (1 vote: Smith)
T-5. Jacoby Brissett (1 vote: Reece)
For a second straight year, the Colts' offensive line is looked at as a dominant unit — the best in the league, to be exact, according to Pro Football Focus.
The Colts are No. 11 in running the ball and have had four big rushing games, all at least of 125 yards and three of them more than 150. The Colts' line has also kept Brissett safe, as he has been sacked just 11 times so far, tied for the fourth-fewest total in the league. From PFF:
"Two of the NFL's 10 highest-graded offensive linemen through Week 8 play for the Colts. Second-year Notre Dame product Quenton Nelson ranks second at his position and third among all qualifying offensive linemen in overall grade at 87.5. And offensive tackle Anthony Castonzo isn't too far behind, as he ranks fourth at his position and seventh overall at 83.1. Nelson and Castonzo, along with Braden Smith and his 72.2 overall grade, lead the charge along the top offensive line in the NFL."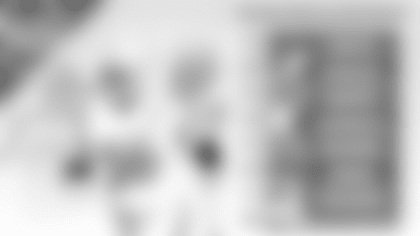 Castonzo ranks as the seventh-overall offensive lineman in the league (No. 4 tackle) while Nelson ranks as the third (No. 2 guard). The pair both has allowed just 11 pressures each — Castonzo's one sack, one hit and nine hurries, and Nelson's one hit and 10 hurries. Just one sack being counted against the Colts' left side of the line is highly impressive. From PFF:
LT RONNIE STANLEY, BALTIMORE RAVENS
Honorable Mention: Anthony Castonzo, Indianapolis Colts
LG QUENTON NELSON, INDIANAPOLIS COLTS
Honorable Mention: Joel Bitonio, Cleveland Browns
"Nelson is who we thought he was. Dominant road grader in the run game. Brick wall in pass pro. If he finishes the season at his current 87.5 overall grade, it would be the highest we've seen from a second-year guard since the Cowboys Zack Martin earned a 90.3 overall in 2015. That's pretty good company."
Colts head coach Frank Reich is considered a top-three NFL head coach by both NFL.com's panel as well as PFF's head coach rankings.
The Colts started last season 1-5 before turning things around and finishing 10-6 and making it into the second round of the playoffs. This year, they're making life easier for themselves by winning the close games and having fewer self-inflicted issues.
As we've mentioned, the Colts' 5-2 record puts them atop their division and in the No. 2 spot in the AFC playoffs, which would earn them a first-round bye and at least one home playoff game. They are also 2-0 against the rest of the AFC South division and have impressive wins over the Kansas City Chiefs (on Sunday Night Football) and Houston Texans.
The Colts have dealt with their fair share of injuries but have kept on rolling thanks to Reich's guidance and leadership. He is often commended for "never being too high or too low" and being the same guy no matter the team's circumstances. Perhaps the biggest tip of the cap people give him so far this season is the team being in such good shape after Luck's surprising retirement right before the season began. From NFL.com:
1. Sean Payton (10 votes: Baldinger, Battista, Bhanpuri, Blair, Chadiha, Filice, Hall, Hanzus, Robinson, Trotter)
2. Kyle Shanahan (6 votes: Brandt, Gbajabiamila, McGinest, Rank, Thomas, Tomlinson)
3. Frank Reich (5 votes: Carr, Cersosimo, Parr, Rosenthal, Smith)
2. FRANK REICH, INDIANAPOLIS COLTS
"Sometimes it's better to be lucky than good, and the Colts certainly got lucky when Josh McDaniel decided not to take their offer to be head coach, giving them Frank Reich. We saw immediately that Reich learned to lean on the math from his time in Philadelphia, going for a fourth down and medium in overtime against the Houston Texans in Week 4 of 2018, a decision that ultimately cost the team the AFC South.
Penny poor and pound rich at the time, the Colts eventually rebounded from a 1-5 start and were one of our favorites, process-wise, heading into the 2019 season. These hopes were dashed when Andrew Luck decided to retire with just a couple of weeks to go in the preseason. Knowing that he needed to provide a platform for youngster Jacoby Brissett to succeed, Reich has delivered. During their first win of the season, a 19-17 victory in Tennessee against the Titans, Reich went for fourth down and one yard to go in his own half in the fourth quarter, generating 18 win-probability points by opting for a Brissett sneak.
No coach is perfect in this regard, though, but Reich is one of about ten coaches making the 'correct' choice more than half of the time in neutral situations. For example, against the unbeaten Chiefs in Arrowhead on Sunday Night Football, the second-year head coach went for two fourth downs on a third-quarter drive that extended their lead to 16-10, but forwent multiple other opportunities to go for it, including a fourth down and one yard to go at the Chiefs' 14 yard line with 13 seconds and one timeout left."