 ](http://careyindiana.com)
INDIANAPOLIS – Chuck Pagano gave his team a week off after it produced a 39-33 victory over Denver last Sunday.
Saying the players "earned" the perk because of their 5-2 record, Pagano wanted them also to rest and heal as the final nine games remain.
Here is a look back at key moments in those five wins:
WEEK ONE:  Colts 21, Oakland 17
Key defensive moment:**  Greg Toler ended Oakland's first drive with an end-zone interception.  After Luck's scoring run, Oakland moved from its 20 to the Colts' 24.  With less than 30 seconds left, Antoine Bethea intercepted Pryor at the Colts' 6 to seal the win.
Game Note:  Luck opened the game with 11 straight completions and ended offensive efforts with a scoring run.  It was the eighth game-winning drive he engineered in 17 games.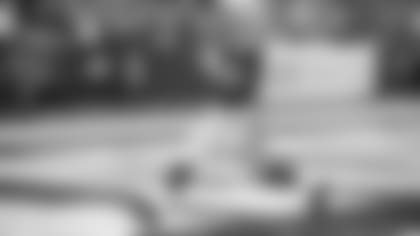 Quote to Note:  "I don't think people realize how big and how strong Andrew is. (Against Oakland), a dude hit him dead in the chops and he got away and was able to scramble for a first down.  I remember some plays from last year when they're tugging on his jersey and he was able to step out of it and make some spectacular plays.  Drew, I'm glad he's on our team, put it that way." – Antoine Bethea
WEEK THREE:  Colts 27, San Francisco 7
Key offensive moment:  Ahead 13-7 with 6:27 left in the game, Indianapolis was in the shotgun with a second-and-three at the SF 40.  Luck gave the ball to Ahmad Bradshaw, who went off right tackle for 27 yards.  Bradshaw (11 rushes, 95 yards) led the club's 184-yard ground attack.  Three plays later, Luck ran in from six yards to provide a two-score cushion.
Key defensive moment:**  Colin Kaepernick's four first-half rushes netted 21 yards and on his second rush in the third quarter, Jerrell Freeman caught him for a five-yard loss on first-and-10 from the SF 49.  It forced a punt, and Kaepernick ended the day with 20 yards on seven carries.  The Colts were assignment-sharp in a 20-point win that handed the 49ers consecutive losses under Jim Harbaugh for the first time.
Game Note:**  The Colts blanked the 49ers in the second half, 17-0, gaining 184-of-336 yards after intermission.  Indianapolis had 28 second-half snaps, owning the ball 19:01, rushing 24 times for 114 yards, including for 73 yards in the last quarter.  Sixteen of the Colts' 20 fourth-quarter plays came on the ground. 
*Quote to Note: *"This is obviously a huge win.  That was a heavyweight fight, a 15-round slugfest.  It is one of those games that you look back and say, maybe five, six years down the road, you say that was a signature win – maybe one of those wins that propel you to do great things." – Chuck Pagano
WEEK FOUR:  Colts 37, Jacksonville 3
Key offensive moment:  Donald Brown dashed for 50 yards up the middle of the Jacksonville defense early in the second quarter with the Colts up only seven points.  The burst got Indianapolis in the red zone, where Trent Richardson ended the drive with a TD run. 
Key defensive moment:**  In a 3-3 game with the offense not yet untracked, Darius Butler swiped a Blaine Gabbert pass and returned it 41 yards for a touchdown three minutes into the second quarter.  The fourth takeaway by Butler in two games at Jacksonville sparked a 20-point second quarter in a decisive win. 
Game Note:**  After forcing five three-and-outs at San Francisco, Indianapolis forced five consecutive at Jacksonville, allowing only 18 yards.  The Colts held the Jaguars without a rushing first down, only the sixth such game in the franchise's 61 years.  Reggie Wayne became the 11th player with 13,000 career yards and 80 touchdowns receiving.
*Quote to Note: *"We are a team that never panics.  We just work the process and continue to play ball.  We never get too high or too low.  We just play all four quarters and at end of the game look at the scoreboard and see what happens.  It is exciting, especially the way we are winning in all three phases of the game playing pretty good." – Reggie Wayne
WEEK FIVE:  Colts 34, Seattle 28
Key offensive moment:  With the offense having gained nine yards and no first downs on three game-opening possessions and with Indianapolis trailing, 12-0, Luck and T.Y. Hilton combined on a 73-yard TD pass near the end of the first quarter.  Points were needed to offset a talented Seattle offense, and this sparked the Colts.
Key defensive moment(s):**  Jerrell Freeman made three fourth-quarter plays to help seal the win – stopping receiver Golden Tate after a six-yard reception with 8:12 to go and on the next play making a one-on-one stop of Russell Wilson on a third-and-two at the Seattle 28; pressuring Wilson into an interception at the Indianapolis 38 with 1:23 remaining and the Colts owing a six-point lead.
Game Note:  Lawrence Guy and Delano Howell teamed on a huge play when Guy blocked a Seattle FG that Howell returned 61 yards for a TD and a 14-12 lead in the second quarter.  It was only the fourth such play in Colts history.  Luck targeted Hilton six times, hitting five for 140 yards, while Hilton was interfered with twice for 55 yards.  It set his career yardage single-game record.  Robert Mathis had 2.0 sacks to become the 30th player to reach 100 for a career.  Luck directed a ninth game-winning drive in the fourth quarter or overtime.
*Quote to Note: *"Actually, I didn't see the ball until the crowd started (saying), 'Ahhhh.'  I looked up and it was coming.  (Earl Thomas) was over-pursuing, so I gave him a little (move) and took it in." – T.Y. Hilton
WEEK SEVEN:  Colts 39, Denver 33
Key offensive moment:**  On third-and-11 from the Denver 39 with 7:32 left in the second quarter, Luck rushed for 11 yards and stretched the ball far enough to convert the first down with the Colts trailing, 14-12.  It was seventh time this season where Luck ran for a first down on third down.  Three plays later, he hit Stanley Havili on a scoring pass as the Colts took the lead permanently.
Key defensive moment:  Robert Mathis had a sack-strip-fumble of Peyton Manning with 9:01 left in the second quarter that resulted in a safety.  Erik Walden could not corral the ball in bounds, but Indianapolis scored on the ensuing possession to take the lead.  BONUS – Walden batted Manning's arm to force an interception with seven minutes left in the game, and he forced a fumble at the Colts' three with 3:00 left.
Game Note:  Denver was held without scores on 11-of-17 possessions.  The Colts scored 23 unanswered points in the second and third quarters to go from a 14-10 deficit to a 33-14 lead.  Luck completed 16-of-25 first-half passes for 199 yards and three TDs, then rushed for one in the third quarter.  Mathis had a fifth multi-sack game.  Pat McAfee set a franchise mark with six punts inside the 20.
*Quote to Note: *"I feel really good.  That was a 60-minute war.  That was a bloodbath.  I don't know how they came out of it, but we're beat up.  I like where we're at.  We're sitting at 5-2.  We all knew what we were up against.  (This is the) grittiest football team that I've ever been around my entire life." – Chuck Pagano