 ](http://careyindiana.com)
INDIANAPOLIS – Talk by those around the Colts last week was how the team had to rebound from a dispiriting home loss by traveling to face an angry defending conference champion.
The Colts dispatched the 49ers by a 20-point margin and now head into the first AFC South game of the year Sunday against Jacksonville, one of six teams in search of its first win.
Indianapolis faced the same scenario in week two of last year, and a winless Jacksonville unit changed matters with a 22-17 victory in Lucas Oil Stadium.
It is a new week for the Colts, and they are facing the same dynamic.
"It's a huge week for us, a division game," said Chuck Pagano, who felt the sting of the Jacksonville setback last year just three days prior to leaving for 12 games while fighting leukemia.  "We know what our ultimate goal is.  The easiest way to get into the tournament is to win the division.  Our guys understand the importance of this game. 
"We have to have a great week of preparation just like last week.  If we do that, we'll give ourselves a chance to play well Sunday."
The Colts held a winning divisional record in eight of the first nine years they resided in the AFC South, and they were 4-2 last year under Pagano.
The Colts lead the series, 14-8, since the teams were paired in the AFC South in 2002, the tightest record Indianapolis has with any of its division rivals.
The margins of series battles have been close.  Sixteen times the teams have played within a one-score finish, while nine times the games have been decided by five points or less.  Six have been decided by a field goal or less.
Indianapolis snapped a three-game Jacksonville series win streak with a 27-10 victory in EverBank Field six games after falling at home to the Jaguars.  After winning in San Francisco, Indianapolis has the same dynamic with a new week – beating a challenging foe.
"Everybody is good in the NFL.  Everybody's got players, every team," said Pagano.  "Every Sunday is a dogfight.  We know that they're down there preparing, and we've got to do the same thing."
Last week it was how to correct missed opportunities that spelled a four-point loss to Miami.  This week it is a Jaguars team with a new head coach, Gus Bradley, new general manager, David Caldwell (a former Colt), a quarterback returning to action (Blaine Gabbert), a stellar back (Maurice Jones-Drew) and an active roster with 26 new players.
"We'll look back at our film and see what we did well and see where we didn't do things so well and try to improve on that.  We have a lot of focus on Jacksonville right now," said Andrew Luck.  "I don't think a lot of guys are looking behind or looking (ahead), 'We did well last week, it'll happen again.'  We know that's not the case." 
The Colts ran for 179 yards, controlled the ball for 36:25, held San Francisco scoreless for the last 49 minutes and forced five three-and-outs.  What mattered was internal preparation.
"We've got to take care of us," said Pagano, who said his team still needs improvement in all areas.  "If we take care of the cents, the dollars will come."
Luck is a six-game AFC South veteran and sees a grittier nature to divisional battles.  Jacksonville has been historically tough for Indianapolis.
"Yeah, absolutely (division games are scrappier)," said Luck.  "Every team is so familiar with each other, personnel, (games) over the years.  Last year I spent a little time talking to Reggie (Wayne) and the guys about the history between the teams and what games are like.  I remember him talking about Jacksonville saying it's always a fight, tough team, tough players.
"You see that on film this year.  Those guys are tough.  They play hard on every snap.  We're going to have to come ready for a fight."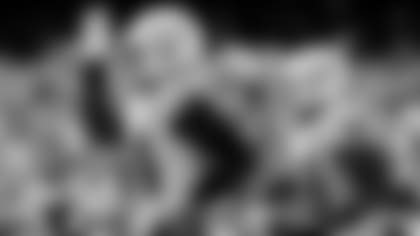 Indianapolis bolstered itself last week with a Wednesday trade for Trent Richardson.  Richardson (13-35, 1 TD) and Ahmad Bradshaw (19-95, 1 TD) accounted for the bulk of the club's 39 rushes at San Francisco, a game where Pagano said Indianapolis truly established its new identity as a power running team.
Those around the team this week query Colts personnel about the division of labor and if having a 1-2 punch (or even more expansive with Donald Brown, who had three carries last Sunday) is better than one featured back. 
Luck, who had the same type of attack under Pep Hamilton at Stanford, does not care who gets the carries.
"I could care less (laughs), whoever gets yards," said Luck.  "Selfishly, I'm sure every running back wants to take every carry.  They know how much it can help when the other guy comes in and gives them a spell and maybe a little change-up."
INJURY UPDATE – Ricky Jean Francois (groin) could miss a "week or so," according to Pagano.  Francois was hurt at San Francisco.  LaRon Landry (ankle) is day-to-day.  
PRACTICE REPORT – Did not participate:  S-Antoine Bethea (toe), Ahmad Bradshaw (neck), Ricky Jean Francois (groin), S-LaRon Landry (ankle); Limited participation:  LB-Pat Angerer (knee), C-Samson Satele (elbow).