 ](http://careyindiana.com)
INDIANAPOLIS – With five picks in the 2014 draft, the Colts are looking to supplement a roster that has helped the team earn consecutive 11-5 records and playoff berths.
There have been a number of significant players taken at all roster positions in the last 30 seasons.  Here is a review of the top positional choices of the past, the last five or six taken by the Colts and a listing of my top five choices available in this year's process (these do not reflect the position of the Colts).
TOP INSIDE LINEBACKERS TAKEN IN INDIANAPOLIS ERA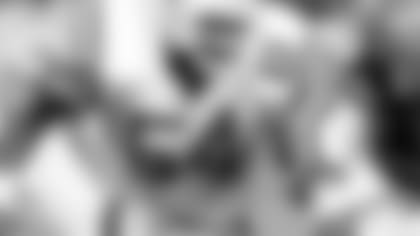 *Winner – Jeff Herrod (D9-88, 243rd overall; Years: 1988-96, 98; Starts/Games: 123/143) *
Herrod Notes:  Did not start as rookie, but had more than 100 tackles in each of the eight next consecutive seasons, topping the team seven times and never failing to amass fewer than 130 stops in any of those years.  Had 200 stops in 1994, the club record until 2012.  Credited with 1,149 stops by coaches, the most in local era.  Had 14.5 sacks and five interceptions.  Had 68-yard interception return for TD 10/13/96 vs. Baltimore, the longest ever by a Colts LB.  Said Rick Venturi, "Jeff Herrod was tremendously explosive.  He's a case study.  Jeff wasn't invited to the combine.  He ran a 4.75 40.  He had multiple tackles each game in the SEC.  His production was off the charts.   When you were around him, he had that infectious bug.  Jeff was smart, explosive, tough and instinctive.  I had a lot of smart guys in my 27 years, but Jeff was a guy who could go 100 miles an hour and maintain football intelligence.  He was great that way.  He'd be going 100 miles an hour, but he never lost his composure.  A lot of guys do when they become emotional.  Jeff was unique in that way."
Runners Up – Pat Angerer, Rob Morris.
THE LAST FIVE INSIDE LINEBACKERS DRAFTED BY COLTS: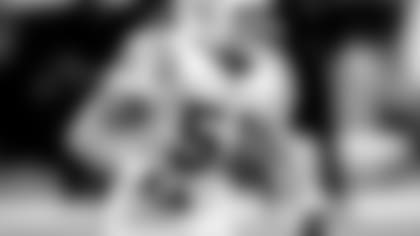 2010:  Pat Angerer, second round, Iowa
2005:  Tyjuan Hagler, fifth round, Cincinnati
2004:  Gilbert Gardner, third round, Purdue
2004:  Kendyll Pope, fourth round, Florida State
2000:  Rob Morris, first round, Brigham Young
KELLEY'S TOP FIVE AVAILABLE IN 2014 DRAFT:
ANALYSIS on MOSLEY:**  Exceptional instincts, triggers fast downhill.  Outstanding urgency. Plays with very good knee bend, balance and base.  Secure, drive-through tackler.  Hits with explosion and jars ball carriers on impact.  Excellent lateral agility, flows fast and ranges to the sideline.  Outstanding eyes and anticipation versus the run.  Very good coverage awareness with the ball in front of him, clings to tight ends passing through zones and blankets speed backs in man coverage.  Exceptional football and personal character.  Highly competitive, humble, selfless team player.  Outstanding football IQ.  Scheme-diverse and versatile.  Strong special-teams coverage performer.  Every-down LB capable of manning any position in a "40" front or steering a defense from the weak side in a "30" front. – Nolan Nawrocki, NFL.com
BORLAND QUOTE-UNQUOTE:**  "I'm confident that I am (the most complete LB), and I don't know that there are a lot of players that are a better all-around athlete.  I don't get maybe a lot of credit for it.  I'm small, and straight-line speed is not my strong suit necessarily.  As far as what it takes to play football, I've got all it requires. … I feel like I'm the toughest guy, or at least one of them (among draft-eligible LBs).  I've played through things, no complaint, practice hard, all the right things.  (It's) probably the way I grew up, so it's just kind of the way I operate. … Football's extremely important to me, it's my passion.  I put everything into it, and I think that's more valuable than a half inch or an inch (of height)."
ANALYSIS on SKOV:  Ideal size and temperament.  Possesses broad shoulders, a trim middle and thick lower-body.  Terrific instincts and physicality, a tone-setter in the middle.   Showed more explosiveness in 2013, his second season (after) a torn ACL.  Has always been aggressive in taking on and shedding blockers in the hole.  Voted a team captain.  Likely limited to inside linebacker duties in a 3-4 alignment.  Skov's value lies with his instincts and physicality, especially as a run-stuffer.  He's a fiery competitor who will quickly emerge as a fan favorite, even if his lack of ideal athleticism limits his role. – Rob Rang, CBSSports.com
Preston Brown, Louisville
Max Bullough, Michigan State
NEXT:  Previewing and reviewing outside linebackers.
Note:  The content in this story and in the series of draft-eligible players that appears on Colts.com in no way reflects the position of the Indianapolis Colts.