 ](http://careyindiana.com)
INDIANAPOLIS – With five picks in the 2014 draft, the Colts are looking to supplement a roster that has helped the team earn consecutive 11-5 records and playoff berths.
There have been a number of significant players taken at all roster positions in the last 30 seasons.  Here is a review of the top positional choices of the past, the last five or six taken by the Colts and a listing of my top five choices available in this year's process (these do not reflect the position of the Colts).
TOP DEFENSIVE LINEMEN TAKEN IN INDIANAPOLIS ERA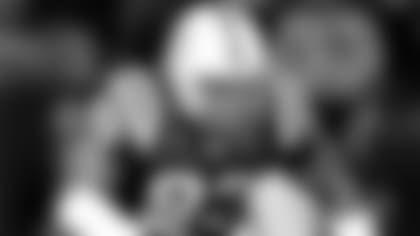 *Winner – Dwight Freeney (D1-02, 11th overall; Years: 2002-12; Starts/Games: 142/163) *
*Freeney Notes: *Franchise leader with 107.5 sacks at time of departure, including seven of the then-17 double-digit sack seasons in club history.  With 16 sacks in 2004 became first Colt to win NFL sack title.  Nailed 53 opposing QBs and had sacks against 27 teams.  Seven-time Pro Bowler, three-time All-Pro.  Had 14 All-AFC or All-Pro nods spread over four different seasons.  Played in 17 playoff games, starting 16.  Ranks ninth in franchise history with 112 regular-season wins.  One of 30 NFL players with 100 career sacks.  Said Tony Dungy, "Dwight did just what we hoped for.  When we got leads, he was such a dominant force.  Dwight impacted a lot of things.  He impacted not only the play on the field, he impacted game plans of what people even tried to do.  There were certain things (opponents) wouldn't do.  They weren't going to let Dwight be one-on-one and get straight rushes.  Dwight was the perfect player for the time and the defense and position." 
Runners Up – Ellis Johnson, Jon Hand, Tony McCoy.
THE LAST FIVE DEFENSIVE LINEMEN DRAFTED BY COLTS:
2010:  Jerry Hughes, first round, TCU
2008:  Marcus Howard, fifth round, Georgia
2007:  Keyunta Dawson, seventh round, Texas Tech
2005:  Jonathan Welsh, fifth round, Wisconsin
2003:  Robert Mathis, fifth round, Alabama A&M
2013:  Montori Hughes, fifth round, Tennessee-Martin
2012:  Josh Chapman, fifth round, Alabama
2011:  Drake Nevis, third round, LSU
2010:  Ricardo Mathews, seventh round, Cincinnati
2009:  Terrance Taylor, fourth round, Michigan
2009:  Fili Moala, second round, Southern Cal
KELLEY'S TOP FIVE AVAILABLE IN 2014 DRAFT:
Jadeveon Clowney, South Carolina
CLOWNEY QUOTE-UNQUOTE:**  "My speed of course (is my biggest strength).  I'm a fast guy, quick, move well.  Just my speed.  Strength-wise, I am pretty strong also.  (I) just need to work on my pad leverage.  I have to work on everything to make my game an all-around game, not just one thing.  Everything I am good at, I need to work on my craft and a lot on everything I am bad at. … Just getting adapted to the NFL (is my challenge), the new guys I am going up against, the team, playbook.  And the competition is going to get better."  End or LB?  "It doesn't matter to me, hand in the dirt, hand down.  The scheme I played in in South Carolina, my hand was always down, but I believe I can play standing up also."
EALY QUOTE-UNQUOTE:**  "Just being more serious about the job and knowing that you don't have any instructions (is the challenge).  There's no class, there's no friends, it's strictly business, just everyday grind.  You get in, you work on getting in your playbook.  Knowing your plays is really key and also working on technique. … To be honest with you, and it might sound a little cocky, but I believed that I could be a first-round pick when I first got to Mizzou.  My strength coach will tell you, I was in his ear every day.  He told me things I needed to hear and things I didn't want to hear.  It helped mold me into the young man that I am today."
Scott Crichton, Oregon State
CRICHTON QUOTE-UNQUOTE:  "I think it's (his strength) just my get-off.  It starts with my get-off, just being explosive and coming right off the line.  Then, you've got to have technique.  I've worked on my craft these last couple years.  I feel like I have improved and progressed as a defensive end using my hands, using my power, my speed.  I think all those attributes help me a lot."
Stephon Tuitt, Notre Dame
DONALD QUOTE-UNQUOTE:**  "It (answering size questions) never got to me, it is what it is.  Thinking about it isn't going to get me no taller.  All I can (do) is go play the game of football the way I play it – hard-nosed, out there trying to make plays. … I played nose tackle, played a three-man front in the five-technique, three-technique.  I moved around in college a lot, so being versatile the way I am, I feel like that's a plus for me.  Defensive line is defensive line for me, but I feel like I'm a three-technique."
Timmy Jernigan, Florida State
JERNIGAN QUOTE-UNQUOTE:**  "I feel like that's (playing all the DT positions) what I benefit at.  I feel like now in the NFL a lot of nose tackles, especially in the three-man front, the big
340-, 350-pound guys, and a lot of times when it's (a) pass situation, those guys have to come off the field.  I feel like that's where I can benefit a team.  I've played in the shade, I've played over the center, I've played in the three-technique.  When it's a pass situation, when you want to go to a three-man front, you can put me on the nose guard, right on the zero.  I can get pressure from the middle of the offense.  I feel like that's where my game changes from anyone else's."
Louis Nix III, Notre Dame
Ra'Shede Hageman, Minnesota
HAGEMAN QUOTE-UNQUOTE:  "I definitely use my basketball skills when it comes to playing football.  I feel like being athletic definitely helped me get to where I am.  I feel everyone in the NFL is athletic, so I definitely have to kind of stay to my fundamentals to get better. … I tell coaches I play all the way from a zero technique to a nine, just the fact that in college Coach (Jerry) Kill had me play three- technique, two, everything.  I'm very versatile and comfortable playing anything you want me to play."
Kelcy Quarles, South Carolina
NEXT:  Previewing and reviewing inside linebackers.
Note:  The content in this story and in the series of draft-eligible players that appears on Colts.com in no way reflects the position of the Indianapolis Colts.