This Monday, the Colts invited several suite holders and members of the media to convene at Lucas Oil Stadium to unveil its latest menu offerings as a part of the third annual Colts Culinary Showcase.
In addition to getting a sample of the food, attendees were treated to entertainment provided by DJ GNO, Colts' mascot Blue and team cheerleaders.
However, before everyone could chow down, multiple speakers took the stage to welcome them to the Stadium and express their goals for the new menu.
One of them was the creator of the new menu items, Lucas Oil Stadium's Executive Chef Jon Wanland, who addressed the crowd to mention some of the biggest changes that he and his staff had implemented over the past several months.
"We really wanted to hyperfocus on local [products], Wanland said. "We wanted to use as many local ingredients as we possibly could this year -giving back to our Hoosier farms and Hoosier businesses. We are trying to utilize as many minority-owned businesses, especially with us being a large catering company, we want to give back and support the smaller companies out there."
Not only had Chef Wanland and Co. put an emphasis on localizing their products, but they also wanted to feature another prominent fixture throughout the Midwest, bar-b-que.
"We are hyper focused on bar-b-que this year," Wanland said. "I think it is a big Midwest thing and I think it's going to be a fusion of my time in Dallas and Oklahoma to my time in California and the Midwest. It's going to have a peppery-sweet fusion of hitting all the Southern and Midwest states. And I hope that's shown."
That is evidenced by menu items like the BBQ Smoked Chicharrons and Smoke House.
Even with that homage to local cuisine, Wanland admitted that despite spending half of his life in the region, he still could not escape his California roots.
So, it was important for him to have food on the menu that were prominent on the West Coast such as the Hoosier Street Tacos and the Roasted Corn Queso Fundido.
Further highlighting the menu's creativity are its 'loaded concepts' for popular sporting events staples like hot dogs and hamburgers.
If one would like, they can get it Indy Style (with street corn, chopped bacon, chipotle ranch and crispy fried onions) or Nacho Style (loaded queso, tri-colored tortilla strips, southwestern ranch and pickled jalapenos).
Quite different than the usual cuisine that could usually be found at a football game, Chef Wanland said that was done on purpose.
"That's what the difference is between an NFL stadium and a high school stadium," Wanland said. "At a high school [game], you can go and have a hot dog and a soda. Here, you can have a hot dog and a soda, but we can also send you a tomahawk [steak]. We can send you a A5 wagyu [steak]. The sky is the limit. You want to see your favorite team, your favorite players and your sports heroes out there, but at the same time let's break the whole the experience of that gameday feel. That doesn't mean just getting a hot dog and a beer, let's elevate it a little bit higher."
Here is a full list of the latest additions to the menu for the 2023 Colts season: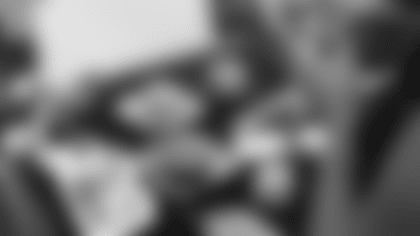 Featured Suite Items
Roasted Corn Queso Fundido
Grilled corn, flame roasted peppers Mexican cheese fondue. Served with tri-color tortilla chips.
Dill pickle, ranch and French onion dips served with kettle chips.
Soft and salted served with Elysian IPA Beer Cheese.
Smoked pork belly candied with local John Tom's BBQ Sauce.
Marinara stewed meatballs, topped with melted mozzarella cheese and fresh basil. Served with mini baguette rolls.
Sweet team brined locally raised chicken, hand-breaded and fried golden.
Grilled beef carne asada, shredded pork carnitas, sour cream, salsa roja, salsa verde, guacamole and served with flour tortillas.
Chunks of buttery, gooey dough coated with cinnamon and sugar glaze.
Freshly baked assorted cookies and assorted brownies.
Featured Quarterback Suite Items
House smoked Brisket and Pork, cheddar jalapeno cornbread and smokehouse baked beans.
Featured Game Day Match-Up Items
Italian Beef with Sweet Peppers and Giardiniera
This will be offered on August 19, when the Colts host the Chicago Bears.
Chicken and Sausage Jambalaya
This will be offered on October 29, when the Colts host the New Orleans Saints.
Featured Concession Items
Footlong Hot Dog or Hamburger Topped with either:
INDY STYLE – Street corn, chopped bacon, chipotle ranch and crispy fried onions.
NA-CHO STYLE – Loaded queso, tri-colored tortilla strips, southwestern ranch and pickled jalapenos.