 ](http://careyindiana.com)
INDIANAPOLIS – Chuck Pagano may have spent some time early this week with his team correcting mistakes from last Sunday.
It did not take any time to prepare and deliver this week's message – Thursday's game is huge, very huge.
"Having a two-game lead right now, sitting at 6-3, to be able to go down there and win a football game is huge.  Our guys understand it.  We control our own destiny," said Pagano.  "They know what's at stake."
Pagano did not have to pound home the obvious – better play is needed after combined halftime deficits of 49-3 to Houston and St. Louis have emotions stoked with the Colts needing to execute to the abilities that have led to six wins this year and a 17-8 record in the last 25 games.
Indianapolis has not dropped consecutive games during that span.  They are facing a Tennessee team that is 4-5, 0-2 in the division and in need of an immediate victory if plans past 16 games remain vivid.
"We do," said Mike Munchak if Tennessee feels urgency after falling at home last Sunday to Jacksonville.  "This is a playoff game for us.  We have to win this football game.  We play twice in three weeks, so I think we're going to find out real fast what our situation is when you're playing the top team in your division twice.
"We dug a hole, but there's still a way out.  That's how we look at it.  We still can take care of business, still control what happens in the next seven weeks if we go out and play (like) we're capable of doing.  That's what's ahead, that's the window, and it's right now.  We have no more 'Let's wait until this week or next week.' "
Ryan Fitzpatrick starts for the injured Jake Locker and joins Case Keenum and Kellen Clemens as three straight quarterbacks facing the Colts who replaced injured starters. 
Keenum and Clemens fared well, and Indianapolis last faced Fitzpatrick in a 20-13 victory over Buffalo last season.  Fitzpatrick has 78 career starts, with a 1-2 such record in three outings against the Colts.
"There's a body of work there that we can go off of and our guys can see," said Pagano, when reminded about this being a third straight game with a new signal-caller. "We played against Ryan in the past.  He's more than capable.  It comes down to communication, execution, front to back, everybody being on the same page and doing their job."
Two of three scoring passes by Keenum were long, 41 and 62 yards, while Clemens connected on 57- and 81-yarders last week.
JOHNSON A THREAT – Only one of Chris Johnson's 34 career 100-yard games has come this year, but it was two games ago and was a superlative performance.
Johnson tattooed St. Louis with 150 yards and two TDs on 23 attempts.  Twenty-four of those 34 triple-digit games have been better than 125 yards.  His 12 career TD bursts of 45-plus yards rank third in history, while six of 80-plus yards are the NFL's all-time most.
Johnson has not battered the Colts like division mates Maurice Jones-Drew and Arian Foster.  His 84.5 career rushing yards/game average is only 67.3 against the Colts.  His 4.6 career rushing average is 3.7 against Indianapolis.  Eleven of his 189 career 10-plus-yard carries have come against the Colts. 
Even his 2,006-yard season in 2009 with a 125.4 average per game was lower against the Colts (73.5), but eyes always are peeled for Johnson.
"He's a home run hitter.  You've got to play disciplined football," said Pagano.  "We say, 'No edge, no chance,' with this guy.  You got to bottle him up.  You got to play sound, disciplined football with your front seven and the back end because he is one of those guys that all it takes is one play and he can go.  
"We got a lot of evidence on film.  Our guys are obviously more than aware of what he can do."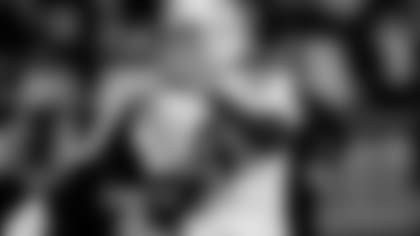 VINATIERI STREAK INTACT – Without scoring against St. Louis last Sunday, Adam Vinatieri was shut out of the point column in only the third outing of his 267-game career.  Because he did not take the field in any capacity though active, his 154-game streak of scoring points remains intact.
Personal streaks (except for consecutive games played or started) only end when a player does not reach the amount in the specific category in a game in which he played.  Had Vinatieri kicked off or held for a placement, the streak would have ended.  DNPs (short for 'Did Not Play') or games inactive do not end streaks.
Vinatieri has scored in 107 consecutive games for the Colts, just behind the club mark of Mike Vanderjagt (118, 1998-2005).  Vinatieri has 779 career points with the Colts and needs five more to move past Dean Biasucci (783) into second-place in franchise history (995, Vanderjagt).
PRACTICE REPORT – Did not participate:  CB-Josh Gordy (groin), S-Delano Howell (neck), CB-Greg Toler (groin); Full Participation:  NT-Josh Chapman (knee), OG-Mike McGlynn (thumb).  
INJURY REPORT – Out:  Gordy, Howell, Toler; Probable:  Chapman, McGlynn.