 ANDERSON – Day four of last year's training camp was the first time pads went on under the watchful eye of new Head Coach Chuck Pagano.
Today was the fourth day of the 2013 camp, and pads went on again.  It was the first of nine camp practices where Colts players are "padded up."  Today was a step that leads in the progression to preseason play on August 11.
It is not a major milestone, but it is a different measuring stick for players and coaches.
"That's the only day (that's fun)," said Cory Redding of the first padded practice of a season, "because you haven't hit anybody since your last football game.  You want to get the pads on to kind of evaluate yourself, see where you stand. 
"You want to see if you still have the strength, the technique and what it takes to go as hard as you can and make the play with pads on."
Last year at this time, Bruce Arians said it was time to stop the soccer practices and get on with the NFL.  Speaking prior to the workout, Pagano was ready to observe the heightened process.
"Everybody's champing at the bit," said **Chuck Pagano (click to see today's video)**.  "We know what a lot of these guys can do from a physical standpoint, a pads standpoint, how they carry and play behind those pads, but there are a lot of new faces.  Players are eager.  Coaches are very eager to see how these guys perform in pads." 
A buzzword around the team from the spring and summer work is "physical," and today was the first day the intensity was increased.  Players were showing their competitive spirit about adding pads.
"It's high intensity.  Everybody is ready to go," said Ahmad Bradshaw, who has been a part of this day in previous camps and who soon will return to action.  "Everybody is excited to be out here.  This is where it starts.  You have to be all-out.  Any hold-back results in injury.  You want to be all-out and be on your toes."
Said Donald Brown (see video) of his excitement, "Of course, that's what football is.  It will be fun.  Guys will be flying around, making plays.  Football is really starting now.  Everybody is feeling good and ready to go."
Players have gone through two afternoon workouts in shells, helmets and shorts.  Vick Ballard got his first taste of NFL collisions a year ago.  It remains anything but gentle on his mind.
"The first day in pads, (I remember) pass pro (protection drills).  We're doing it again this year," said Ballard.  "It's one-on-one with the linebackers.  They're coming down here, and you have to stop them. 
"I'm a football player, pads come with it.  Today will be real exciting, the first day of pads.  Those people moving around a little sluggish in our walk-throughs, I'm pretty sure when the pads come on and everybody flies around, there will be a real big change."
A year ago, Antoine Bethea described the first padded day as a time for controlled aggression.
"There's a lot of anxiety," said Bethea.  "(There will be) a lot of banging.  At the same time, we have to be smart.  Like we say, 'No cheap shots, mano-a-mano.'  You know, live to see another day.
"We're all professionals.  If a guy eyes you up, you can (hit him).  If a guy doesn't see you, just keep on going and live to play the next play.  We're all professionals here.  At the same time, be aggressive."
Pagano today voiced the same goal as his Pro Bowl safety.
"We'll see who is going to knock somebody off the ball, who's going to knock 'em back up front," said Pagano.  "What we tell them is we want to be competitive, but not combative.  We have to take care of each other. 
"We certainly don't want to lose anybody just because you have the pads on.  You have to learn how to practice in pads.  We'll stress that big-time."
The third of Andrew Luck's four TDs was the practice highlight.  In red zone work, Luck scrambled to his right and found T.Y. Hilton between Darius Butler and Vontae Davis.  Luck threaded the pass into a small window to complete the play.  Three of his four scoring tosses came in the drill.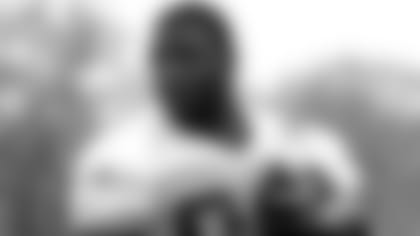 Andrew Luck hit 22-of-33 passes for four touchdowns and one interception, finding Reggie Wayne, Coby Fleener, Hilton and Dwayne Allen for scores, while Vontae Davis had an end-zone interception of Luck.  Luck is 71-of-110 for seven TDs in 7-on-7 or 11-on-11 drills in three days. 
Luck scrambled for a nine-yard TD run in red zone work, prompting Cory Redding to shout, 'You ain't supposed to run."
Fleener has had three, seven and six catches in afternoon work in camp.
Davis had a pass defensed from Luck-to-Hilton early in practice.  Greg Toler had another solid pass defensed midway through work, and safety LaRon Landry delivered a post-reception shot to Darrius Heyward-Bey.
Matt Hasselbeck had a touchdown on a fade route to Griff Whalen negated by an illegal player downfield.  The two combined moments later for a score.
Adam Vinatieri was two-of-four on late field goals from 40 -yards, missing wide right and hitting the crossbar.
League rules now stipulate players must wear knee and thigh pads, something that was not mandatory in the past.
"Some guys wear them, some guys don't.  It's never been mandated, now it's the league rule," said Pagano.  "We're going to be in pads nine times in camp.  We're going to make them do it.  They have to wear them in a game.  They have to get used to thigh pads and knee pads."
Bradshaw feels it is good business, "I protect myself.  I'm a running back.  I'm taking the load, taking the hits.  I'm falling on the ground.  I want to protect myself and make it a longer career."
G-Hugh Thornton (ankle) missed today's morning work.  C/G-Khaled Holmes left early in the afternoon practice with an ankle injury.  LB-Scott Lutrus (knee) and S-Sergio Brown (hamstring) missed time.
Linebacker Josh McNary has filled his military obligations, and the free agent linebacker was in afternoon practice.  The club placed NT-Brandon McKinney on injured reserve with a knee injury.
McKinney was signed as an unrestricted free agent on April 5, 2012, but missed last season with a knee injury.
Safety Antoine Bethea was absent today after he and his wife welcomed a baby girl to the family early this morning.
Bradshaw indicated he is progressing well and should be ready in about two weeks.  Asked about wanting to play in preseason game, Bradshaw said, "I don't think so.  I've played in enough of them."
PAGANO SAYS(On the injuries suffered around the league so far)
"Some of those are just freak deals.  Some guys are just snake-bit.  We were hit hard last year.  We lose Brandon (McKinney) the first game.  Ben (Ijalana) comes out and he's pass setting on air and blows out a knee, unfortunately.  We're going to make it competitve, but smart."
PLAYER QUOTE OF THE DAY (RB-Ahmad Bradshaw on why DBs and WRs do not usually wear knee/hip pads)
"They're trying to run away from the contact (laughs).  Me, I'm trying to give the contact, and I'm taking the most of it.  I want to make it a longer career by wearing thigh pads and knee pads."
World famous singer and long-time season ticket holder Sandi Patty attended in the afternoon.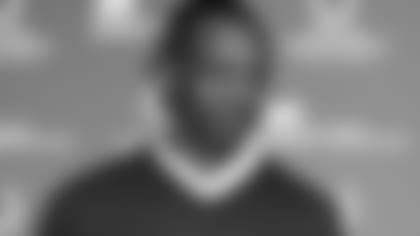 How many total coaches do the Colts have on staff?  Name the new coaches this year.  ANSWER:  The Colts have 20 coaches on staff and new to the staff this year are Pep Hamilton (offensive coordinator), Tom McMahon (special teams coordinator), Tim Berbenich (offensive assistant) and Hal Hunter (assistant offensive line).
The last season when the Colts scored a safety was 2007, when Indianapolis had two.  Name the two Colts who scored safeties.  Also, name the last opposing player to score a safety against the Colts.  See the next Colts Camp Notebook for the answer(s).
TODAY'S NATIONAL COVERAGE
Kim Jones of the NFL Network was in attendance, along with Pete Prisco (CBS Sportsline).
AFTERNOON ATTENDANCE:  2,125.  TOTAL FOR CAMP:  9,073.
The weather in Anderson on Tuesday was sunny and warm.  The morning walk-through was held in 68-degree temperatures, while the high for the afternoon session was 75 degrees with cloud cover throughout.  Wednesday's outlook calls for the chance of showers with a high of 82 degrees.
Wednesday's practice session open to the public is 1:50 to 4:30 p.m.