 ](http://careyindiana.com)
ANDERSON – NEWS OF THE DAY– Vick Ballard went down in individual drills in the afternoon and was taken from the field via cart.  He will have an MRI on his lower left leg to assess any damage.
WERNER GETS INCREASED WORK
With 90 players in camp and two practices on most days, shuffling of personnel is a given.
The type of rotations being made by the Colts' defense is what is so startling – Robert Mathis not in his customary spot so much and getting time with the second unit.
"We have to prepare for reality.  The reality is we're not going to have Robert for the first four weeks," said Chuck Pagano.  "We've got to get the other guys ready to go. 
"Bjoern's going to get a lion's share of the snaps with the ones.  We'll get Robert what he needs.  We also have to get Cam Johnson, Aaron Morgan and (Daniel) Adongo some snaps."
Mathis and his wife, Brandi, welcomed a new daughter, Brielle emma-rose, July 19.  To help grow the family size, Mathis used a fertility aid briefly late last year.  The particular aid used clashed with the league policy and landed him a four-game suspension.
With Denver, Philadelphia and two division games looming, Werner is getting a heavy dose.
"He's made a huge jump.  He might have taken a week off, two max, during the off-season," said Pagano.  "From a terminology and scheme standpoint, he's not thinking right now.  He's able to play extremely fast.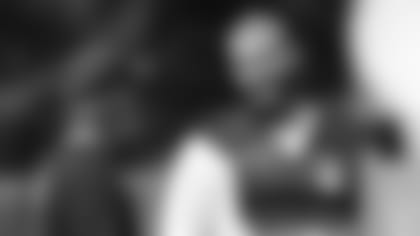 "It's a by-product of the time he put in in the off-season, OTAs and mini-camp.  He's in a great place right now."
In Thursday's afternoon work, Werner swiped a batted Andrew Luck pass and lateraled to a teammate who scored.  Werner later batted a Matt Hasselbeck pass that Cory Redding returned for a score.
It was that type of disruption Indianapolis envisioned when it drafted Werner 24th overall in 2013.
"He knows what he's doing.  He can play fast," said Mathis of Werner.  "It's more reaction than thinking. 
"Defense is just reacting to what the offense gives you.  He can do that.  At the beginning of the play he knows what he's doing, so he can just go.  When you have to think too much on defense it slows you down."
Werner had 23.5 sacks, 35 tackles for losses and 17 deflected passes at Florida State.  He will see very pass-happy attacks twice to open 2014.
Last year, Denver scored a league-record 606 points (37.9 per game).  Philadelphia averaged 417 yards and 27.6 points per outing.
Peyton Manning and Nick Foles combined for a TD:interception ratio of 82:12.  Their combined 116.4 rating came on 653 completions in 976 attempts for 8,368 yards in addition to that ratio.
They were sacked a combined 46 times in 1,022 pass calls. 
Pagano will keep Mathis plugged in, but rotating him is a camp adjustment not seen in recent memory.
"We can't let Robert sit around for four weeks.  Then it essentially turns into an eight-week suspension if we did that," said Pagano.  "As far as individual drills, you saw him in there with the twos from time-to-time so he can stay sharp from skill set standpoint, fundamentals, technique, mentally." 
Mathis will bide his time, "kiss my baby and wait my turn.  When it's go time, it's go time."
Queried on the two-game suspension of Ray Rice in a domestic matter, half the duration of his penalty, Mathis stated:  "Colts business.  He's not a Colt, that's their issue."
LaRon Landry and Vontae Davis were held out of the afternoon session for "soft tissue issues" and as a precautionary move just like yesterday.  Joining them in sitting were Jack Mewhort and Trent Richardson.  Their absence was called precautionary, too. 
Matt Hasselbeck shook off a rough section of team work that included multiple interceptions by finding Griff Whalen on a deep scoring pass over Marcus Burley.  Burley had returned a Hasselbeck pass for a TD on the previous play.
Marcus Burley, Mike Adams and Loucheiz Purifoy had interceptions of Hasselbeck in a day where defense played sharply.  Burley and Adams returned their thefts for TDs.
Andrew Luck was 28-of-40 Friday for one TD, hitting Reggie Wayne.  Luck connected with eight receivers in 7-on-7 and 11-on-11 drills, finding Coby Fleener and Wayne six times and Dwayne Allen five times.
Da'Rick Rogers made a nice leaping catch from Hasselbeck in team drills in tight coverage.  Hasselbeck and Fleener combined sharply on a seam route.  Hasselbeck and Tony Washington had a long scoring play late in practice.
Bjoern Werner defensed a mid-range pass and Cory Redding batted down a Luck attempt.  Greg Toler had a nice pass defensed on a Luck attempt to Wayne.
PAGANO QUOTEWORTHY (on if he has a desired number of offensive snaps in a game)
"As many as we need to win.  If our offense is on the field for 70, 75 plays and our defense is chewing ice, we're going to be okay.  We'll probably win a lot of games."
YESTERDAY'S TRIVIA QUIZ**
The Colts have won eight AFC South championships since realignment in 2002.  How many teams have won more division titles than the Colts during that span, and guess the number of titles those teams have won? 
ANSWER:  One team (New England, 10) has won more division titles than the Colts since 2002.
On three occasions since 2002 have franchises won five straight division titles.  Name those franchises and the years it was done.  Two other franchises have won titles in four straight years.  Name those franchises.  See the next Colts Camp Notebook for the answer.
AFTERNOON ATTENDANCE: 2,385.  TOTAL FOR CAMP:  4,492.
The morning practice was held in 64-degree temperatures with no wind.  Afternoon work was held in cloudy conditions and 73-degree weather, with wind.
Saturday's schedule is the same as today with a morning closed walk-though and an afternoon session from 1:50 to 4:25.