 ](http://careyindiana.com)
ANDERSON – NFL reporting days find 32 teams unbeaten, but each team has different perceptions formed by those observing the process.
Two years ago, Colts players sported T-shirts in camp emblazoned with gloom and doom predictions after a 2011 2-14 season.
Now as one of seven teams to make the playoffs consecutively, Indianapolis finds perception of a different type as it reports to Anderson University.
Players now are asked if they are the hunted rather than the hunters, if they are ready for the spotlight and high external expectations being thrust at them.
"We've been ready to deal with that spotlight because we put ourselves there, regardless of if the media put us there in the beginning," said Cory Redding, a building block from Chuck Pagano's outset in Indianapolis.  "We know what kind of team (we have).  To not do what we want to do this year, as Charles Barkley would said, 'It would be uncivilized.' 
"We have high goals every day for ourselves, and we strive to reach those goals."
Indianapolis always has fortified from within, listening to the voices in meeting rooms and the locker room.  Players have built a brotherhood as Pagano builds his monster.
Redding feels the monster is immune to the external forces. 
"Quite frankly, I don't really care," said Redding.  "I keep my head in my playbook, be around my guys, listen to what they say, listen to my coaches, do what they tell us to do and that's it. 
"There's going to be a lot of outside (people) shooting bad arrows and good arrows at us.  It's all about how we care about each other, what the coaches say and how we feel.  We know what we have to do.  We put ourselves (here).  We put the pressure on us.  There's no (outside) pressure at all.  We already apply it to ourselves daily."
Pat McAfee claims the attention Indianapolis is getting is because of Andrew Luck's rapid development.   That progression festers a favorable nod, and he credits the rallying charge Pagano created and maintains.
Luck, however, sees no difference on how players feel now compared to 2012.
"Coming in my first year there were very high expectations internally," said Luck.  "I had high expectations for myself.  Leaders on our team – Robert Mathis and Reggie Wayne – had high expectations. 
"I don't think it changes this year.  Maybe the perception is a little different from outside the gates.  Inside the gates, there's always high expectations.  I think that's cliché, but I do think it's true.  It's the way Coach Pagano runs the operation.  I don't think we tend to worry about the external expectations."
Reggie Wayne joins his quarterback in feeling things remain the same.
"If you're asking me, I think we're the hunted regardless," said Wayne.  "I think being hunted is good.  It makes you have a sense of urgency.  It makes you step out there with your best foot forward.  If not, you're going to get embarrassed.  I think we're excited for the challenge."
The Colts are joined by Denver, New England and Cincinnati in the AFC as repeat playoff participants, while Seattle, Green Bay and San Francisco qualify from the other conference.
"I'm excited for this year," said McAfee.  "I think it's going to be a really good squad.  It doesn't matter what (media) say, it's what we believe.  That's the mantra that is football."
Luck was ready Wednesday to get going, but the calendar meant he will have to wait until Thursday.
"It will be exciting tomorrow," said Luck.  "Tonight, a lot of guys will have trouble sleeping.  I know I always do.  I love camp.  It's easy in the sense that you focus on football 24/7.  It's a lot of fun."
The expression is to 'Play Ball,' though pro sports are serious business.  Reggie Wayne historically takes a moment on camp's opening day to arrive in dramatic fashion, but after the entrances it is down to work for one of the franchise's finest.
Today, Wayne's anticipated arrival was in an authentic Indy race car (not a street version) piloted by veteran driver Ed Carpenter.
"I think it's a sign for the Colts as a team," said Wayne after alighting from the car and taking off the race helmet he wore as the two navigated Scatterfield Road to reach campus.  "We need to come out fast, need to have a sense of urgency.  We need to come out moving with some speed.  This was one way of entering camp with a motto for the team."
Last year, the 'baller' arrived in a helicopter and before, he arrived in Anderson with the Army Reserves. 
Wayne's pattern continues in a camp vein started by Edgerrin James when the Colts trained in Terre Haute. 
After James started the arrival tradition, Wayne joined him.  Once, the duo arrived in Terre Haute together in the back seat of a cab. 
As it turned out, the cabbie had a suspended driver's license.  Wayne had no such problem with Carpenter, and he said the slick wheels on which he arrived might be symbolic for where he is now in recovering from a torn right ACL.
"I guess you can look at it that way.  I do feel fast," said Wayne.
This is the first time in 14 Colts camps Wayne is bouncing back from an injury, and it lends a new feeling.
"It is a little different.  The difference is I haven't played since October.  I'm a little hungrier now," said Wayne.  "It was taken away from me since October.  It will be different. 
"It kind of feels like a rookie all over again.  I'm anxious to prove what I can do.  I'm excited.  Hopefully, you can see the Reggie of that rookie time."
There was no practice on reporting day.  The first practice open to the public is 1:50 p.m. Thursday.  There is a closed morning walk-through session.
How many different Colts players have completed passes to Reggie Wayne?  Who are the top three and how many players overall threw scoring passes to Wayne?  See the next Colts Camp Notebook for the answer.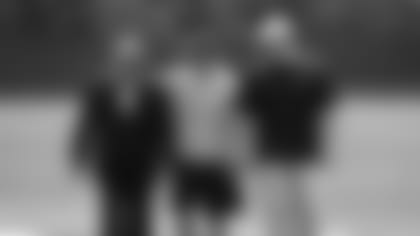 Only six players on the active roster pre-date the arrival of Ryan Grigson and Chuck Pagano – Reggie Wayne, Robert Mathis, Adam Vinatieri, Pat McAfee, Joe Reitz and Anthony Castonzo.  Fili Moala would push the count to seven, but he was placed on IR this spring.
PLAYER QUOTE OF THE DAY (Andrew Luck on if this is a better Colts team than last year)
"I'd like to think so, but who cares what I say here?  That's the great thing about sports, it's what you put on the field."
PLAYER QUOTE OF THE DAY, PART TWO (Reggie Wayne on if his injury and missed time deepens his feelings of playing in the NFL is a privilege)
"Yeah, it definitely makes you put things in perspective.  It makes you understand and love it a little bit more.  You never appreciate something until it's gone.  It was taken away for a little while.  I was able to lock in and look at it from different aspects.  I'm just excited to be back."
"Rise and Grind." – Sergio Brown.
Thursday's practice session is 1:50 to 4:30 p.m.
The weather in Anderson on Wednesday was rainy early with lightning and thunder.  The inclement weather broke in mid-morning, but it was overcast and cool the rest of the day.  Thursday should have a low of 56 with no percent chance of rain.  It should be sunny and 73 degrees (10 mph winds) for the start of Thursday afternoon's practice.