 ANDERSON – What people do always speaks louder than what they say.
On Monday at camp, Pep Hamilton and Andrew Luck both talked of the importance of a running game.  It was continuation of remarks made throughout camp about the aim for a physical ground presence this year.
Later in the evening, a roster move backed up those words again as the Colts added fullback Robert Hughes.
Hughes, a 235-pound back who played five games with Indianapolis last year, joins three other fullbacks in camp, though one – Dan Moore – is dinged right now with a shoulder injury.
His arrival, plus the concept of stocking the position, very much is part of the plan as the Colts' "unfinished business" starts this Sunday with a preseason game with Buffalo in Lucas Oil Stadium at 1:30 p.m.
"It's about being physical," said Hamilton.  "It's all about imposing our will on our opponent, having a physical mindset and buying into the fact that it's going to hurt when we run the football.
"We expect it to hurt our opponents more than it hurts us, especially in the third quarter, when we continue to run the football."
Indianapolis has not used fullbacks traditionally since the end of the 1997 season when Zack Crockett started the majority of the time.
Hughes being with the Colts last year made him only the 10th true fullback employed by the club since the start of the 1998 season. 
Over that 240-game span, those 10 players combined to start 15 of 117 games while rushing 20 times for 47 yards.  For three of those years (2008-10), the Colts did not field a fullback at all.
The blended attack with a greater emphasis on committing to the run is not a passing fancy.  Hamilton was hired at Stanford by Jim Harbaugh.  Harbaugh then and now with San Francisco has employed a power running attack.
Hamilton did the same in Palo Alto, even with the presence of Andrew Luck.  The Cardinal ran the ball nearly 56 percent of the time with Luck at the controls in 2011, rolling to 561 points.
Just as Hamilton was shaped by influences like Norv Turner and Paul Hackett in person and by Bill Walsh through study, Hamilton this summer reviewed offenses of several NFL teams, mentioning specifically the power-oriented attacks of San Francisco and Baltimore.   
"I believe that we should be able to run the football and commit to running the football," said Hamilton.  "We're just trying to create a mentality and mindset for our guys, for all of our guys."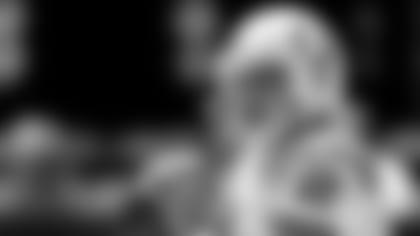 After a season where he threw 627 passes, the most ever by a rookie and one of the highest totals amassed in the NFL's 90 seasons, Luck is engaged happily in the concept.
"It's great to hand the ball off," said Luck.  "The balance of the offense has been a lot of fun.  Everybody is really buying into this sort of smash-mouth approach, and I think that's only going to help us in the passing game, so it's been great."
Luck, a fancy passer, has seen this concept work.  He still found time to connect on 37 touchdown passes in his final season, hitting 71.3 percent of his passes. 
Hamilton will not ignore Luck's abilities to go downfield.  The blended offense with a bigger line and help from fullbacks will keep him upright and attacking.
"By no means are we going to not work on being an efficient passing team," said Hamilton.  "We want to maintain balance more than anything. 
"We talked about Andrew (Luck) being a selfless player and that's one of the things of Coach Pagano's program.  We're going to do whatever it takes to win ballgames.  He's bought into the fact that a good running game can really open up our passing game.  That was truly the formula that we used when he was in college.  We just want to score points, however we can."
On a night when he threw six touchdown passes, Andrew Luck teamed with T.Y. Hilton on a long throw into tight coverage.  The pass caught Hilton in perfect stride, a half-step ahead of Greg Toler.  It was textbook and arguably was Luck's best deep throw of camp.  Hilton had three scores on a productive evening.
Luck hit 26-of-35 passes for six touchdowns, playing sharply from start-to-finish.  His first completion was on a flea-flicker to Hilton, and he ended his night with a scoring toss to Hilton in two-minute work.  Luck is 195-of-286 for 19 TDs in 7-on-7 or 11-on-11 drills in during camp. 
Tonight, he hit eight different receivers, including Wayne (7) and Hilton (7) on multiple occasions.  Wayne had a scoring reception from Luck.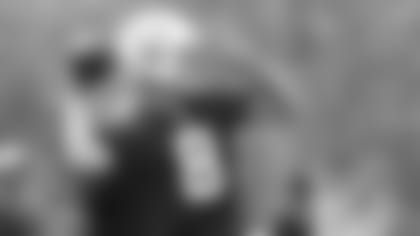 In two-minute work to end practice, Chandler Harnish directed a field goal drive after penetrating the 10-yard line.  Harnish had a spectacular completion to Jabin Sambrano on the drive.  Luck then teamed with Hilton for a score on the next two-minute drive.  Matt Hasselbeck suffered an end zone interception by Cassius Vaughn in the final two-minute drive.
Earlier in practice, the first-team defense stopped the offense on three of four third-down plays inside the 10 in specific drill work.  The lone time the offense scored was a pass from Luck to Griff Whalen.  Hasselbeck in the same drill hit three scoring passes in four plays, teaming with Donald Brown, Whalen and LaVon Brazill.  Drake Nevis was credited with a sack on the drill.
Delano Howell defensed a pass from Luck to Coby Fleener, who had four catches on the night.  Harnish added a scoring scramble during practice.  Hasselbeck had a deep completion to Coby Fleener with Lawrence Sidbury in tight coverage.  He also hit Whalen on a scoring toss.
"Many thanks to the fans for coming out.  The crowd was phenomenal," said Chuck Pagano.  "We got situational work done – first and second down, red zone, two-minute.  We had great throws and catches.  I told the team we're going to be able to run the ball and stop the run.  If we don't give up big plays and can convert (them), special teams is coming, I'm excited for Sunday."
S-LaRon Landry (knee), S-Joe Lefeged, G-Hugh Thornton (ankle), C/G-Khaled Holmes (ankle), S-Sergio Brown (hamstring), LB-Mario Harvey (hamstring), LB-Daniel Adongo (biceps), G-Joe Reitz (burner), S-Larry Asante (shoulder, AC joint), LB-Jerrell Freeman (shoulder) and FB-Dan Moore (shoulder) missed action.  Heyward-Bey's MRI came back negative, and he is day-to-day.
Heyward-Bey was in pads and went through early drills.  "(He) came out, warmed up and (we) put him through individual (drills), basically routes versus air, then pulled him back.  We didn't want to do too much today.  Tomorrow is a day off.  He'll get treatment three or four times.  He'll probably get a little more on Thursday.  Landry was out.  (It was) nothing major.  He tweaked a little bit of a knee.  Nothing major.  We wanted to hold him and not push him.  (I) anticipate he'll be out here Thursday ready to go."
NT-Brandon McKinney was released with an injury settlement.
PAGANO SAYS(On his impressions of Robert Mathis after one year)
"The biggest thing from a character standpoint, us coming in here and going from the 4-3 to a 3-4, once he grasped the concept and what we were going to ask of him, he was all in.  He never wavered, never balked, never asked why, 'Just tell me what to do, and I am going to do it.'  That's the type of guy that he is."
FEATURED QUOTE (Dwayne Allen on the lengths he went to in working on health science degree that he will receive in December)
"I had to fly back to Clemson every three weeks or so for tests.  My professors were great.  They worked with me a lot.  They understood what I was going through with my first NFL offseason and knew the type of training regimen that I was under.  They worked with me, but I was able to get back and complete my assignments."
Name the six Colts quarterbacks (counting the playoffs) who have completed 30 or more passes in a game and which of the three who did it on multiple occasions.  ANSWER:  Peyton Manning (28 times), Jeff George (twice), Andrew Luck (twice), Bert Jones (once), Jim Harbaugh (once) and Dan Orlovsky (once).
Five different opposing quarterbacks have had five or more touchdown passes in a game against the Colts.  Who are they?  See tomorrow's Colts Camp Notebook for the answer.
TODAY'S ATTENDANCE:  7,350.  TOTAL FOR CAMP:  30,407.
The weather during Tuesday's morning work was overcast and 70 degrees.  The temperature for the night practice reached 77 degrees with sunny skies to start the practice. 
Wednesday is an off day for the Colts.  There will be a Thursday afternoon practice open to the public from 2:00 to 4:30 p.m.