 INDIANAPOLIS – Saturday's game with Cleveland is the closest approach to a regular season game the Colts will take until the week of the opener against Oakland.
As is common with most teams, the Colts are expected to use starters into the third quarter on both sides of the ball so players can get a feel for action, halftime adjustments and coming out for more action.
Andrew Luck had 10 snaps against Buffalo and 22 against the New York Giants.  Luck has directed Indianapolis to 10 first downs, 189 net yards gained and to scores on three of his six preseason possessions, while another ended after a fumbled completion in the red zone.
The player who took every snap as a rookie and who has hit on 13-of-19 passes for 158 yards and two touchdowns in 2013 is ready for extended time on Saturday.
"Absolutely.  We're excited to go out there," said Luck.  "Any time we can get on the field, whether it's preseason one, two, three or four, or (the) regular season (it's exciting).  Hopefully, we can get in a good rhythm and really make it feel like a real game."
Luck is working behind a line with new starters at right tackle and left guard.  Avoiding negative plays and getting a rushing attack revved up is a big emphasis.
"A big focus of Pep's (offense) is to make sure we are not running negative plays from the snap," said Luck.  "We've embraced it as quarterbacks. 
"If we can get to the line of scrimmage and get our angles better on a certain run or make sure we are not running out of free guys, then we'll do that because we want this team to be successful." 
Through two games, the ground game has shown flashes, but a 3.3 average means more work is due.
"We know that we have running backs that can take it to the house on any given play, so our run game is comprehensive," said Luck.  "It's not perfect by any means, but we are still getting better on it."
Luck felt the offense found a better rhythm last week against the Giants and was more efficient than how it performed in the opener.  He wants to see certain improvements this weekend.
"I think third down, third-and-short to third-and-long, making sure we can convert some third downs," said Luck of the focus.  "That's so important in keeping drives alive.  Then red zone passing, making sure we're completing balls in the red zone and getting touchdowns."
Pep Hamilton wants the same goals as Luck for Saturday's tune-up.
"Just to continue to execute the offense and manage bad plays," said Hamilton of Saturday's goal.  "I think going into this game, we can count on Andrew just continuing to be the playmaker we need him to be.  We need him to play great situational football and continue to manage the offense."
Chuck Pagano has said Luck looked like a veteran quarterback from the moment he stepped onto the Colts' practice field 15 months ago.
After a wondrous rookie season, Pagano said this off-season benefited Luck because of his dedication to improving.
"It was very beneficial," said Pagano.  "Whether he was here or in that five or six weeks (players) left (in June and July), he's one of those guys that he wasn't on vacation in Atlantis.  He was grinding, whether it was down in Miami with a group of receivers or back at Palo Alto with guys out there.
"Having the full offseason and the summer, you can see the difference.  He's taking care of things, he's managing things well.  I feel like he's ready to have a better year than he had last year and take us further than where we got last year."
The Colts traded Delone Carter to Baltimore for WR/KR-David Reed.  Reed was a fifth-round pick by the Ravens in 2010.  In 29 career games, Reed has a 29.5 average on 39 kickoff returns, including a 103-yard scoring return in 2010 and a 77-yarder in 2011.  He has five career receptions.  Carter was a fourth-round pick by the Colts in 2011.
"This trade gives us a chance to improve in key areas moving forward," said Ryan Grigson. "David is a very competitive football player, and we welcome his style of play and energy.  At the same time, we wish Delone well with his opportunity to play for another first-class organization and we thank him for his efforts."
This marks the 13th trade by Grigson during his tenure.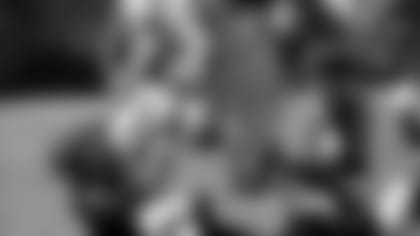 Coby Fleener remains day-to-day with a right knee sprain.  He was not spotted in the portion of practice open to media.  There was no update on Lawrence Sidbury (shoulder), or the playing status this week for Fili Moala. 
Hamilton said Fleener will be given more opportunities to make plays, and he expects him to do so.  Hamilton said he has seen Fleener go through highs and lows, and he is counting on the second-year talent to be "a playmaker.  We'll keep coming up with ways to get him the football."
Ahmad Bradshaw was dressed for the media portion of practice.  His status for Saturday is unclear.  Tuesday, Pagano said Bradshaw was "not expected" to play.  Pep Hamilton said Wednesday if Bradshaw is made available to play that coaches will "devise a plan for Ahmad to go out and do what we all know he can do very well, and that's run the football."  Pagano said he was not worried about preseason inaction for Bradshaw and that any work before the Oakland game would be "a bonus."
Greg Manusky would like to see LaRon Landry (knee) practice and play in preseason.  Manusky said the adaptation to the speed of the regular season is tough when a player is just thrown into action.  He said Landry is day-to-day and would love to work him with first-teamers, saying if "he's up, we're ready to get him a decent amount of snaps."
Landry was among players dressed for the start of practice, and others included Hugh Thornton, Dwayne Allen, Pat Angerer, Daniel Adongo and WR-Griff Whalen.
LaVon Brazill started practice wearing a boot, as did Kelvin Sheppard.  Maurice Williams and Teddy Williams were not dressed for work.  Not spotted on the field were Teddy Williams, Joe Lefeged, Josh McNary, Khaled Holmes and Fleener.
PAGANO SAYS(On his assessment of offensive line's preseason progress)
"They're improving every day.  They were better this past week than the first week.  (I) feel really good about the first unit.  It's starting to shake out who six, seven, eight, nine, 10 are.  I feel like they're in a good place right now."
FEATURED QUOTE(Andrew Luck on still being in camp mode)
"We're still in training camp mentality.  We're still trying to grind as much as we can during the day.  We are focused on the Browns.  We're trying to make this as much game-like as it would be during the season.  It's almost in my mind like a dry run, 'Okay, let's figure out (how) to do it now.  Maybe we can improve it before week one.' "
Six opposing quarterbacks have thrown for more than 400 yards in a game against the Colts.  Name at least four of them.  ANSWER:  Joe Namath (496 yards, 1972), Kyle Orton (476, 2010), Vinny Testaverde (469, 1988), Joe Kapp (449, 1969), Brian Sipe (444, 1981) and Dan Marino (404, 1984).
When the Colts dabbled with the Wishbone offense in 1988, name two of the quarterbacks who ran it, plus the defensive back who ran one play at quarterback in the formation against Denver that year.  See the next Colts Camp Notebook for the answer(s).