 INDIANAPOLIS – Preseason is a time for dreams to become reality, and Caesar Rayford has used the Colts' first two games to try and shape those dreams.
Rayford, 6-7, 267, has been a playmaker in the second halves of the Colts' first two games by having sacks in each outing.
"He's making a case for himself.  He's done a great job," said Chuck Pagano.  "(You) come in here not knowing anything about what we're doing, and he's shown up on game day."
Specifically, Rayford has shown up around Buffalo's Jeff Tuel and New York Giant quarterbacks David Carr and Ryan Nassib.
Rayford had a sack-strip of Tuel two weeks ago, and the fumble he forced was returned for a touchdown.  He was credited with three tackles in the game.
This past week, Rayford had three unassisted tackles in 26 plays.  His two sacks accounted for 10 yards in losses, and he was credited with another hit on Nassib.
The former Washington Husky spent time in the CFL with British Columbia and in the Arena League with Spokane. 
It was with the Utah Blaze from 2010-12 where Rayford's abilities were on display – 68 tackles, 22.5 sacks, 26.5 tackles for losses, seven forced and recovered fumbles, two interception returns for touchdowns and six blocked kicks (an AFL seasonal record of five in 2011).
In May when Utah had played 10 of its 18 games, the Colts called to offer Rayford a chance as a free agent.  It was a time to roll the dice.
"The guys there were happy for me," said Rayford.  "In Arena football, that's what it is, to give guys an opportunity to get that chance.  Without that, I probably would never have been found."
Disruption is something for which Pagano has an eye. 
"You can see watching his tape coming from the AFL," said Pagano.  "There were no tackles there, it was a center and a guard.  He's rushing on the guard, so he's one man closer to the quarterback and just wreaking havoc. 
"You saw the raw talent there.  Now, it's a matter of honing and refining his skill set." 
The carryover from the Arena League to the NFL is more apples-to-apples offensively but for defenders, the adjustment is larger.
"It's definitely a transition," said Rayford.  "The Arena League, it's pass, pass, pass.  My big transition is being stout and setting the edge on the run.  There's more work to be done. 
"The "more" is going out and staying consistent, making plays, getting better daily.  Every day, there is something I can do better.  That's how I'm looking at it."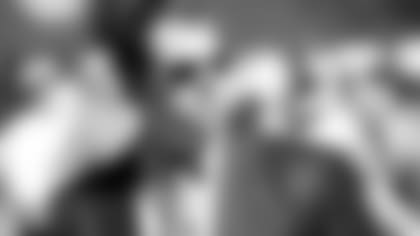 Ryan Grigson has mined talent from four leagues beyond the NFL.  Rayford's production was enough to earn a ticket to Indianapolis.
"Caesar was a lineman that was clearly one of most talented pass rushers in the AFL," said Grigson.  "Our staff does a great job of scouring that league.  Caesar is making his presence felt.  Pass rushers with his tremendous size and length don't grow on trees."
The Colts nailed opposing quarterbacks 32 times in 2012, but there were seven games when they could not produce multiple sacks.  Getting heat and increasing takeaways are prime areas of attention. 
Said Grigson, "We knew from the film that Caesar had a motor and could rush the passer, but the biggest question marks were how was he going to transition to the 3-4?  Could he play in space?  Could he play the run effectively the way we need him to play it?" 
One play after his sack of Nassib, Rayford made a play in the run game.  On the depth chart behind Robert Mathis and Bjoern Werner, Rayford has an uphill climb.
"He continues to make strides, but still has his work cut out for him from a developmental standpoint in this defense," said Grigson. 
Pagano will keep watching the work of the former All-Arena League talent.
"He goes out there and plays extremely hard, with great effort and enthusiasm," said Pagano.  "He has things you can't coach – length, size and athletic ability.  He gives you a lot of things off the edge. 
"He's taken advantage of opportunities he's getting, and he's being productive when he's out there."
Said Rayford, "The key is playing low in my pads, being stout against the run and setting the edge.  That's what I have to work on.
"I came in as a 'nobody,' no one knew anything about me.  I had a goal, and that was to come in and bust my tail.  If you make plays, someone has to notice.  I feel like I've turned some heads.  I have to keep it going (and) make myself relevant."
TE-Coby Fleener (knee) remains day-to-day.  TE-Dwayne Allen will be worked into practice this week, with his reps being monitored.  LB-Lawrence Sidbury is having a second opinion on his shoulder and is likely doubtful to play Saturday.  DT-Fili Moala should practice this week, but Pagano does not anticipate Moala playing this weekend.
Pagano does not expect Ahmad Bradshaw to play Saturday, "In a perfect world, that'd be great. He is a veteran.  He is a pro.  He understands what it takes to be ready once the season opener hits.  If we get that (preseason work), that's a bonus.  If not, I'm not worried about it."
If S-LaRon Landry begins to practice, Pagano said Landry's familiarity with the defense puts him in the category of established veterans like Robert Mathis and Antoine Bethea, who would not get much preseason work anyway.
Players dressed at the start of practice included G-Hugh Thornton, Allen, LB-Pat Angerer, LB-Daniel Adongo and Bradshaw.
WR-LaVon Brazill was in a walking boot at the start of practice.
PAGANO SAYS(On this week's preparation)
"We try to treat this one as a normal in-season game week.  Today, we'll treat this like a normal Wednesday.  Tomorrow will be like a normal Thursday and the next day will be like a Friday.  So try to indoctrinate them, try to put a little bit of a game plan that's not as extensive as it will be for our opener against Oakland, but we will study some tape and get the guys used to the process."
FEATURED QUOTE(Cory Redding on Caesar Rayford)
"I'm cheering him on big time.  We're trying to find guys that are going to be with us down the road.  He's one of those guys.  He's battling every day.  You can barely tell he's in the building. He don't say a word.  He's in his playbook.  He sits in the meeting room and takes all the notes. He just goes out on the field and just produces."
John Unitas had at least 10 career touchdown passes to six different teammates.  Name at least four of those receivers.  Peyton Manning had 10 or more career touchdown passes to eight different teammates.  Name at least five of those receivers.  ANSWER:  Unitas – Raymond Berry (63), Lenny Moore (43), Jimmy Orr (41), John Mackey (32), Jim Mutscheller (31), Alex Hawkins (10).  Manning – Marvin Harrison (112), Reggie Wayne (67), Dallas Clark (44), Marcus Pollard (34), Brandon Stokley (15), Austin Collie (15), Edgerrin James (11), Pierre Garcon (10).
Six opposing quarterbacks have thrown for more than 400 yards in a game against the Colts.  Name at least four of them.  See the next Colts Camp Notebook for the answer(s).