 ANDERSON – The end of the first week of training camp was marked by a visit by Owner and CEO Jim Irsay, who is starting his 41st year with the Colts.
Irsay has stewarded the club since 1997, directing a wondrous run of success that has placed the Colts among the NFL elite.
It is a stature he wants to maintain as a rigorous regular season awaits.
"Through the last decade and a half, (there was) so much greatness and all those things, (but) we had the Jekyll and Hyde inconsistencies that were hard to believe," said Irsay.  "You can go to Jacksonville in December (2006) and give up 375 yards rushing, yet go into the playoffs and all the sudden shut down the run and win the Super Bowl.
"We had that big jump in 1999, then we had the 6-10 season in 2001, then the playoff disaster game in New York in 2002 (41-0 loss to the Jets).  You've seen that happen before.  I think it's something we're trying to avoid."
The NFL is a fastball league.  Judgments are weekly and can be harsh.  A 2000-09 decade that yielded a league-record 115 regular-season wins sometimes ended with a feeling of disappointment in the playoffs.  Sometimes it came in the first game.
The Colts won a record 12-plus games annually from 2003-09, but encountered tough post-seasons all but once.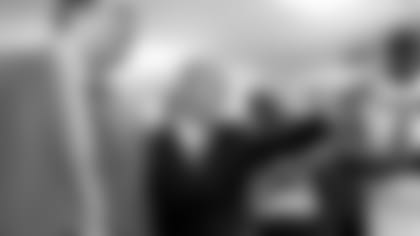 Irsay reassessed in 2011 and plotted a new course.   
"Some of the goals I set when we reorganized the organization (were) based on wanting to win multiple championships," said Irsay.  "I look back, for instance, at that Patriots 2004 team.  It was one of the most complete teams there was. 
"It was such a well-balanced team in all areas.  It was a tough team to get past.  That's what we're looking for."
It is something that drove off-season decisions by Irsay, Ryan Grigson and Chuck Pagano.
"When you look at list (of) the players we were aiming for, we literally got all of our guys," said Irsay.  "I made a significant investment.  We're going to be six-to-seven million (dollars) cash over cap. 
"We really targeted guys that we felt could really help us.  That's not always the big-name player that makes the big splash.  You don't want weak links."
The result is more beef in the trenches and the aim for steady weekly performances.
Last year's 11-5 season is a case in point.  After holding Matt Forte and Adrian Peterson in check in the first two games, Maurice Jones-Drew burst for 177 rushing yards and a last-minute 80-yard pass play spelled a tough defeat.
Defensive outings that saw Cleveland and Jacksonville (second meeting) get 55 and 37 rushing yards were offset by the New York Jets, Houston and Kansas City getting 252, 178 and 352 yards respectively. 
In the club's 29 seasons in Indianapolis, only seven times has it ranked in the NFL's top 10 in points allowed and only four times in overall defense.  Since 1999, the Colts have been ranked 20th or lower in scoring defense six times and overall defense seven times.
Another playoff loss to the Jets following the 2010 season was aided by a long kickoff return and a five-play scoring drive after Indianapolis had seized the lead in the final minute.
"I look for the defense to take a jump, to become formidable and become something that really starts being the cornerstone of what we're about," said Irsay.  "We want to be a really physical unit and a consistent unit.
"We want to have greatness and toughness on defense, and be bigger and more physical.  Special teams, we want to cure that, particularly coverage and some of the breakdowns we've had in the past that we never really got solved."
Irsay has a vision, and it is to remain fighting for championships.  The lone Lombardi Trophy earned on his watch is aching for company.
Irsay was energetic and upbeat Friday, voicing praise for Grigson, Pagano and their team.  It is one more veteran than last year, with a splash of imported seasoned talent and young faces.  
"(I'm) very excited," said Irsay.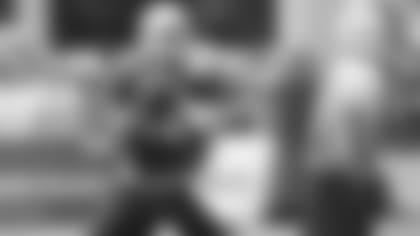 One day after citing Peyton Manning for having weeks of practice where footballs rarely touched the ground, Andrew Luck hit 23-of-29 passes in drills against the defense.  His play of the day is of the extended variety and came over three straight series when he connected on 14 straight passes (hitting seven different receivers).
Luck hit 23-of-29 passes with four touchdowns on Friday and is 129-of-193 for 12 TDs in 7-on-7 or 11-on-11 drills in six days.
Luck and Wayne connected on three scores, and Luck hit Dwayne Allen once as the team worked in short-yardage and goal-line situations.  Luck worked for most of the day with Vontae Davis watching, while Antoine Bethea and Greg Toler sat out.
Wayne had seven receptions from Luck, while Darrius Heyward-Bey and Stanley Havili had three.
Matt Hasselbeck scored on a keeper and hit a well-time completion to T.Y. Hilton, plus another long scoring toss to the speedster.
Daxton Swanson picked off Chandler Harnish, but Harnish teamed with Justice Cunningham on multiple occasions.  In addition to hitting Cunningham for six, he did so also with Jeremy Kelley on a lob pass.
Cassius Vaughn capped a good week with another pass defensed.
Pat McAfee tried field goals of 60 and 64 yards.  The second kick was wide left.
G-Hugh Thornton (ankle), C/G-Khaled Holmes (ankle), S-Sergio Brown (hamstring), S-Antoine Bethea (wife's child birth), WR-LaVon Brazill (abdomen), LB-Mario Harvey (hamstring), LB-Daniel Adongo (biceps) and CB-Greg Toler (concussion) missed practice.  G-Joe Reitz suffered a burner.
Bethea is expected to return Sunday.
PAGANO SAYS(On Darrius Heyward Bey's progress)
"I think from a confidence standpoint, a mental standpoint he is just getting more comfortable, and obviously the chemistry is starting to grow between him and (Andrew) Luck."
PLAYER FEATURED QUOTE (Andrew Luck on chemistry building with all receivers, specifically Darrius Heyward-Bey)
"Yeah absolutely.  I think wide receiver is such repetition.  You can throw in the summer and no one's covering and those are important, too.  The more reps you can get in team and seven-on-sevens and one-on-ones, I think it's just so vital to an offensive timing and rhythm."
How many regular-season games have the Colts played in August?  If it has happened, who was the opponent, the Colts' head coach and the club's starting quarterback?  ANSWER:  One.  On August 31, 1997, the Colts lost at Miami, 16-10.  Lindy Infante was the head coach and Jim Harbaugh was the starting quarterback.
Name the only Colts player to return a missed field goal for a touchdown, plus the length of the return.  Name the only opposing player to do the same against the Colts, plus the length of the return.  See the next Colts Camp Notebook for the answer(s).
TODAY'S ATTENDANCE:  930.  TOTAL FOR CAMP:  14,599.
The weather during Friday's work was mostly sunny and 73 degrees.  The team is off on Saturday.  There will be a Sunday afternoon practice.
The team is off on Saturday.  There will be a Sunday afternoon practice open to the public from 1:50 to 4:30 p.m.