 ](http://www.embarque.com/)
INDIANAPOLIS – The USO Tour, with Chuck Pagano, Andrew Luck and Dwayne Allen on board, has made its way through the Arabian Gulf.
Between jets returning from and taking off for missions against Islamic State of Iraq and the Levant terrorist targets, Adm. James A. Winnefeld Jr. and the stars -- including NFL players, American Idol contestants and film and television personalities -- put on a performance aboard the aircraft carrier that was filled with humor, music and words of appreciation.

"The first thing I want to do is thank each and every one of you for your tremendous service and sacrifice," Winnefeld said. "You are protecting America. We appreciate it. Thank you very much for what you do."

Winnefeld thanked the USO for all it does for servicemen and women around the world, while his wife, Mary, made special mention of the service and sacrifice of the families.

"What's missing today are families," Mary Winnefeld said. "I consider the families serving right alongside everybody in this room, because they really do.

"Thank you and thank your families for your service," she said.

The visit to the massive carrier, which holds 3,000 sailors and 2,000 air-crew members, comes as Winnefeld and the group travels the world to thank the deployed service members. Other stops were Germany, Italy and Bahrain.

At the show today, the crowd cheered as Indianapolis Colts quarterback Andrew Luck, Colts tight end Dwayne Allen, and Pittsburgh Steelers guard David DeCastro appeared on stage, with Luck tossing out footballs signed by the USO tour celebrities.

Indiana native and Petty Officer 2nd Class William Leon said he was thrilled to be among those having lunch with the quarterback for his favorite team. It was "unbelievable," he said, for the stars to come all this way just to visit with the service members.

"It means everything to us, especially me, being a die-hard Colts fan, to see a guy who I really look up to," he said. "Being away from home and having them do that for us is just an awesome experience."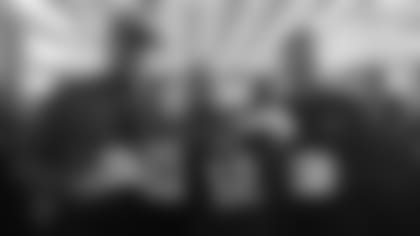 Happy Colts Fans! Indiana natives and Petty Officers William Leon, Brittany Bradley and Andrew Hughes on the USS Carl Vinson show off the memorabilia signed by Colts QB Andrew Luck, Coach Pagano & tight end Dwayne Allen.