 INDIANAPOLIS – Clearly not happy with the verdict of the preseason opener, the Colts closed out their final week at Anderson preparing dutifully to put on a better performance.
Beat in key phases of the game a week ago, Indianapolis won those moments thanks to a firm hand at the helm.
"Coach challenged us, and we went back to work," said Cory Redding.  "We had an important week of work, (and) broke camp with the mindset of getting this win no matter what."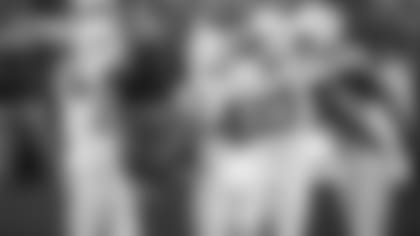 Many more things went to form but one from the opener carried over, and that was a plus for Indianapolis.
Though the Bills scored 44 points, on three occasions the Indianapolis defense toughened in the red zone to force Buffalo field goals.
The defense did the same last night in New York, and then some.  The Colts took away the ball on downs at their seven to open the game, then yielded field goals when the Giants penetrated to the seven- and nine-yard lines again.
Following the only Indianapolis turnover of the game, the second-unit repelled New York again.  The third Jeff Brown field goal kept Indianapolis ahead by eight points in the half.
Chuck Pagano targets two takeaways per game.  He is trying to establish the same type of heritage he helped fester in Baltimore.
As the Ravens' defensive coordinator in 2011, Baltimore finished third in the league in scoring defense (16.6).  The Ravens finished first in red zone defense (38.1 TD percent), fewest offensive touchdowns allowed (21) and ranked second in third-down defense (32.1 percent). 
Those were key reasons why Baltimore held nine of 16 regular season opponents to 17 or fewer points. 
"Definitely (something we can build on)," said Redding.  "We still messed up, though.  There are some things we still need to clean up.  That's what preseason is all about." 
One coaching point Pagano instilled last year was to play every play to the fullest, and a player's top speed is crucial.
"When you mess up, you mess up a thousand miles an hour and the guys really made plays and they didn't care that they messed up," said Redding.  "They just went to the next play, just keep going to the next play.  That's what we're doing right now."
Sunday night was about guys making plays.  Greg Toler pirated a pass in man coverage on third down in the first quarter to set up a field goal.
Erik Walden followed two minutes later with a 13-yard sack that set up an Indianapolis touchdown possession. 
Those two plays led to 10 of the club's 17 first-half points, a total that would hold up for the win.
Indianapolis benefited from strong play from top draft pick Bjoern Werner.  Werner was a disruptive force in his first outing, nailing a New York rushing attempt from the Colts' five for a four-yard loss.  New York settled for a field goal.
Indianapolis had six sacks in addition to the takeaway, and the red zone efficiency in a tough environment was pleasing.
"We played good in the red area last year," said Pagano.  "It's bend but don't break in our…mentality.  We are playing better defense all over the field.  Our mindset down there is they aren't in until they are in. 
"We are going to do everything we can to keep them out.  Our guys are comfortable with the schemes.  The players do a nice job of executing them."
Said Redding, "It's preseason, we're still trying to find guys to be on this team to help us be successful down the road, and that's what we did today. 
"It's great to see guys go out there and fight.  In the league, three things are going to happen every single year.  You're either going to get a job, you're going to keep a job, or you're trying to take a job.  Guys are fighting to keep, take, and give.  We came out here, played hard, and won a game."