 INDIANAPOLIS – The Colts turned a few heads on Sunday with a 27-7 victory at San Francisco by using an offensive line with two players starting out of position and with a rookie making his first career start.
The Colts had a physical showing by rushing for 179 yards, boasting a 4.6 average and controlling the ball for 36:25 in a contest they won going away in the lair of a defending conference champion.
For Anthony Castonzo, it was a good feeling to see his team rebound from a tough home loss against Miami, and it was a rebound he says spoke volumes about the club's resiliency.
"I feel like it just kind of shows what we're made of as a team," said Castonzo.  "It shows that we're able to refocus.  We don't harp on losses, and we're able to focus on the things that we need to fix.
"We practice with a purpose I think is kind of what it shows, that when we go out there practicing after a loss, we're going to make sure it doesn't happen again," said Castonzo.
Castonzo and Gosder Cherilus bookended the offensive line at tackles.  Everywhere else on the line was a demonstration of versatility.
Hugh Thornton was making his first career start at left guard.  Thornton played the majority of the Miami game after regular Donald Thomas exited with a season-ending injury.  Thornton's starting bell came in a hostile environment against an outstanding defense.
Mike McGlynn moved from guard to center in place of Samson Satele, and Jeff Linkenbach opened for McGlynn as the Colts were using a second different opening unit in week three.
Castonzo and McGlynn were the only 16-game starters on the line a year ago, and he has a deep regard for how McGlynn was able to adjust so well.
"The fact that he was able to go from right guard to center (was impressive)," said Castonzo.  "Center is an extremely cerebral position and (to) be able to make all the calls and keep everybody on the same page just shows the kind of player he is.
"He can do a lot of things.  He's able to really communicate, which is the biggest thing coming from the center position.  Just the fact that he can play multiple positions, he's an extremely valuable guy to have out there."
Indianapolis topped 100 rushing yards for the third straight week, the first time since 1989 the team has opened a season with three straight such performances.
The goal coming into the season was to have a more blended attack, one that would feature a more powerful ground attack than in previous years.  Castonzo thought Sunday's effort was a huge gain in that area.
"Just the fact we were able to consistently go to it (Sunday), I think that was a definite step in the right direction," said Castonzo.  "A lot of that has to do with the fact that we just have backs that are fun to block for.  On the field, Ahmad (Bradshaw) was extremely emotional and was just having a great time running, and that kind of feeds through to everyone else.
"We just get excited blocking for a guy who's going to get excited every time he gets a couple yards."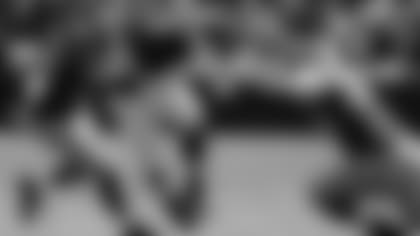 Bradshaw was starting for the second straight week.  His 95 yards topped Colts rushers, and his 27-yard burst with six minutes left set up the first of two fourth-quarter touchdowns that iced the game.
The line paved the way for Trent Richardson to get 35 yards and a touchdown as well just four days after arriving in a trade.
"We're extremely deep back there at running back," said Castonzo, the most tenured lineman in terms of service to the team.  "Even with the loss of Vick (Ballard), who's obviously a fantastic player, we still got a lot of depth back there.  Each guy brings his own talents and a lot of changeups, so it's pretty exciting to have those guys back there."
The Colts had their first three-touchdown ground effort since 2008, and only the 25th such performance in the team's 30-year Indianapolis era.  It is a departure from the past.
Chuck Pagano has said he does not mind how the club gains its yards and points, only that it does so.  Castonzo feels the same way, but does not mind if accomplishments come on the ground.
"Touchdowns are touchdowns no matter what," said Castonzo.  "No matter how we get them, I love them, but it definitely feels good to be able to run the ball.  It's kind of an offensive lineman's dream to be able to run the ball and run it in for scores."