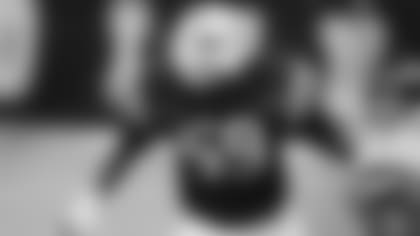 INDIANAPOLIS – The first week of February brought good news to two former Colts, Mike Butler and Orlando Lowry.
Butler, a former long-tenure personnel executive with Indianapolis, celebrated a special time on the Saturday prior to the Super Bowl when his father, Jack, joined five other individuals voted into the Pro Football Hall of Fame.
"It was unbelievable.  I can't tell you the relief that it finally happened for him after all these years," said Mike Butler, who worked for the Colts from 1987-2006, and whose father was Hall-eligible since 1964.  "He was so deserving of this honor, and we waited so long for this to happen.  He waited longer than anyone else in the history of the Hall of Fame to get in.  When it happened, the family just exploded.  He had been kind of tense leading up to it.  He didn't want to talk about it, 'Nothing's final yet.'  He didn't want to jinx anything.  My brother and I worked hard to get information to the voters in case they were missing something on him, but he didn't want to hear any of it.
"They called him to Indianapolis and said, 'If you get in we have some things to do like measure you for your jacket and the bust.'  My brother and sister took my dad and mother and right before the announcement they were sitting in the room with the understanding that they would get a call about 15 minutes before the announcement and that they would leave the waiting room.  We were having a party back in Pittsburgh and we had him on Skype.  We were talking to him while he was waiting in the room.  The time went by and they never came by to get him, and he was thinking he didn't get the vote.  My parents didn't have a television and we were watching one in Pittsburgh when the spokesman came on to announce the new members of the Hall of Fame.  The first name he said was, 'Jack Butler.'  We exploded.  He saw us react, so they went crazy.  He knew then that he got in.  It was a great moment for everyone."
Jack Butler, a cornerback, played in 103 games over nine seasons (1951-59) with Pittsburgh.  He was an undrafted free agent who ranked as the NFL's second all-time leading interceptor with 52, four of which he returned for touchdowns.  He had four interceptions in a 1953 game against Washington, and a total of nine for the season.  He set a then NFL mark with two scoring interception returns in 1954.  His first Pro Bowl selection was in 1955.  He had a career-best 10 interceptions in 1957, along with nine in 1958.
His career totals include 52 interceptions for 827 yards and four touchdowns and one fumble returned for a score.  Butler, a native of Pittsburgh, was named to NFL's All-Decade Team of the 1950s.  Butler's nomination class includes center Dermontti Dawson, defensive end/linebacker Chris Doleman, defensive tackle Cortez Kennedy, running back Curtis Martin and tackle Willie Roaf.  There are 273 individuals in the Pro Football Hall of Fame.
Lowry was a linebacker for the Colts from 1985-89.  Lowry made the team as an undrafted rookie free agent, and he started four of 65 appearances with the team.  Lowry had 61 career defensive tackles, 35 solo, and 71 career special teams stops, 31 solo.
Born in Cleveland, he made Indianapolis his residence at the start of his career.  Prior to joining Park Tudor, Lowry, 50, had a varied professional career locally.  He ran a restaurant in his later years with the Colts.  He worked for many years in financial services with a couple of different companies and worked in the insurance business.  Football, however, remained a passion.
"When I turned 50, I started thinking about what I really wanted to do, and there was a feeling that I really wanted to get involved in coaching," said Lowry.  "I started coaching in the Pike Youth League about 13-14 years ago.  We did pretty well there.  About four years ago, I went to Guion Creek Middle School in Pike Township and coached as an assistant in seventh grade.  The last two years, I coached eighth-graders.  That has been my path."
Lowry will take over a Park Tudor program that has not won since 2005.  He hopes to bring the same type of success he had recently when Guion Creek won the Pike Township title with an 8-1 record.  Lowry knows the type of team he wants to field, as well as the sideline style he intends to employ.
"We're going to be an aggressive defensive team.  We'll attack," said Lowry.  "On the offensive side, we're going to run the spread attack.  I hope it's an exciting type of football.
"My coaching style, I've been blessed.  I've been in contact with a lot of great coaches like Joe Gibbs, Marty Schottenheimer and Tony Dungy.  I think I take a little bit from each of those people but I guess I'm more like a Tony Dungy in that I'm more into the teaching.  I thought Tony did that very well.  It was about teaching and educating within the system.  I think I'm like that.  I'm not a screamer or yeller, although I can if I need to.  I'd rather just try to teach kids."
Lowry played at Ohio State before spending five years in the NFL.  He recognizes a challenge at Park Tudor, but he has met many head-on to get to this point.
"It's a good school.  The spirit here is very good.  We're in a very tough conference, and it's going to be a challenge.  I'm looking forward to it," said Lowry.  "We have some issues with numbers.  We just don't have a lot of students, so we don't have lot of players.  The players we do have play multiple sports.  There are a number of people who don't play, so we're going to promote the football program and get them excited.  We want to get kids coming out in the high school, the middle school and the lower school as well."
Lowry and his wife, Penny, have remained loyal to Indianapolis.  Once they landed here, they and the family have stayed.
"When I retired, we thought about going home to Ohio, but our church was here and we'd just bought a house.  We decided to stay here.  It has been a good move for us."