Not many people can say they've worked for both Paganos, but Colts assistant coach Greg Williams is one of them.
"I was with San Diego for the past seven years and worked closely under the tutelage of John Pagano, Chuck's younger brother. So, that's not a bad reference to have when you're working with another family member of the head coach," he says.
Williams coached the linebackers and secondary with the Chargers, where John Pagano is the defensive coordinator. Now the defensive backs coach for the Colts under head coach Chuck Pagano, Williams says there are a lot of similarities between the two.
"They're both passionate about what they do. And they demand a certain amount of attention to detail when you're preparing and I kind of learned from John the NFL game and John learned it from Chuck. So, it's obviously been an easy transition."
For all their similarities, Williams says there's one big difference between Chuck and John Pagano.
"Chuck can get his message across without having to be really loud. And John can be loud all the time. But they both know how to get their point across."
And don't forget about Sam. The patriarch of the Pagano family, Sam Pagano coached both his sons in football at Fairview High School in Denver, where he had a 21-year coaching career himself, won three state championships, went into the Colorado High School Athletics Hall of Fame, and where he comes out in support of the opposing team when his sons play the Broncos at Mile High Stadium.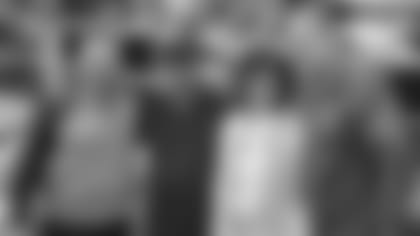 "Sam is my dad," Williams says. "He's another dad for me. I know him well. Being a part of that Pagano tree is good. It's fun, meeting Sam all the time. We played Denver when I was at San Diego."
Sam Pagano became a social media star when he was photographed with a cigar in his mouth on the sideline during the Colts' divisional playoff game in Denver in January of 2015.
Asked if he always has that cigar in his mouth, Williams laughed, "Yes, he does. All the time."
That's not a trait he passed on to his sons - but his love of family is.
"They're both really big about their family and that comes from being around Sam. And me knowing Sam and seeing how he is, he loves being around his sons, both his sons, and they're both the same way with their family."
Football is family – especially in the Pagano family.
And Greg Williams will be the first to tell you that.