 ](http://www.embarque.com/)
INDIANAPOLIS – If Andrew Luck was a chef last season, his kitchen was missing a few key ingredients.
The prepared meal was more than satisfactory, but needed something extra to make it memorable.
Now in 2014, Luck's kitchen is stocked with everything he could ask for to construct a five-course meal and the third-year quarterback has done just that.
"We have something that most teams don't have, we have depth," Reggie Wayne says. "We have guys at every position, especially on offense at the skill positions, that can kind of hurt you. We've had depth in the past, but I'm not sure we've had depth at such a young age.
"If you look down the line at all these guys at the skill positions, they're young, spring chickens. Anybody can hurt you. Our mentality has always been you pick your poison. Whoever you want to focus on, we've got somebody else that we can throw in there that's pretty hungry and willing to get it done any way they can possibly do it."
Here the Colts are just past the midway point of the season and the offense sits atop the league rankings in a plethora of categories.
Luck has commanding leads in several statistical areas while challenging some franchise, and even league, marks.
"He's benefited a lot from having these guys around him available to go out and make plays on a week-to-week basis," offensive coordinator Pep Hamilton says before rattling off the multitude of skill players.
"Having those guys at his disposal makes his job a lot easier."
Ask Luck why he thinks the offense has made such a significant jump this season and the third-year quarterback points to the abundance of weapons.
Last year, the Colts missed their Hall of Fame receiver for half of the season.
A tight-end friendly offense was restricted when Dwayne Allen was placed on injured reserve after just one game.
The Colts running backs were not nearly as involved in the passing game as we've seen this season.
"I think we are just tougher to defend right now," Matt Hasselbeck says.
"We are really not that focused on big plays, chunks or leading the league in some of these categories, it really doesn't mean that much to us. I think it's just a product of playing good football. If people are going to take chances, we are making them play."
As the Colts begin the second half of the season the offense ranks first in yards per game (451.2), passing yards per game (337.4), average time of possession (34:39) and points per game (32.2).
Luck is in the midst of seven-straight 300-yard passing games, a franchise record and two shy of the NFL mark.
It's numbers that has Luck deserving of MVP talk.
"Definitely arrow up on Andrew Luck," Chuck Pagano says. "I think like a lot of players going into their third year where he's at, I think the game has slowed down a lot for Andrew. I don't think there's too many things you're going to see some things you haven't seen every week, but I don't think too many things catch Andrew off guard anymore.
"He does a great job of managing things at the line of scrimmage, getting us in the right play. His numbers speak for themselves at this point. The sky's obviously the limit for this guy."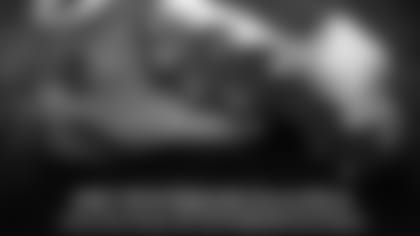 ](http://www.colts.com/byeweekbonanza)