 ](http://careyindiana.com)
INDIANAPOLIS – The accolades for Andrew Luck have poured in during his first two seasons on a rate commensurate with the 23 wins he has helped direct in his 35 overall games.
Already, Luck is mentioned not only as one of the best young quarterbacks but as one of the NFL's top talents regardless of position and tenure.
To see him sweat in spring practices, grunt in the weight room and analyze progress in the classroom, there is no question where his focus is.
"We definitely don't take that for granted," said Luck about what two straight playoff berths mean, plus the fact Indianapolis advanced deeper into that fray this past season.  "We realize you just don't show up to work on Sunday and win games and make it to the playoffs. 
"We understand the gravity, the seriousness that it takes to get to the playoffs, but by no means is anyone satisfied."
NFL'S WINNINGEST TEAMS 2012-13
Joe Flacco came into the league and directed Baltimore to the playoffs five straight times (2008-12) before missing the post-season last year.
Flacco's streak included a 9-4 playoff record and a world title, and it is the longest consecutive season streak an incoming quarterback has earned in the Super Bowl era.
Most Consecutive Seasons Starting Playoff Games to Open Career (SB Era)

131-234-1,680-13-10, 79.4
Luck's 46 touchdown passes are the fifth-most over two career-opening seasons in league history.  His 8,196 yards are the most, while 22 regular-season victories tie for the second-most ever by a player in that span.
MOST PASSING TOUCHDOWNS IN FIRST TWO CAREER SEASONS

Jeff Garcia, San Francisco
MOST STARTING VICTORIES FIRST TWO SEASONS (Since 1950)
MOST PASSING YARDS FIRST TWO SEASONS
Those numbers are nice for Luck and put him among some of the game's great career-starting performers – Dan Marino, Bernie Kosar, Matt Ryan, Drew Bledsoe – but it is the title success of Flacco, Ben Roethlisberger, Peyton Manning and even Russell Wilson that matters deeply to Luck.
If it did not, he would not have responded so quickly last week about what memories of 2013 will drive him in 2014.
"Part of me doesn't want to get stuck in the past on anything, good or bad.  You take most things as learning experiences and learn from them," said Luck.  "That second half of the Patriots (playoff) game, there were a lot of learning experiences to take from that.  (It was) really just a bad feeling deep down in your gut.
"Obviously, they were the better team that day, they beat us.  We made some mistakes you wish you didn't make, so you definitely think about those."
Indianapolis fell that night, 43-22, allowing 234 yards and six scores on the ground, while New England pirated four of Luck's passes.
Fourteen of the Patriots' points eventually were earned off interceptions, including the game's first score 1:19 into the contest when Luck's first attempt went awry.
The loss came days after Indianapolis beat Kansas City, 45-44, in one of the franchise's most thrilling playoff wins, but the 28-point comeback, the second-largest in NFL post-season history, came after Indianapolis allowed 14 points off turnovers.
It was a two-game dramatic departure by the Colts, who led the NFL and set a franchise record by committing only 14 turnovers in the regular season.
"My number one learning experience was we did a great job in the regular season offensively not turning the ball over," said Luck.  "Then in the playoffs, we threw seven interceptions. 
"We got lucky and got a win, but you can't consistently win games by turning the ball over.  That was the biggest learning experience."
A man of perspective who said, "Losses probably are harder to get over but at the same time, wins feel very good," is intent on righting post-season miscues so he can help teammates hoist the Lombardi Trophy.
"We've done a great job this off-season of going back and looking at every play from the past year and taking a learning experience from every one – what worked, what didn't work," said Luck.  "Again, that Patriots game sticks out."
Luck took the first 1,364 snaps of his career before sitting out action, a prodigious pace bettered only by Manning (1,590) in franchise history – and both streaks ended in games where they exited with Indianapolis comfortably ahead.
Luck's successes include 10 game-winning drives in the fourth quarter or overtime, the most by any player since 1970 in the first two seasons of a career. 
Luck's first one came against Minnesota in 2012 in his second career game, making him the NFL's first rookie QB since Archie Manning (1971) to engineer a fourth-quarter September comeback win.
Luck (23 in 2012; 23 in 2013) has put himself with Marino (20 in 1983; 48 in 1984), Peyton Manning (26 in 1998 and 1999), Andy Dalton (20 in 2011; 27 in 2012) and Wilson (26 in 2012; 26 in 2013) as the only QBs to pass for at least 20 TDs in each of their first two seasons.
"This guy is special, he really is," said Rich Gannon, a 17-year pro and one of the NFL's top analysts.  "He's so intelligent.  He's very unselfish, big, strong, athletic – a leader.  He's got all the things you like. 
"Everything you look for in a quarterback is there.  He's a very unique player that doesn't come around all that often.  You're talking about every 10 years you get a player like Andrew Luck.  The Colts are fortunate to have him.  He's the master of his domain."
COLTS MOST GAMES PLAYED WITHOUT CONSECUTIVE LOSSES
When asked what the club must continue to do and what it must correct, Luck showed his driven nature.
"Be careful using the work 'duplicate,' " said Luck.  "Even if you do something well, you want to do it better the next year.  I think we're on the right track.  What must we do better?  I think play consistently well more. 
"Speaking to myself, there were some games we looked terrible and got blown out – fumbles and interceptions.  Some of those games, there was no chance to win after halftime.  We managed to bounce back, but I don't think we can allow games like that to just run away from us.  We realize how precious each game is."
* *
COLTS RECORDS WITH TURNOVER HISTORY 2012-13
FOUR QUESTIONS WITH ANDREW LUCK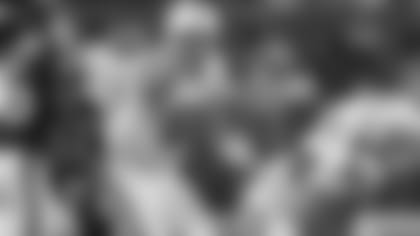 How is your approach to your third season affected by your experience in the previous two?
"The approach is definitely different having the same offense and not having to learn new things.  That said, it's a different type of learning.  You're really going into the nuts and bolts of things a little more, the, 'Why's?' a lot of dialogue and discussions around plays, sort of where it came from and why it's in the offense.  When you're more comfortable with your surroundings, you get better, more efficient and more constructive with everything – whether it's in the weight room, eating-wise, general health, mental health (laughs) out on the field.  There are so many support systems in the building that you realize how you can use all of them to your advantage and make the off-season truly productive."
What teammates impressed you the most with their work this spring and why does it impress you?
"It's fun to see Dwayne Allen back on the field.  He's a big, rumbling, athletic, powerful man.  In that same breath, Coby (Fleener) has done a heck of a job.  He had a great year last year, and he's only going to get better.  I'm very excited about Hakeem Nicks being here.  Really everybody, they've been fun to be with."
What advice would you give to the new rookies coming in now that you are entering your third season?"You (tell them to) try and soak up as much as you can.  Listen.  It's okay to make mistakes.  I think the earlier you realize that, the better it will be for you.  It's okay to make mistakes, just don't repeat mistakes.  That would be the biggest piece of advice, 'Don't be afraid to make mistakes.  Once you're corrected, make sure you stay corrected.' " 
How is the offense different this year than last?
"It's hard to say right now.  You can say, 'We're going to be this,' or 'We're going to be that,' but it's what's happens on Sundays during the season that matters.  That's your identity.  I think we'll have to wait until then to see."