 ](http://careyindiana.com)
INDIANAPOLIS – Not long ago, Chuck Pagano spoke of his regard for Robert Mathis, feelings that extended to another leader – Reggie Wayne.
"He's (Mathis) the benchmark for any young guy coming in here.  Him and guys like Reggie (Wayne), guys that have been here a long, long time, those guys get it," said Pagano.  "That's why they're able to play for an extended period of time at a high level.  They understand what it takes to do that.
"When other guys are doing whatever, they're taking care of business.  They sacrifice."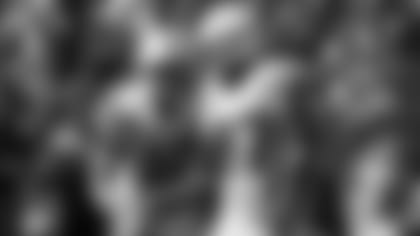 Wayne's business started with Pagano at the University of Miami where the benchmark for leaving a game was only if a bone were protruding through skin.  Other than that, Wayne was not leaving the field.
Mathis played at such a small school (Alabama A&M) and against such odds that his favorite poem, Edgar A. Guest's "It Couldn't Be Done," is not only framed in his locker, it is tattooed on his torso.
Wayne and Mathis have helped author outstanding memories for Colts fans since joining the franchise in 2001 and 2003, and they both are closing in on great milestones. 
Wayne with 990 receptions is soon to become the ninth player to reach 1,000 for a career.  Mathis is on the cusp of becoming the 30th player with 100 career sacks.  Each has reached this point in a career with the utmost professionalism and dedication.
"(Reggie) and Rob, they're phenomenal teammates," said Andrew Luck.  "When they speak, you listen.  They work their butts off, they take care of their bodies.  They're at every practice taking every rep."
Pagano and Ryan Grigson called Wayne and Mathis "pillar" players when they arrived in 2012.  First orders of business were to ensure the building blocks remained in place.  They recognized what others before them had known.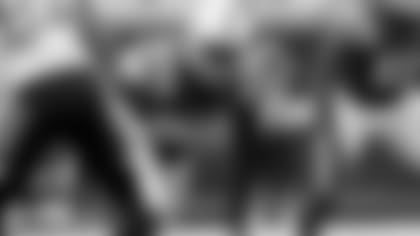 "That might have been the best pick I might have ever been involved with in the NFL," said Tony Dungy, who agreed to send a 2004 fourth-round pick to Houston to take Mathis in the fifth-round in 2003.  "Everybody who scouted him loved him.  I've seen a lot of highlight tapes of college players.  Maybe other than Barry Sanders, I don't know that I've seen a better highlight tape than Robert Mathis. 
"We knew he was going to be perfect for what we did.  I was dead against trading future draft choices.  (Now), I can't imagine picking a guy in the fifth round for a player as good as Robert."
Says former offensive coordinator Tom Moore of Wayne, "He is just a great athlete.  The biggest thing about Reggie is the amount of time, effort and work he has put in to get better and to develop his skills.  He is a very special person.  He is unbelievable, the hardest working football player you will ever meet."
Wayne has receptions in 115 straight games and is one of six Colts ever to start more than 100 consecutive games.  His 145-game streak ranks second only to Peyton Manning's 208. 
Last week, he became just the 11th NFL player ever with 13,000 career reception yards (13,363) and 80 career touchdown receptions.  Three are Hall-of-Famers, while three are not eligible yet for consideration.
"He's what an NFL Hall of Famer is, in my opinion," said Antoine Bethea.  "He's what every guy coming into this league wants to be.  He just comes to work and does what he needs to do.  The way he plays on Sunday is a result of hard work and natural ability."
* *
Most Regular-Season Wins in Colts History
Wayne played for years alongside Marvin Harrison, the franchise's leading receiver (1,102 receptions; 14,580 yards; 128 TDs).  Harrison's reception and yardage totals could be within reach.  Wayne (130) is three wins shy of moving past John Unitas and Jeff Saturday for the second-most regular-season wins in franchise history behind Manning's 141.
Mathis was a tag-team partner of Dwight Freeney, whose 107.5 sacks are the franchise standard.  Mathis and Freeney have 11 of the 17 double-digit sack seasons in Colts history, and Mathis (7.5) is closing in on his fifth such season.
Mathis has multiple sacks in his last three games, now totaling 23 such games in his career.  Mathis has sacks against every team and against 50 different quarterbacks.
"I think it's (his motivation) about his legacy," said Pagano.  "I think Robert probably a long, long time ago, maybe as a youngster, maybe put some things down and said 'Okay, I've got my opportunity.  Ten, 12, 13 years from now, this is what I want people to say about me.'
"It's more about he loves this game.  He's passionate about this game.  He respects this game. That's why he plays the way he plays.  He understands how it's supposed to be played.  The guy's a warrior.  He's a man's man, a pro's pro."