The Indianapolis Colts knew they'd have a hole to fill at the free safety position this offseason when they lost starter Dwight Lowery to free agency, but the team can't help but be excited about the prospects of giving the hard-hitting Geathers a chance to shine at that spot alongside veteran Mike Adams.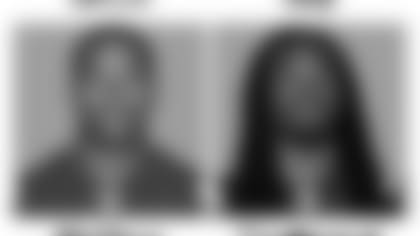 Geathers was in Adams' ear all offseason, both on the field and in the meeting room, soaking in every bit of knowledge he could from the 13-year veteran.
Both guys should be ready to go for the 2016 season, and with the return of Winston Guy and the addition of 2016 NFL Draft pick T.J. Green learning under their wing, the safety position looks solid for first-year Colts defensive coordinator Ted Monachino.
But who will rise their level of play in training camp to earn that fifth, or potentially sixth, safety spot entering Week 1?
Let's take a look at the state of the Colts' safeties heading into training camp:NOTABLE RETURNERS:
- Mike Adams
- Clayton Geathers
- Winston GuyNOTABLE ADDITIONS:
- T.J. GreenNOTABLE CAMP BATTLES:
- Stefan McClure
- Dezmen Southward
- Andrew WilliamsonNOTABLE LOSSES:
- Colt Anderson (free agency; signed with the Buffalo Bills)
- Akeem Davis (waived)
- Dwight Lowery (free agency; signed with the San Diego Chargers)
Last year, the Colts kept five safeties — Adams, Anderson, Geathers, Guy and Lowery — out of training camp on their initial 53-man roster.
By mid-December, the team had added another safety, Akeem Davis, to help bolster its special teams units and increase the total number of players at the position to six by season's end.
The Colts in 2016 will once again rely on strong safety Mike Adams, who is returning for his 13th NFL season.
Adams — who turned 35 in March — showed no signs of slowing down last season, earning the second Pro Bowl selection in his two seasons in Indianapolis. Despite missing three games with an ankle injury, Adams collected five interceptions and three forced fumbles.
After going into the season last year labeled as Super Bowl contenders, Adams said being an under-the-radar team this year has been a breath of fresh air.
"I love it," Adams said in June. "Just me personally, I've always played the underdog role. Right now it looks like the Colts are the underdog, no one is talking about us and that's a good thing. There's no pressure. We aren't worrying about what anyone else is saying, we just to have handle what we have to handle and our goal is to end up in Houston (in the Super Bowl)."
The aforementioned Geathers, meanwhile, looks to fill the shoes of Lowery, who turned in a solid year in 2015 for the Colts' secondary, starting all 16 games and recording 76 tackles, four interceptions (one returned for a touchdown), nine passes defensed and a sack.
Geathers got the attention of the entire Colts coaching staff during his at-times limited opportunities last season, however, and the belief is he'll be able to come in and be a consistent playmaker for the Indianapolis defense right away.
"Clayton is doing a great job," Colts head coach Chuck Pagano said this offseason of the 2015 fourth-round draft pick. "He's communicating really well back there with Mike. He doesn't make mental errors. He's a very conscientious guy and he's a talented guy. He's gotten himself in really good shape, looks fasters, looks rangier, twitchier. He's making nice plays."
Guy also returns four his fourth NFL season, and he has certainly found his value as a relentless gunner on special teams for the Colts. After playing in 12 games in his first season in Indianapolis in 2015, look for Guy to possibly become more of a playmaker in the secondary, too.
And then there's Green, who will be somewhat of a project — albeit an exciting one — for defensive backs coach Greg Williams. Green only played two years at the safety position at Clemson, so look for the Colts to possibly utilize him this season in situations in which he can really excel, such as on obvious passing downs.
Size-wize, he's a big rookie at 6-foot-3, 205 pounds, so don't be surprised to see Green taking on tight ends and running backs, too.
"In today's game, it's becoming more and more of a passing league and you have match up nightmares," Pagano said after selecting Green. "So a guy like this, who's got length, size, over 210 pounds, runs a 4.34, he's going to be able to match up."
From that point, the Colts currently have three safeties entering training camp that are vying for one — possibly two — spots on the Week 1 roster: McClure, Southward and Williamson.
Southward has the leg up currently, as he was signed to the Colts' practice squad last November, and has one-plus year of experience in the NFL, having played 16 games with the Atlanta Falcons in 2014 and three games with the Falcons last season before his release.
McClure, meanwhile, comes to the Colts after going undrafted out of Cal, where he played in 37 games with 28 starts over four seasons, totaling 165 tackles (7.5 for a loss), two interceptions, 12 passes defensed, one sack and three fumble recoveries, one of which he returned 45 yards for a touchdown.
Another note on McClure: he graduated as the only player in Cal history to serve as a team captain for three seasons.
And, finally, Williamson also enters training camp as an undrafted free agent. A Vanderbilt product, he played four seasons and appeared in 47 games with 19 starts, collecting 135 tackles, six tackles for a loss, one interception, eight passes defensed, one forced fumble and two fumble recoveries.