 **](http://careyindiana.com)
INDIANAPOLIS –With 900 media members expected for the 2014 combine, interviews started at 9:45 a.m. Thursday, and the first person to speak was Miami head coach Joe Philbin.
Philbin addressed the bullying matter chiefly involving Richie Incognito and Jonathan Martin but that included others, a situation that led to the departure of Incognito and the eventual dismissal this week of an assistant coach and head trainer.
"It's important to me that any player or staff member we have, I want to create an atmosphere where their experience as a Miami Dolphin was the best professional experience they ever had," said Philbin.  "Any time that isn't accomplished, it requires my attention.  It needs to be looked at, corrected, fixed.
"I'm the one who is responsible for the workplace environment.  When I read the (Ted Wells) report, the language, the behavior that was outlined was inappropriate and it's unacceptable.  We're going to do things about it.  We're going to make it better.  We'll look at every avenue.  We'll have a better workplace, I promise you."
Philbin said there will be better education and communication internally with the players and organization.  He said the club was in concert with the league about possible future implications of the incident.
Philbin indicated owner Stephen Ross has reached out to Martin and the two will meet in the near future.  He would not comment on Martin's playing future prior to Martin's meeting with Ross.
"I'm going to be more vigilant.  I'm going to be more diligent, more visible.  I'm going to have a better pulse," said Philbin.  "It's been tough on our owner, fan base, everyone in our locker room.  It's been difficult.  We're resolute in our dedication to getting this right."
KEN WHISENHUNT FAMILIAR WITH NEW DIVISION – New Tennessee head coach Ken Whisenhunt feels he has a leg up on his job with San Diego having played the AFC South in 2013.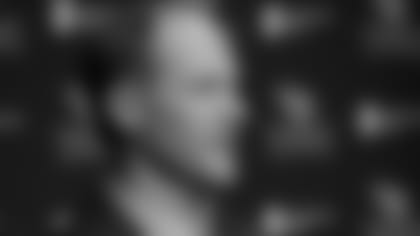 Whisenhunt was the Chargers' offensive coordinator last year before taking the Titans' reins for the departed Mike Munchak.
"We played the AFC South.  You get a good feel for that," said Whisenhunt.  "If you look at what happened in Kansas City last year (Chiefs improved by nine wins), you never know how things are going to change from year-to-year.
"I have a lot of respect for this division.  I've played teams a number of times here.  I'm excited about being in this division and competing in it."
Whisenhunt was 49-53 from 2007-12 as head coach at Arizona, leading the Cardinals to a Super Bowl.  He joins Bill O'Brien in Houston as newcomers to the division.
Former Colts quarterback coach Frank Reich assumed Whisenhunt's coordinator duties with San Diego.
COMBINE NOTES – League sources indicated today the 2014 salary cap could be raised from $123 to $130 million, about a five percent jump.  If the figure is accurate, it may be a little higher than some teams thought.  Teams do not need to be cap compliant until March 11.
Indianapolis has 18 players scheduled to be unrestricted free agents, including Pat Angerer, Antoine Bethea, Donald Brown, Vontae Davis, Pat McAfee and Adam Vinatieri.
Franchise and transition tags may be used until March 3.  Teams may start negotiating with its players set to become UFAs on March 8.  Those players may sign with new teams on March 11.
McAfee made some rounds in a media capacity at the combine Thursday, an event to which he was not invited in 2009.
McAfee made it into the league on the strength of meeting with teams on Pro Day.  McAfee said landing with the Colts was a perfect happening.  He played under the franchise tag last year and hopes to continue.
"I don't want to listen to all the offers.  I'm a very loyal person," said McAfee.  "I'm kind of in it for the team.  I want to ride with my boys (until) the end.
"It's an interesting situation.  You don't know what's going to happen.  You don't know what your future holds.  I'm trying to enjoy it as much as possible.  It's like (the TV show) Pawn Stars, really, I'm being honest.  I'm the item.  We'll see what happens this year.  I want to get locked into a long-term deal."
Special teams, offensive line, tight ends – media access Thursday; workouts Friday-Saturday.
Quarterbacks, wide receivers, running backs – media access Friday; workouts Sunday.
Defensive line, linebackers – media access Saturday; workouts Monday.
Defensive backs – media access Sunday; workouts Tuesday.