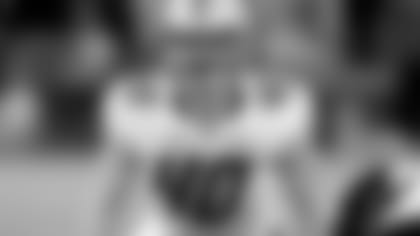 INDIANAPOLIS –As Luke Kuechly headed to Boston College to begin his freshman season in the summer of 2009, he had no idea what his role would be during his first year of college football.
That role quickly expanded when linebacker Mark Herzlich was forced to sit out the entire season after being diagnosed with cancer.
Herzlich has since recovered and even won a Super Bowl this past season with the New York Giants, while Kuechly has made a name for himself as one of the top linebackers in the nation.
Kuechly started each of his three seasons at Boston College and led the nation in total tackles and solo tackles in 2010 and 2011.  He will leave great memories behind him at Boston College, but Kuechly believes the time is now to head to the next level.
"The toughest thing for me that was holding me back was, just finishing what I started," Kuechly said about his decision to bypass his senior season.  "Being at school with the guys you meet, you do everything with those guys, and some of my friends will be there for one, maybe two more years.  Talking to those guys, it's college, college is over.  But I'm excited to be doing what I'm doing now."
In just three seasons, Kuechly recorded 532 tackles.  That total fell 14 shy of the NCAA record for most tackles in a college career.
He won the 2011 Bronko Nagurski Award given to the nation's top defensive player.  He also won the Lombardi and Butkus Awards for his efforts, and he credits the mental part of his game to his success.
"Instinctual player is something that pops up for a lot of people," Kuechly said of how he would describe himself as a player.  "That, coupled with, I think I'm a smart player.  I think I do a pretty good job preparing myself.  That's something I take pride in.
"I can point at different guys, and let them know what they're doing if they have questions.  I take pride in having the ability to do that.  And doing that, and knowing what everyone is doing, you can play faster.  It allows you to be more successful."
In high school, Kuechly played at Saint Xavier in Cincinnati, a perennial football power.  He was a safety on the team's 2007 Ohio State championship team.
Kuechly was thrown into the fray right away at Boston College and made the position switch without any trouble.  In his first season, Kuechly had 158 stops, 87 solo, with 13 resulting in losses.  He followed that up with 183 tackles in 2010, 110 solo, and 10.5 tackles were behind the scrimmage line.  This past year, Kuechly had 191 stops, 112 solo, while producing 12 tackles for losses.  He supplemented those career totals with 2.5 sacks, four fumbles recovered, two fumbles forced and seven interceptions.
The playing resume for Kuechly speaks for itself.  He has succeeded at each level of play to this point, and he anticipates adding another accolade in New York come late April.
"Growing up, it's one of those things, I've been watching the draft, I don't know how long," Kuechly said.  "You want to get your name called on that first day, you want to be on that first-day list, when he (NFL Commissioner Roger Goodell) says, 'So-and-so selects, Luke Kuechly, linebacker, Boston College.'  That's your goal playing in college football, getting to that level and hearing your name on the first day."
LOOKING AT THE 2012 NFL DRAFT'S INSIDE LINEBACKERS
The last five inside linebackers drafted by the Colts:
2010:  Pat Angerer, second round, Iowa
2005:  Tyjuan Hagler, fifth round, Cincinnati
2004:  Gilbert Gardner, third round, Purdue
2004:  Kendyll Pope, fourth round, Florida State
2000:  Rob Morris, first round, Brigham Young
An alphabetical list of inside linebackers expected to be selected in the 2012 NFL Draft (*-denotes underclassman):
Vontaze Burfict, Arizona State*
Audie Cole, North Carolina State
Chris Galippo, Southern California
Najee Goode, West Virginia
Don't'a Hightower, Alabama*
Mychal Kendricks, California
Luke Kuechly, Boston College*
James Michael-Johnson, Nevada
Note:  The content in this story and in the series of draft-eligible players that appears on Colts.com in no way reflects the position of the Indianapolis Colts.