INDIANAPOLIS – It's the reason why the Colts players' vacations have started later and later the past three seasons.
Coaches love the term resiliency.
Many say it, few see their teams display it.
The Colts have been about it under Chuck Pagano.
In the three seasons Pagano has been at the helm (coming into 2015), the Colts are 33-15.
Following those 15 losses, the Colts have exacted revenge 14 of those times.
They try to move that record to 15-1 in "bounce back" games when the New York Jets (1-0) arrive to Lucas Oil Stadium for Monday Night Football.
The Colts (0-1) are in this position following a Week One loss, where the Buffalo Bills attacking defense was just too much for the defending AFC South champions.
Andrew Luck, who led the NFL in success against the blitz last season, and the Indy offense couldn't muster much consistency all afternoon.
A lack of field position, in favor of the visitors, wasn't the ideal recipe either.
As Luck prepares for the Week Two matchup against the Jets, the tape shows another defense filled with No. 1 draft picks ready to apply pressure.
Last week in the Jets season opener, they forced a league-best five turnovers, leading to 21 points off those takeaways.
Luck has dissected the film and points to two key areas for the Colts to reverse their fortunes this week against a similar defense.
"If you're in a good rhythm and you get things going I think you've got a chance. And big plays when a team blitzes. You've got to make them pay for blitzing," Luck said.
"You know it's going to be a big play for the offense or the defense. Someone is having a big play and hopefully we come out on top on those."
Chuck Pagano has been on both sides of the blitz-happy dilemma.
With Luck, Pagano is usually a happy coach watching his offense shred defenses who can't afford to sit back.
He hopes that is coming again on Monday.
"There are going to be opportunities there. When people decide to do that to you, you've got to make them pay. If you don't, they're going to keep coming. I know being on the defensive side of the football my entire career. All that sounds fine and dandy when it's working, but as soon as you get beat over the top, guys start making some plays on you, you start looking at your call sheet and start getting a little nervous," Pagano says.
"I know (Jets head coach Todd Bowles). I worked with Todd (in Cleveland) He's a great coach. His mindset has always been play aggressive, attacking style football. He's going to bring it, and he's going to keep bringing it. We're going to see five, six man, we're going to see zero blitzes, all kinds of stuff."
Come Monday night, Bowles will be tasked with keeping the Colts from etching another bounce back win into their resume.
Bowles knows in order for that to happen, his defense has to rattle one of the game's most poised signal callers.
"We think he's one of the best in the league," Bowles says of Luck. "He's extremely smart. He's very heady. He's a winner. He runs very well. He scrambles well. If he does throw an interception, he will come after you like a middle linebacker and try to make the play.
"You can see the competiveness and all-around complete player. I've been a fan of his since college. He's a joy to watch, I just hope he's not a joy to watch against us (laughs)."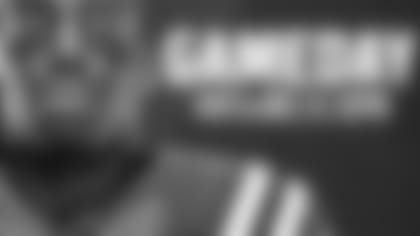 INTERESTING MATCHUPSJets cornerback Darrelle Revis against the Colts wide receivers:Where Revis is assigned on Monday night will likely largely depend on the health of T.Y. Hilton. The Colts have seen first-hand what Revis can do to an offensive game plan. If Hilton can't go, it will be interesting to see how the Jets utilize arguably the game's top cornerback.Colts offensive line versus the Jets defensive front: Talking to Colts players and coaches this week, they believe the Jets defense might even be more difficult than the Bills. Particularly up the middle, the Jets have the personnel to cause nightmares for opposing offenses. Monday night will be key for the Colts interior linemen to give Andrew Luck a clean pocket to step up in.Quick Facts
The Colts have lost back-to-back games just once under Chuck Pagano (last year against Denver and Philadelphia to start the season)
In Andrew Luck's last two meetings on Monday Night Football, he's thrown for a combined 526 passing yards, seven touchdowns and just one interception (100.3 quarterback rating).
Running back Frank Gore is just 13 scrimmage yards away from 14,000 in his career (29th in NFL history).
This marks the fourth straight season quarterback Ryan Fitzpatrick has started against the Colts (all with different teams).
The Jets produced 21 points off turnovers last week. They had 20 points off turnovers in all of 2014.
The Jets five turnovers forced in Week One were the most of any team. New York had an average drive start of the 45-yard line in the season opener.
NOTABLE QUOTESColts Head Coach Chuck Pagano(on bouncing back from losses):
"Nothing different. I think it's got to be the same after a win. I think success is probably a little bit tougher to handle than adversity to be honest with you. But our guys, we talk about process all the time and staying even-keeled. Take a look at what transpired in the last ballgame, good or bad, get it fixed and then move on. I think just like a game, good play or bad play, you've got to put it behind you and you've got to move on. It's one game, it's not an entire season. It's a marathon, it's not a sprint. You can't ride the ebbs and flows. You've got to stay consistent. You've got to keep it right on the highway and look at things objectively and subjectively. Make the corrections and move on. You can't dwell on it. You can sit there and dwell on it or you can sit there and read your press clippings after a win, take your foot off the gas and start thinking you're really the cat's meow. And the next thing you know you get taken to the woodshed."
Colts Head Coach Chuck Pagano(on rookie Henry Anderson leading the team in tackles Week One):
"I don't know if I've ever seen one when you flip open the stat sheet and you see eight, nine tackles on there. Very, very productive. Goose is tough and he's smart and he loves to play the game. He plays with great pad level. He's a relentless player. He wills himself to the football. It was a great start for him, a great outing. Now we need the same thing and more."
Colts Quarterback Andrew Luck(on Jets cornerback Darrelle Revis):
"He's a great corner. One of the best in the game, if not the best. He's cerebral, he's athletic. He still plays like he's a 25-year-old, 26-year-old in terms of athleticism, but he plays with the experience of a guy who's been around for a bunch of years. He uses all of the things to his advantage. He uses the sidelines to his advantages. He uses your splits, your motions, he's a great corner. And they have a bunch of good guys out there besides him. They're a stiff, big, strong team up the middle. They make it hard to get a rhythm going and that's what we need to do. We need to establish a little rhythm."
Jets Head Coach Todd Bowles(on Chuck Pagano, who coached with Bowles back in Cleveland):
"We spent four years together in the secondary. Chuck was so meticulous, so smart. He was an outstanding teacher. He really was, and he still is today. He was an outstanding teacher. I learned a lot from him at that point in time, and we got very close back in that meeting room for four years. I'll never forget that. Chuck knows that if he needs anything that he can call me at any time."
Jets Head Coach Todd Bowles(on Andrew Luck):
"We think he's one of the best in the league. He's extremely smart. He's very heady. He's a winner. He runs very well. He scrambles well. If he does throw an interception, he will come after you like a middle linebacker and try to make the play. You can see the competiveness and all-around complete player. I've been a fan of his since college. He's a joy to watch, I just hope he's not a joy to watch against us (laughs)."
Jets Cornerback Darrelle Revis(on the differences between the Colts from last year to this year):
"The only difference is Andre is on the team. Frank Gore is on the team now. Andrew is awesome. He's one of the best quarterbacks in the league. He can hurt you with his legs and he can also hurt you throwing the ball down the field. How we look at Andrew and the Indianapolis offense is he's the captain of the ship. He makes everything happen, he makes them go. So we have to do a real good job of plastering down the field in secondary, but also our front seven have to make sure we contain Andrew because he can hurt you with his legs as well."