 ](http://www.embarque.com/)
INDIANAPOLIS--Trent Cole is Hunting a Super Bowl in Indianapolis
You could say competitive sports run in the family for Colts linebacker Trent Cole. Eight of his uncles are high school or college coaches. His cousin, Norris Cole, is an NBA player who won two championships with the Miami Heat.   
But the eleven-year NFL veteran also has another passion: hunting. Sports may be in his blood, but for Cole, the outdoors is a way of life.
"You've got to have a balance," he says. "You've got family. You've got to remember that. It's God first, family second, and then your job. And then there's hunting. You've got to learn when it's time to quit and have respect for everything."
Growing up in rural Ohio, it was his stepdad who introduced him to hunting. He would ask his mom to leave him at the archery shop down the road so he could hang out, talk with the guys, and absorb as much knowledge as possible.
"From there on, I had buddies of mine and we were filming our hunts and we had idols, like ESPN Outdoors," he says. "And next thing you know, college came, we're still doing it. NFL, I had a little change in my pocket, and I ended up starting my own production company and we're doing DVDs and the next year, it turned into a TV series and now we're on national TV. This is my sixth year in television and we're worldwide."
Blitz TV airs on NBC Sports and the Discovery Channel. For Cole, it's both a job and a release.
"I've always had coaches through my career, especially in the NFL, tell me, 'Man, you have a getaway. You have an outlet. You know how to switch it off and come back the next day and come back to work.' It's nice. It's relaxing."
"I learned a lot of stuff from the hunting aspect of it, like patience and discipline. That's what's made me successful. And as far as football, it's made me a patient player. Wait for it. Just be patient. It's going to come to you. Your time will come. And discipline, you've got to learn the game."
It's that knowledge and experience the Colts were seeking when they signed Cole from the Eagles in the offseason. Starting his career in Philadelphia, he says he hopes to end it in Indianapolis. Together with Robert Mathis and Erik Walden, Cole brings a veteran presence to a young group of outside linebackers, including Jonathan Newsome, Bjoern Werner, and Daniel Adongo.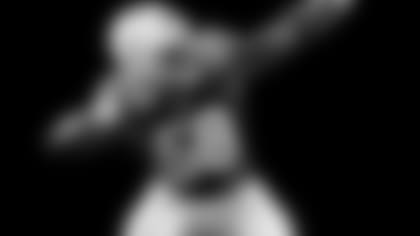 Cole has already started exploring the hunting landscape in Indiana. He's had conversations about it with another veteran player and avid hunter, Adam Vinatieri. Sharing a love of the land gave the two a common ground before they even met. 
"You have a respect for life. You learn a lot and it gives you a different view on life in general and the world," says Cole. "A lot of hunters will tell you, 'The outdoors makes good people.' It makes really good people."
And it gives him a life to look forward to long after his NFL days are over.
"I'm just blessed and lucky to be able to do two things that I love to do. I'm spending a lot of time on the hunting part and the football part of it. Both things are year round, they don't stop."
Neither does Cole. Whether he's hunting wildlife or quarterbacks, he's always focused on the game. And his goal is to capture the one prey that's eluded him – the Lombardi Trophy.
For Trent Cole, that would be the catch of a lifetime.
Under Armour Brand House at The Fashion Mall at Keystone will be hosting an event with Cole later this summer. Stay tuned for details.