 INDIANAPOLIS – A gelling Colts team made a successful road trip to New York last Sunday and returns home Saturday against Cleveland in a game where starting units will get significant action. 
Starters are likely to play into the third quarter as a dry run for the regular season.  On a case-by-case basis, some may play less.
As Reggie Wayne says, "We're here, right?  If we're here we might as well play, so strap up."
The gifted receiver says every time a player steps on the field, he should want to play his best.  As the roster will be shaped in the days following this game, there is a lot at stake.
Here are SEVEN THINGS TO LOOK FOR OR THAT THE COLTS HOPE TO ACCOMPLISH ON SATURDAY: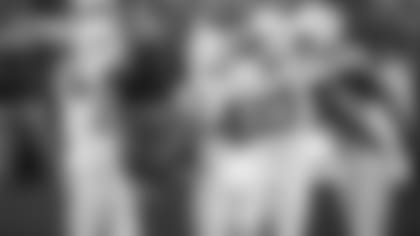 THRIVE IN FIRST HALF – Indianapolis played a much more complete first half last week than in the opener.  The Colts had 180 net yards at New York, a takeaway, four defensive stops in the red zone and converted four-of-six third downs for a 17-9 edge at intermission.  Duplicating some or more than that over the game's first 30 minutes Saturday would mean first-teamers took care of business.  Thrive early.    
NEGATE MOMENTUM – Under first-year coach Rob Chudzinski, Cleveland has started well in its first two games, and it is a reason why the Browns are shooting for their first 3-0 start to a preseason since 1994.  In two games, Cleveland has out-scored opponents in the first half, 37-13.  Against Detroit last week, Cleveland forced three-and-outs on the first three possessions and limited the Lions to 26 yards on the first four drives.  In the opener, Cleveland scored on its first four possessions.  Brandon Weeden has hit 18-of-25 passes for three scores in his action.  Cleveland had TDs on two takeaways against St. Louis and has yet to suffer a turnover.  Chuck Pagano would like his current club to halt the first NFL team to employ him (way back in 2001).   
SEIZE OPPORTUNITY – Four players with key chances Saturday are tight ends Justice Cunningham and Dominique Jones and running backs Kerwynn Williams and Davin Meggett.  Pagano said yesterday Williams and Meggett will get key opportunities in the second half after Donald Brown and Vick Ballard depart and with Ahmad Bradshaw not playing.  Cunningham and Jones should have more center stage action with Dwayne Allen and Coby Fleener sitting out.  Opportunity knocks.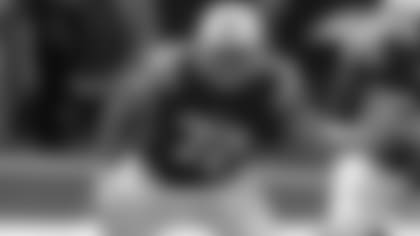 THAT'S OUR LINE – Well, almost.  Mike McGlynn will miss the game at right guard with a bruised knee bone.  Veteran Jeff Linkenbach steps in, and the Colts will have a veteran line playing intact probably past halftime.  Getting the ground game untracked with Brown and Ballard would be one of the best things that could happen on Saturday.  Ballard had a 6.0 rushing average behind starters at home against Buffalo.  With starters at the Giants, Colts backs had 10 rushes for 25 yards.  More production in the first half Saturday would be a welcomed sight.
LIMIT THE RUN –Buffalo gained 32 yards on two game-opening rushes two weeks ago and moved from deep in its territory in the process before punting.  The Giants gained 28 yards on three game-opening attempts, including a 21-yard burst.  Indianapolis did halt a fourth-and-one rush in its red zone to stop that first drive, but New York had a 4.4 first-half average on 16 attempts at halftime.  In a third outing, Greg Manusky wants to see a unit gel and play together.  The pieces should be on the chessboard to help get it done. 
TWO BIG HITTERS – Saturday is the return of Pat Angerer and the Colts debut of free safety LaRon Landry.  The health of these two hitters can play a big role for Indianapolis.  Angerer should get 15-20 plays, and Colts fans (and Angerer, too) would love to see a return to 2011 form when he was one of the few bright spots (six 10 -tackle games) in a tough year.  **Landry (click here)** represents a player with "pop" at free safety, perhaps the embodiment of what the franchise got some of from Bob Sanders.  In the local era, the Colts got extended solid play at the position from Jason Belser and Mike Prior, while other big-time signees (ie:  Dwight Hicks) or draftees did not have staying power.  
GET SPECIAL –Cleveland historically is a special teams-achieving franchise.  Joshua Cribbs has departed, but Travis Benjamin remains.  Benjamin had the franchise's longest-ever punt return last year (93t), and he has a 91-yard scoring return this year that would rank as the third-longest had it come in regular-season play.  Indianapolis needs to limit the explosion, plus produce some of its own.  Tom McMahon still is sorting through his return options, and this week the club swung a trade along those lines to help address the competition.
REGGIE WAYNE (on if this week in preseason is, "This is who we are.  This is who we want to be as a team")
"Whenever you step on the field, you want to put that out there.  You don't want to go out there and lay an egg, no matter if you're out there for a series or a whole half.  Whenever you step out there, you want to put your best foot forward.  Now being that this is the game that we play the most, it may be more emphasis on that."