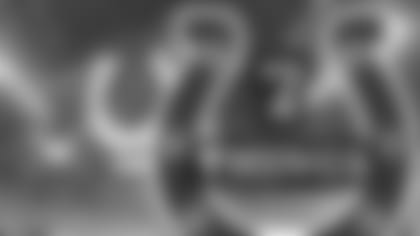 INDIANAPOLIS – M&T Bank Stadium will be a festive venue on Sunday as the Colts return to Baltimore.
The Colts and Ravens have made a habit of appearing in the playoffs.  Indianapolis has qualified 12 times in the last 14 seasons, while Baltimore has had its post-season ticket punched 10 times.
The last time both teams failed to qualify was in 1998, a tremendous run of success for the franchises.  Indianapolis and Baltimore intersected in the Divisional Playoffs following the 2006 and 2009 seasons, with the Colts winning each time. 
Baltimore is the only NFL team to make the last five playoffs, and the last four teams to beat the Ravens in the post-season all advanced to the Super Bowl.  The Colts were that team in 2009.
Both teams are thinking big.  Something will have to give.  It is win, or go home.
Getting their first playoff victory is the aim for the Colts on Sunday, and here are SEVEN THINGS NEEDED TO WIN:
KEEP THE MOJO – Memo to Colts players – if in doubt, follow Coach Pagano.  He speaks of "mojo," the "Midas Touch," uncanny things, magic spells and intangibles that can produce tangible results.  Pagano is gifted in touching things inside people to bring out results.  Listen (particularly on Saturday night), and he will lead.  Indianapolis has won nine of 11, including five of its last six (4-1 in December – the NFL crunch time).  "Mojo" may be another term for executing.  Use whatever word you want, and do it for 60 minutes, one play at a time and at full speed. 
WEATHER THE STORM – Tony Dungy knew the stadium in Baltimore would be a hornet's nest when his veteran-heavy team played there in the 2007 Divisional Playoffs.  The key, he said, was keeping composure through the initial wave of emotion.  Sure, fans will be loud.  Some will be creative in expressing their emotions – you've heard it before, but maybe not in as many combinations.  Sure, the Ravens defense will be introduced.  Peel everything else away and the field is the same size.  It's 11-on-11.  Play like you are capable of playing.
HOLD THE RICE, PLEASE – The season has been a parade of great rushers.  Sixteen NFL backs topped 1,000 yards.  Counting Chris Johnson and Arian Foster twice, the Colts had 10 games where it needed to contain a back who would gain 1,000 yards.  That total does not include Miami's Reggie Bush (986) and Cleveland's Trent Richardson (950), who knocked on that plateau's door.  Nor does that include Maurice Jones-Drew, who rushed for 177 yards against Indianapolis in September before getting hurt later in the year.  It is Jones-Drew who some Colts likened the most to Ray Rice.  Cory Redding says it's, 'Hey diddle, diddle, Rice up the middle.'  Be ready.
NOT YOUR FIRST RODEO – Though this factually is the first playoff game, Redding says young players have played in five already – against Minnesota, Green Bay, New England and Houston (twice).  I won't quibble, he has a point and some mojo.  Talented opponents have been faced and beaten.  It can happen again.
VINNY TIME – Indianapolis rode Adam Vinatieri to victory in the playoffs in 2007, getting five field goals in a 15-6 win.  The clincher with 23 seconds left silenced the crowd.  Vinatieri will be playing in his 25th playoff game.  The NFL's leading playoff scorer needs to pad his total, hopefully with a half dozen or so PATs.  If not touchdowns, be safe with the ball and Mr. Playoffs will come through when points are at a premium.
NAY, RAY –Neutralize Ray Lewis.  While he is not the only defender capable of mayhem, there perhaps is no player greater in the league in inciting a crowd and teammates.  Sometimes going right at him is a solid move – ask Joe Addai (2009).  Addai's juke on the goal-line was a classic.
Seriously, Lewis has a spot reserved in Canton, so account for him in Baltimore. 
MARATHON BEATS SPRINT – The Colts opened last Sunday with a 13-play drive that took seven minutes and produced seven points.  They ended the game with a drive that milked 9:46 off the clock by rushing on 14 of 15 plays and netting four first downs.  A potent Houston team never saw the ball again because of that incredible drive.  Offense, take your time, execute, move the chains and get points.  It keeps the Ravens and the crowd at bay.
Chuck Pagano (on if he views Andrew Luck as a rookie)"Not really. The first day of OTAs I didn't think he was rookie. He's such a mature kid and understands this game. He prepares so well, and his focus is unbelievable. We know all the intangibles. We know the physical talent is there. He's extremely intelligent. He's gotten better, and he's his own worst critic. The great thing about Andrew is he is unflappable."