 ](http://careyindiana.com)
INDIANAPOLIS – Three days after joining the Colts in a mid-week trade, Trent Richardson was pushed into the Colts' backfield at San Francisco and took 29 snaps as part of a multiple-back effort in a 27-7 victory.
His head swimming, Richardson ran 13 times for 35 yards and touchdown.  This came seven days and one offense after rushing 18 times for Cleveland at Baltimore the previous Sunday.
Richardson took 55 snaps last Sunday at Jacksonville in another Colts win.  With Indianapolis approaching a home date with Seattle, Richardson is more adapted to his new home.  
"(I'm) much (more) comfortable.  At first, it was kind of difficult," said Richardson.  "I really had only two days to practice before I got on the field my first week.  I had a full week last week.  It's only really going on my second week now.  It's much easier." 
Richardson had 20 rushes for 60 yards against the Jaguars, with a long carry of 12 yards.  He feels longer runs are in the near future.
"There have been a couple of runs I should have broken," said Richardson.  "It's going to hit.  It's going to come.  I see the runs in front of me.
"I know the 100-yard games are going to come.  I do say 'games,' because there's going to be more than one.  When they do come, it's going to keep coming." 
Richardson says he is learning his third offense in the past two years and knows teammates are well ahead of him in the playbook.  He says learning individual game plans has not been a problem, but still does not know every play Pep Hamilton is capable of calling.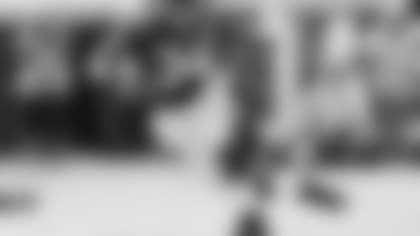 "I would like to think that Trent is familiar with the type of schemes we're running.  He's on schedule," said Hamilton.  "He's bought into the fact that it's going to be a grind and just be patient and continue to chip away and burrow and find a crease and really just strain for the positive yards.  In time, the long runs are going to come."
Richardson came to Indianapolis once starter Vick Ballard was lost to a knee injury.  Bradshaw spent some of the spring and training camp with Indianapolis getting acclimated.  With a neck injury, his availability is in the air.
Richardson thinks time to learn his linemen and for them to learn him is important, though there is no such grace period now.
"I think (gelling) comes along with the spring and preseason," said Richardson.  "These guys here have been hands-on with me, and they've done a tremendous job of showing me the routine and telling me exactly where they're going to be most of the time, different positions I need to be in and how to set up different blocks.  It's almost back to being a rookie again."
Said Hamilton, "He's been able to do some heavy lifting for us.  He's been able to eliminate and avoid the negative plays.  He's a physical, inside-the-tackles runner.
"I often remind him, 'Be patient, it's going to open up.'  We talk quite often about investing in the body punches.  That's just our way of saying that we're not looking for the 20-plus gain each time we're running.  That would be great if we popped a few long ones, but at the same time, a two-yard, three-yard, four-yard gain is a positive play."
Hamilton and the staff like his physical, inside nature and the ability to catch the ball.  He said the NFL's helmet crown rule was put in place because of Richardson and others like him who are aggressive runners who can pound into the secondary.
"I think defensive backs have to be very calculated in how they want to approach and tackle Trent," said Hamilton.  "He's a tough, smart football player that has bought into the physical nature of what we want to do.  
"He's an every-down player for us.  We don't necessarily have a third-down back.  If our progression or the play that we dial up gives him an opportunity to make a play out of the backfield, then we expect that he'll make the play."
Richardson initially thought his game at Jacksonville was sub-par, but noted film review eased those concerns as he found himself "on-point."
It is points and yards Richardson seeks as he matures with the Colts.
"People say I've done good.  I'll say I've done okay.  I know I can do better, and it's going to be much better," said Richardson.  "I criticize myself a lot.  I'm always going to be a critic.  I know my game has to elevate.  There has to be a reason they came and got me. 
"I know I've done good, but I don't know if I've done good enough to my standards."
PRACTICE REPORT – Did not participate:  RB-Ahmad Bradshaw (neck), CB-Vontae Davis (foot), FB-Stanley Havili (ankle), DT-Ricky Jean Francois (groin), S-LaRon Landry (ankle), S-Joe Lefeged (not injury related), G-Hugh Thornton (shoulder), LB-Bjoern Werner (foot); Full Participation:  S-Delano Howell (toe).