INDIANAPOLIS – Colts punter Pat McAfee has been named as one of two finalists for the NFL's Salute To Service Award.
The NFL and USAA, the league's Official Military Appreciation Sponsor, announced on Thursday that McAfee and Buccaneers wide receiver Vincent Jackson were the two finalists for the fifth annual Salute to Service Award.
Jackson and McAfee were selected for their "exceptional efforts to honor and support members of the military community."
The winner will be announced on Saturday, Feb. 6, the night before the Super Bowl in San Francisco, at the annual "NFL Honors" awards show.
A community-minded individual, McAfee dedicates a significant amount of his time to the Armed Forces. McAfee has distributed more than $150,000 in scholarships to the children of military personnel through the Pat McAfee Foundation. He annually hosts the Red, White & Boomstick Gala to raise funds for his foundation. In 2015 he made numerous personal donations to military organizations and families amounting to over $60,000.

"I am absolutely honored to be named a finalist for the NFL's Salute to Service Award. Giving back to our military servicemen and women has always been a priority for me," McAfee said in a press release. "These courageous heroes sacrifice so much to protect our freedom and the greatest country in the world. They deserve all of our appreciation and gratitude and I'm thrilled to be in a position where I can give back to those who are most deserving."

For the past few years, McAfee has sponsored a Community Ticket Block at each Colts game, providing 20 tickets and meal vouchers to military members. McAfee also dedicates time to various military organizations, including Wish for Our Heroes, a non-profit organization that grants wishes and provides resources to servicemen and women.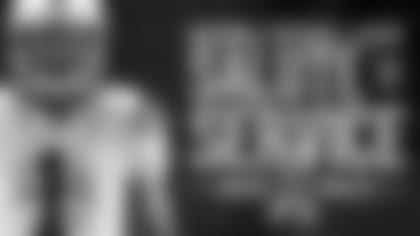 In November 2015, 29 NFL clubs nominated coaches, active and retired players and team executives and personnel who best demonstrated support for the military community. The submissions were evaluated by a panel of judges, including last year's recipient, Carolina Panthers defensive end Jared Allen. Nominees' qualifications are evaluated based on the individual's positive impact on the military community, the type of service conducted, the thoroughness of the program and level of commitment.

USAA, a leading provider of insurance and other services to U.S. military members, veterans and their families, will contribute $25,000 in the winner's honor to the official aid societies representing all five military branches.

The panel of judges, consisting of representatives from the U.S. military, the NFL and USAA, includes:

Vice Admiral John Bird (Ret.), U.S. Navy veteran, USAA Senior Vice President of Military Affairs
Rocky Bleier, U.S. Army veteran, four-time Super Bowl champion
Jared Allen,Carolina Panthers defensive end and the 2014 Salute to Service Award recipient
Chad Hennings, Air Force Academy graduate, three-time Super Bowl champion
Tod Leiweke,NFL Chief Operating Officer
Jim Mora, Sr., Marine Corps veteran, former NFL head coach
Roger Staubach, Naval Academy graduate, NFL Hall of Fame quarterback and Super Bowl MVP

The *Salute to Service Award *is part of the NFL and USAA's year-long commitment to recognize and honor the military community. To find out more about the NFL's Salute to Service campaign or to read teams' nominations, visit www.nfl.com/salute.
The NFL today announced that Indianapolis Colts punter Pat McAfee has been named as one of two finalists for the fifth annual Salute to Service Award.